Gas Prices 2023: Americans Hoping They Come Down, but Will That Actually Happen?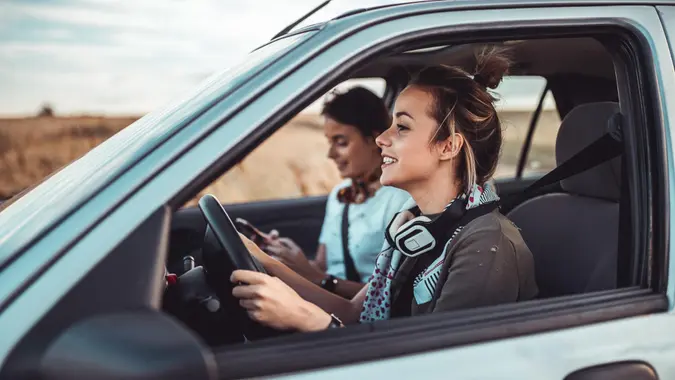 domoyega / Getty Images
In our recent GOBankingRates "Year in Review" survey, consumers were asked to name economic factors that impacted their finances the most in 2022, and almost 25% of respondents said rising gas prices. That's hardly a surprise; U.S. gas prices skyrocketed this past summer and are at the highest they've been since 2018, according to data from Finder.
Holiday Spending: Get Top Holiday Shopping and Savings Tips
Take Our Quiz: 2022 Year in Review
There's no doubt that gas prices have put the squeeze on many Americans' wallets over the past year. Gas peaked at $5 per gallon in June, which means some consumers shelled out almost $60 for 12 gallons and almost $100 for 20 gallons.
However, prices have been falling at the pump lately, reaching reasonable levels in most states and sub-$3 per gallon in some. But will that trend hold for 2023? Americans are hoping gas prices will come down in the new year, but it remains to be seen if that will actually happen.
Gas Prices Are Falling
When asked about financial outcomes they would like most to happen in 2023, 30% of our survey respondents said they want gas prices to drop substantially. And right now, gas prices have been falling as a whole.
Make Your Money Work for You
According to data from AAA, the national average price at the pump is down 19 cents from last week, at $3.21 as of Dec. 14, which is 11 cents less than the average price at the pump a year ago.
Will Gas Prices Keep Going Down in 2023?
Overall, the consensus among industry experts is that gas prices will come down in 2023. However, the actual price drop might not be as much (or for as long) as consumers would like. 
"For the next 55 days, it looks good for consumers but ugly for refiners," Tom Kloza, global head of energy analysis and co-founder of OPIS, told CNBC. "They're running refineries so hard because of the diesel shortage that they're making too much gasoline. We're running about 7% behind last year in terms of demand."
Kloza also said he expects gasoline to fall below $3 per gallon for most Americans. However, he said prices will start to climb back up in February when refiners begin to produce summer blends.
"You just can't run refineries at these high rates and make too much gasoline for the summer because there's no place to put it," he said. "I think we [will] see the lowest prices of 2023 in the next 55 days."
Take Our Poll: How Has Inflation Impacted Your Holiday Shopping Plans?
Make Your Money Work for You
CNBC also reported that the head of petroleum analysis at GasBuddy, Patrick De Haan, expects the national average for gasoline will decrease to less than $3 a gallon by Dec. 25 — unless something occurs to drive up oil prices. ″$2.99 looks like a pretty strong shoo-in at this point," he said. "The question is if it's going to be at 11 p.m. on the 23rd or 11 a.m. on the 24th."
According to the AAA, the gas prices in many states have already dipped below $3 per gallon, including Wisconsin, Kansas, Missouri, Oklahoma, Arkansas, Tennessee, Georgia, Alabama, Mississippi, Texas and Louisiana, with Texas currently seeing the lowest prices, averaging $2.67 per gallon.
Prediction for Average Gas Prices in 2023
The current outlook is that gas prices will fall over the next couple of months but start ticking back up in February. So, what does that mean for the average price of gas in 2023?
According to the U.S. Energy Information Administration's Short-Term Energy Outlook report for December 2022, gasoline prices will come down in 2023. The EIA predicts that in 2023, a gallon of regular gasoline will average $3.51 compared to the average price of $3.99 per gallon for 2022.
Make Your Money Work for You
Of course, because no one can accurately predict the future, what will happen with gas prices over the upcoming year still remains to be seen. Until then, Americans should keep hoping for the best, but make room in their budgets for those times when it might cost a bit more to fill up.
More From GOBankingRates
Make Your Money Work for You