Gas Prices Edge Slightly Higher as 2023 Approaches — What Can You Expect to Pay Next Year?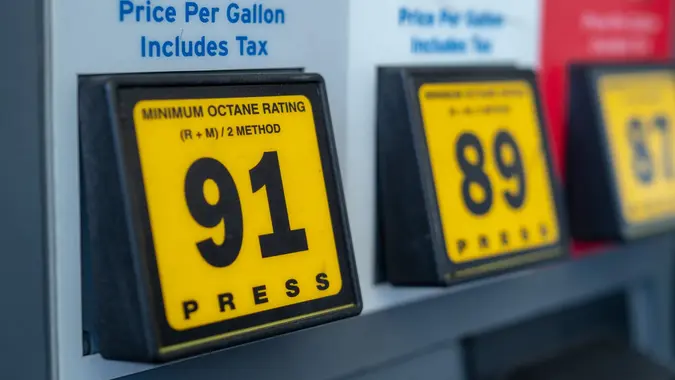 David Tran / iStock.com
After a long and steady decline that began over the summer, gasoline prices in the United States have begun to tick slightly higher this week — a possible foreboding of higher prices to come in 2023.
The national average for gas stood at $3.159 a gallon as of Dec. 29, 2022, according to AAA. That's up from $3.133 the previous day and $3.101 a week earlier, at least temporarily reversing a months-long trend that has seen prices at the pump fall by nearly 40% since hitting a record high of $5.016 in June.
Gas prices are still well down from $3.521 a month ago and $3.283 a year ago, and 26 states now have average gas prices below $3 a gallon, USA Today reported. But there's reason to believe prices will shoot much higher in coming months.
As previously reported by GOBankingRates, GasBuddy analyst Patrick De Haan forecasts that the national average could move above $4 a gallon as soon as May. The reason is twofold: Americans will begin hitting the road for the summer travel season in May, and refineries will switch over to more eco-friendly but costlier summer-grade gasoline.
The last time gas prices were above $4 a gallon was on Aug. 10, 2022. GasBuddy projects that the daily national average will peak at $4.25 a gallon in August 2023 before dipping back toward $3 a gallon by the end of the year.
However, the new year should bring primarily good news for motorists. According to the U.S. Energy Information Administration's latest analysis, the average price for a gallon of regular gasoline will be $3.51 in 2023 vs. $3.99 in 2022. GasBuddy estimates that U.S. families will likely spend an average of $277 less on fuel in 2023 than they did in 2022.
Make Your Money Work for You
But a lot depends on macro events that can quickly move the price of fuel higher. That was the case in 2022 when Russia's invasion of Ukraine led to sanctions on Russian crude oil that caused gas prices to spike.
Although experts expect things to be calmer in 2023, there are no guarantees.
"What we saw in 2022 was simply madness at the nation's fuel pumps, with records being set seemingly left and right as COVID imbalances persisted and Russia invaded Ukraine," De Haan said in the GasBuddy forecast. "While it's highly improbable that lightning strikes the same spot twice, the storm clouds over oil and refined markets may persist, and there still could be some spikes as the market remains somewhat tight."
More From GOBankingRates