Gen Z's Savings Have Been Hit Hardest by Inflation, Survey Finds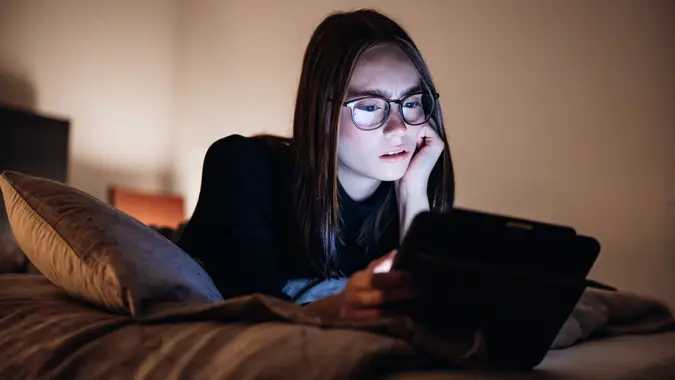 Finn Hafemann / iStock.com
People saved more money than ever during the stimulus years of the pandemic, but rising prices are now forcing many to pillage the emergency funds and nest eggs they built — especially the young.
A new GOBankingRates study of 1,000 adults shows that more than half of 18- to 24-year-olds had to dip into their savings to manage the cost of rising inflation. About 52% of Gen Z had to plunder their savings to survive — the other generations were back 15 percentage points or more. 
If Gen Z's savings proved vulnerable when prices started rising, it's probably because the youngest adults are naturally the most heavily invested in emerging trends in work, credit, investing and currency. Gen Z is on the cutting edge — and when things are bad, that can be a dangerous place for you and your money.
Credit-Leery Gen Zers Flocked to BNPL
Meredith Lepore, a personal finance expert with Credello, has seen the youngest adults fall into a trap fueled, in part, by personal finance mythology. Since mismanaging credit cards can lead to debt, the myth goes, it's best to avoid them altogether — if you don't have a credit card, after all, you don't have to worry about credit card debt.
The problem is that young consumers flocked to alternative borrowing options with different risks.
"We are seeing this a lot right now with Gen Z using BNPL instead of credit cards," Lepore said in reference to buy now, pay later.
BNPL lets buyers stretch out purchases into smaller payments interest-free and with no credit check. That can give a false sense of confidence for making purchases that would otherwise be unaffordable.
Make Your Money Work for You
Lepore cited Credello's own reporting, which showed that Gen Z is far more likely to use BNPL than the larger population. The generation's distrust of banks steered the trend away from credit cards, but so did TikTok influencers who have been promoting BNPL since the start of the platform's pandemic-era rise to social media supremacy.
With No Traditional Credit To Lean On, Gen Z Paid Its BNPL Bills With Savings
When inflation forced prices up, Gen Zers were much more likely to owe weekly BNPL payments, which were getting harder to keep up with as everything got more expensive. Many young people were shocked to learn that their credit scores dropped when they missed a BNPL payment.
That, coupled with the fact that they hadn't been building credit with responsible credit card use in the first place, made traditional borrowing harder and more expensive.
It's certainly possible that the shift toward BNPL — and the irrational credit card phobia that spurred it — pressured Gen Z to deplete its savings when inflation took off. The moment also represented a missed opportunity to build credit while they're young.
"There are actually a lot of benefits to paying with credit cards, like cash back or rewards that you can use for free travel and hotel upgrades," said Lepore. "If you use a credit card for the majority of your everyday purchases like groceries and gas, these rewards can really add up and give you some substantial benefits."
Make Your Money Work for You
Gen Z Went in Big on Crashing Crypto
According to recent research from the retirement fund rollover firm Capitalize, more than half of Gen Z and millennials now incorporate crypto into their retirement funds. Overall, those two generations account for 94% of all crypto buyers, according to Stilt.
Rising inflation coincided with an epic crypto crash that sent the price of bitcoin plummeting by 70% from last November through the end of June. With young adults so overly invested, it's all but certain that at least some of the Gen Z savings drain was spent on costly crypto moves.
The GOBankingRates study showed that Gen Zers were much more likely than older respondents:
To sell crypto to cope with inflation
To have bought crypto when prices fell
To have changed their crypto strategies to mitigate the effects of inflation
To believe that the decline will continue and that crypto is no longer a viable asset
In short, when crypto crashed, young investors were much more likely to crash right along with it.
"Investing in crypto is very risky and volatile," said Louise Elizabeth Lowe, co-founder of the crypto-themed website and YouTube channel Every Bit Helps. "Your investments can grow in multiples of two, 10 and even 100. The potential for such lucrative returns is the reason crypto investing has become so popular, especially among millennials and Gen Z. But at the same time, it could also go to zero."
Gen Z Blazed the Great Resignation Trail
Even the oldest Gen Zers haven't been in the workforce long enough to build significant savings, but their views on employment might shed light on why so many of them had to raid their savings to survive inflation.
Make Your Money Work for You
As the Great Resignation hit full stride in September 2021, Forbes reported that Gen Zers were fleeing their jobs at much higher rates than older demographics. In February 2022, Axios reported the same thing. A few months later in May, CNBC reported that nothing had changed — the youngest employees were still fueling the labor market's high turnover.
"Gen Z and millennials are much more likely to join the Great Resignation than their older coworkers," said Kevin Harrington, CEO of Joblist.
As the youngest employees, they had the least seniority and most incomplete skill sets to begin with, so their positions were already the most vulnerable. It's reasonable to surmise that their penchant for job-hopping only made Gen Z's fledgling participation in the workforce all the more precarious — and that savings became a life raft for those who gambled wrong on the Great Resignation. 
More From GOBankingRates
Methodology: GOBankingRates surveyed 1,000 Americans aged 18 and older from across the country between June 22 and June 24, 2022, asking nine different questions: (1) Which item affected by inflation has hurt your finances the most?; (2) How has inflation affected your personal finances (Select all that apply)?; (3) What cost-cutting measures are you taking to curb the impact of inflation? (Select all that apply); (4) Have you canceled any plans or trips due to the rising gas prices?; (5) What worries you most about the current economic situation?; (6) How are you reacting to the stock market entering a bear market (any stock index or individual stock that drops 20% or more from its recent peaks)?; (7) How has the stock market drop impacted your retirement plans?; (8) How has the current crypto decline affected your investment strategy?; (9) How has the current crypto decline affected your outlook on crypto as an asset?; (10) Which small businesses do you most frequent?; (11) Have you ever considered starting a small business?; (12) How do you support small businesses? (Select all that apply); (13) Why do you prefer a small business over a chain or big box store? (Select all that apply); (14) Over the past two years how has your relationship (or spending) with small businesses changed?; and (15) How do you interact with small businesses the most?. GOBankingRates used PureSpectrum's survey platform to conduct the poll.
Make Your Money Work for You