A Comprehensive Resource Page for Government and Nonprofit Financial Assistance Programs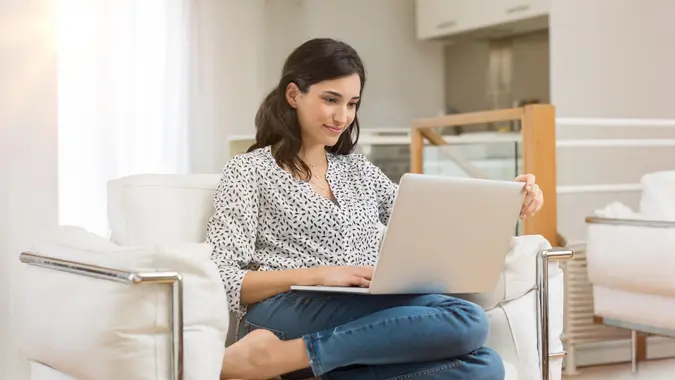 ©Shutterstock.com
The ripple effects of the pandemic's impact on the economy continue to be felt today, even as many communities have reopened in full after public health mandated lockdowns. Many people are still playing catch up from losing work, falling behind on bills, or depleting savings to get through the past two years.
Discover: Unplug These Appliances That Hike Up Your Electricity Bill
More: What Income Level Is Considered Middle Class in Your State?
Even as many federal programs created or extended specifically to alleviate pandemic-related economic shocks have wound down, there are still numerous government and nonprofit assistance programs in place to help people in financial need. Here is a comprehensive list of the predominant ones you should know about, in case you ever need to use them.
Government Resources
Unemployment Insurance Benefits
One form of assistance that many people became all too familiar with during the pandemic is unemployment insurance (UI), a combined federal and state program that will pay out a portion of your regular wages if you lose a job in a way that is not your fault. They are intended to provide temporary assistance while you look for another job.
Make Your Money Work for You
You will not be paid your full salary, but a percentage of the prior year's earnings, for up to 26 weeks. You do need to meet your state's "base period" of months worked. Benefits also exist for disaster assistance (which the pandemic qualified as), for federal employees, and for current and former service members. You can learn more information at the U.S. Department of Labor.
Temporary Assistance for Needy Families (TANF)
The TANF program, formerly known as welfare, offers time-limited assistance to families with children when parents or guardians are unable to afford basic needs. It is ultimately up to the individual states, however, to decide how much assistance will be offered and what the eligibility requirements are.
Child Tax Credit
The American Rescue Plan increased the Child Tax Credit from $2,000 to $3,600 for eligible children under age 6, and $3,000 for other qualifying children under age 18. [x]
Social Security Disability Insurance (SSDI) benefits
The Social Security Disability Insurance (SSDI) and Supplemental Security Income (SSI) programs assist people with disabilities — those whose illness or other physical condition makes it difficult or impossible to work for a year or more. You do have to have worked jobs in which you paid into SSDI, and earn less than $1,350 per month, or $2,260 if you are blind.
Make Your Money Work for You
The SSDI program may also pay benefits to certain family members including a spouse, a divorced spouse, children, or an adult child disabled before the age of 22.
Supplemental Nutrition Assistance Program (SNAP)
SNAP, formerly known as food stamps, supplement the food budget of families in need with the goal of moving them toward self-sufficiency. States determine eligibility, so you must contact your state agency to find out if you can apply. In some states you may be able to apply online, while in others you must apply in person.
Related: 10 Things Most Americans Don't Know About SNAP
WIC (The Special Supplemental Nutrition Program for Women, Infants and Children)
In addition to food, and nutrition education, WIC provides breastfeeding support and health and social services support to low-income pregnant, breastfeeding and postpartum women. It also supports infants and children — up to age five — at nutritional risk. To be eligible, women must be:
Pregnant
Breastfeeding
Postpartum
A child 5 years old or younger.
Make Your Money Work for You
Enrollment in programs such as SNAP, Medicaid, or TANF all but guarantees eligibility for WIC.
Food for School-Age Children
For school-aged children over age 5, several nutritional programs are available for low income families, including the National School Lunch Program (NSLP), the School Breakfast Program (SBP), and the Summer Food Service Program (SFSP). Your family income must fall below 130% of the federal poverty guidelines for free food. but reduced prices are available if your income is between 130% and 185% of guidelines.
Senior Food Assistance
The federal government also supports low-income seniors to get their food needs met. The Senior Farmers' Market Nutrition Program (SFMNP) provides coupons for fresh fruits, vegetables, honey and herbs at farmers' markets, roadside stands and farms.
The Commodity Supplemental Food Program (CSFP) supports seniors' health by providing monthly food to seniors 60 years or older who live in an area supported by the program. [x]
Student Financial Aid
The Free Application for Federal Student Aid (FAFSA) is a central clearing house of student financial aid for all forms of student financial aid, which includes grants, scholarships, student loans and work-study programs for students with financial need. All students applying to college should file a FAFSA application.
For students with federal loans, President Biden's American Rescue Plan states allows you to delay making payments on principal and interest through December 31, 2025.
COVID-19 Mortgage Relief
For homeowners affected by the COVID-19 pandemic who have a federally backed or FHA-insured mortgage, you are still eligible for forbearance on mortgage payments.
Emergency Broadband Benefit (EBB) Program
The EBB program offers a monthly discount of $50 to $75 on broadband for qualifying households. It also offers a one-time discount of up to $100 toward a new laptop, desktop, or tablet (from participating providers). Your household must meet specific criteria, ranging from having income below 135% of the federal poverty level, to already receiving other assistance benefits.
Subsidized Rental Housing
Low-income people and families may qualify for several housing voucher programs through the U.S. Department of Housing and Urban Development (HUD). In most cases, you find your own housing and HUD pays for all or a portion of it. The unit will need to meet eligibility requirements and accept your voucher.
Foreclosure or Eviction Support
If you are dealing with possible foreclosure or eviction due to the pandemic, rental assistance is available with proof of your claims. Renters can look to the Federal Emergency Rental Assistance program. Homeowners can request forbearance. [x]
FEMA Disaster Support
The Federal Emergency Management Agency (FEMA) provides financial assistance to people who have suffered damages and losses due to disaster. These can relate to homes, personal property and even injury. FEMA also offers support for disaster-caused disability.
Medicaid
Medicaid is a federal and state healthcare assistance program for low-income people. Most Medicaid patients pay little to no fees for all covered medical expenses, though sometimes a small co-payment is required. Eligibility varies from state to state. It is run by state and local governments within federal guidelines.
Veterans Benefits
Active duty or former military service members are entitled to a vast array of government benefits ranging from education funding, health insurance, home loan support, professional development support and more.
Nonprofit Organizations
There are numerous local (state, county, city) agencies and organizations that offer financial support and other kinds of assistance to people in need. This is only a sample of the kinds of organizations out there.
Catholic Charities
Despite its name, Catholic Charities does not care what your religion is. They offer financial help and other resources for people in a crisis.
Jewish Federation of North America
This nonprofit organization offers assistance to families in need, regardless of religion, race or age. They provide emergency rent assistance, homeless prevention, energy bill payment, and more.
Operation Homefront
This nonprofit is for military personnel, former and current. They offer emergency financial assistance, grants, counseling, and more. They also support military servicemembers' family members. [x]
United Way
United Way runs thousands of programs and can connect people to databases of other charities and nonprofits. They run the free "211" telephone service that helps people find support for such things as housing, food, financial aid for bills and more.
The YMCA
This nonprofit supports families and children, the unemployed and those looking for work. Programs for low-income families include food and nutrition support over holidays and summers, and job training and daycare support for working parents.
More From GOBankingRates
Make Your Money Work for You