Buy Groceries at Dollar Tree or Dollar General? Why Some Communities Are Revolting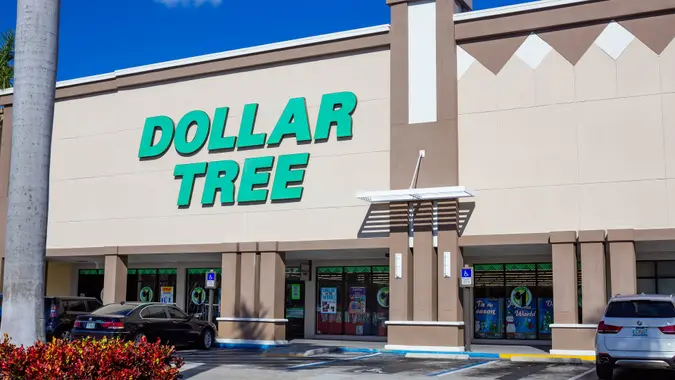 Marina113 / iStock.com
Discount stores like Dollar Tree and Dollar General claimed the No. 1 spot for most retail locations opened in 2022, but not everyone is so welcoming.
See: As Grocery and Dollar Stores Compete for Your Money, Here's How To Spend Most Effectively
Find: People Making 6 Figures Are Shopping at Dollar Stores — Here's What They Are Buying
Since 2019, at least 75 communities have voted down proposals for new dollar stores, according to a report released by the Institute for Local Self-Reliance, a nonprofit organization and advocacy group, as reported by Best Life. The same report found that at least 54 cities and towns — including Birmingham, Alabama; Fort Worth, Texas; Kansas City, Kansas and Plainview, Nebraska — have put laws in place that "sharply restrict new dollar stores."
Some cities have banned them from opening a new location within one to two miles of an already existing dollar store. Best Life noted that the town of Stonecrest, Georgia, has imposed a total ban on new dollar stores.
Leaders say these discount stores are hurting local communities by undercutting local grocers with low prices and promoting unhealthy food choices. The Institute for Local Self-Reliance said Dollar General and Dollar Tree single out marginalized communities and rural towns, Best Life added. "They typically locate next door to or across the street from the town's only grocery store, and often succeed in wiping it out," the nonprofit explained in the report.
Make Your Money Work for You
Many dollar chains do not stock fresh produce and often sell "cheater" sizes from suppliers at a higher price per ounce, the report pointed out. The chains also rely on a lean labor model by purposely understaffing their stores and have become magnets for crime and violence.
Take Our Poll: As a Retired Person, Are You Comfortable With Your Monthly Income?
A company spokesperson from Dollar Tree told Best Life that while the stores may not carry produce, they "bring quality products at accessible prices" and help to alleviate "food deserts" in areas where there are few grocery options.
Dollar General, on the other hand, has a DG Market division — comparable to a super Walmart concept — which consists of 3,200 locations with more to be added, according to the company. Their produce section includes lettuce, tomatoes, onions, apples, strawberries, potatoes, sweet potatoes, lemons, limes, salad mixes and more.
More From GOBankingRates
Make Your Money Work for You
Make Your Money Work for You