Grocery Shopping 2023: What Products Are Consumers Spending More Money on This Year?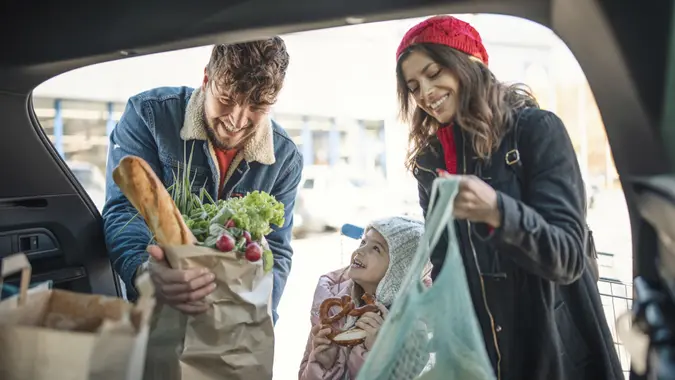 ArtistGNDphotography / Getty Images
Ask any number of Americans who buy groceries and they'll likely agree on one thing — they are expensive. According to the USDA, the food at home index (groceries) rose 10.2% over the last 12 months.
This year, a family of four on a thrifty food budget is potentially spending close to $1,000 per month on groceries ($979.40), according to the Official USDA Thrifty Food Plan for February 2023. For perspective, two years ago, a family of four on the same budget spent about $300 less per month ($674.80). And even just a year ago, the expense was $887.80, or about $90 less per month.
Here's a look at the costs for the other three monthly food budgets for a family of four for February 2023: 
Low-cost: $1,048.70
Moderate-cost: $1,305.12
Liberal: $1,576.10
Keep in mind that the almost $1K per month that families on a tight budget have to fork over at the grocery store is only for the thrifty food plan, which the USDA describes as a nutritious, practical and cost-effective diet. That means frozen meals, soft drinks and processed snacks — foods many people reach for when shopping — are largely off limits. Instead, the staples of the thrifty food plan are unprocessed, healthy foods like dark-green vegetables, whole fruit and poultry.
Make Your Money Work for You
No matter what your food budget is, it's noticeable when you have to pay more for the same products you normally buy at the grocery store. According to the USDA, the food-at-home index rose 0.3% over the month of February, including five of the six major grocery store food group indexes. With that in mind, here are the grocery products consumers are spending the most money on this year.
Non-Alcoholic Beverages
The index for non-alcoholic drinks increased 1% in February after increasing 0.4% in January. Over the past year, it increased 12.3%. According to the USDA, non-alcoholic beverages include the following:
Carbonated soft drinks
Bottled water
Fruit juices
Fruit drinks
Coffee
Tea
Sports drinks
Cereals and Bakery Products
The index for cereals and bakery products, including cake, bagels, bread and cookies, increased 0.3% over the month of February. Over the year, the index for this category rose 14.2%.
Take Our Poll: Would You Move for a Job That Paid You a $10,000 Signing Bonus?
Fruits and Vegetables
The index for fruits and vegetables, both fresh and processed, saw an increase of 0.2% in February and 5.3% over the past year.
Dairy and Related Products
The index for dairy and related products, including milk, dry milk products, cheese, butter, ice cream, yogurt, condensed milk and whey products rose 0.1% over the month and 12.3% over the year. 
Make Your Money Work for You
Other Foods at Home
The index for other foods at home rose 0.8% in February and 11.6% over the year. 
Other foods at home include the following, according to the USDA:
Table fats/oils/salad dressings
Gravies/sauces/condiments/spices
Beverages
Desserts/sweets/candies
Salty snacks
Vitamins/meal supplements
Baby food
Infant formula
What About Eggs?
Although the index for eggs increased 55.4% over the year, it decreased -6.7% over the month of February. And that decrease in egg prices is projected to continue.
The USDA reported that high egg prices resulted from outbreaks of the avian flu, which has killed in excess of 58 million backyard and commercial poultry species since 2022. The agency said that egg prices will fall nearly 30% during 2023 as long as there are no additional avian flu outbreaks.
More From GOBankingRates
Make Your Money Work for You