Republicans Meet with Biden to Try to Lower Stimulus Checks to $1,000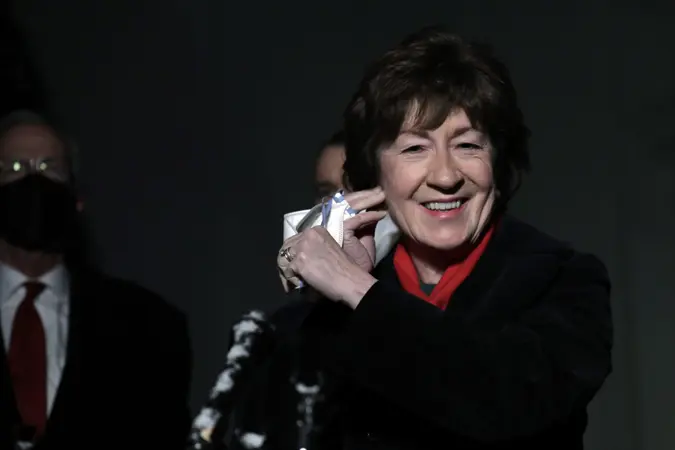 Shutterstock / Shutterstock
President Biden's $1.9 trillion American Rescue Plan is facing a much smaller counter-proposal by a group of 10 Republicans who are also intent on decreasing the direct payment checks to $1,000.
See: Republicans Try to Sell Biden on a $600 Billion Stimulus Plan
Find: Congress Could Vote on Pandemic Relief and $1,400 Stimulus Check for Americans This Week
The group of 10, which is led by Sen. Susan Collins and includes Sen. Lisa Murkowski (R-Alaska), Sen. Mitt Romney (R-Utah), Sen. Bill Cassidy (R-La.), Sen. Rob Portman (R-Ohio), Sen. Shelley Moore Capito (R-W.Va.), Sen. Todd Young (R-Ind.), Sen. Jerry Moran (R-Kansas), Sen. Michael Rounds (R-S.D.) and Sen. Thom Tillis (R-N.C.), met with the president yesterday to discuss their $618 billion plan.
Biden's plan, which includes proposals to combat the coronavirus pandemic and its effects on the economy, with an initial focus on large-scale expansions of the nation's vaccination program and virus testing capacity, also includes a direct payment of $1,400 per person to supplement the $600 Congress approved as part of the second stimulus. The $600 sum was decried by many, as it represented exactly half of the $1,200-per-person payment the first, CARES Act stimulus provided last spring.
Make Your Money Work for You
See: Never Got Your Stimulus Check? Claim It on Your Taxes
Find: How Biden's First 100 Days Could Impact the Economy
Now, the group of Republicans is pushing for payments of $1,000 per person. For singles, the payment begins phasing out at $40,000 per year in income, with a $50,000 cap, according to the details of their plan. For joint filers, it begins phasing out at $80,000 per year with a $100,000 cap. In addition, the plan calls for $500 for dependent adults and children, and no checks to convicted inmates.
In a letter to President Biden, the group said its proposal also includes economic relief for those Americans with the greatest need, providing more targeted assistance than in the Administration's plan. "We propose an additional round of economic impact payments for those families who need assistance the most, including their dependent children and adults."
See: Biden Unfreezes Billions in Federal Spending, Reversing Trump's Final Days' Actions
Find: Biden's Latest Executive Orders to Target COVID Hunger Issues, Worker Protections
Make Your Money Work for You
The group said it had developed a COVID-19 relief framework "in the spirit of bipartisanship and unity," that builds on prior COVID assistance laws, all of which passed with bipartisan support. "Our proposal reflects many of your stated priorities, and with your support, we believe that this plan could be approved quickly by Congress with bipartisan support," the letter states.
Following the meeting with the Republican senators, the White House released a statement that said the president and vice president had had a "substantive and productive discussion with Republican senators."
However, the White House added that while there were areas of agreement, "the President also reiterated his view that Congress must respond boldly and urgently, and noted many areas which the Republican senators' proposal does not address. He reiterated that while he is hopeful that the Rescue Plan can pass with bipartisan support, a reconciliation package is a path to achieve that end. The President also made clear that the American Rescue Plan was carefully designed to meet the stakes of this moment, and any changes in it cannot leave the nation short of its pressing needs."
More From GOBankingRates:
Make Your Money Work for You