Here's the Maximum Amount of Stimulus Money You Could Have Received in 2022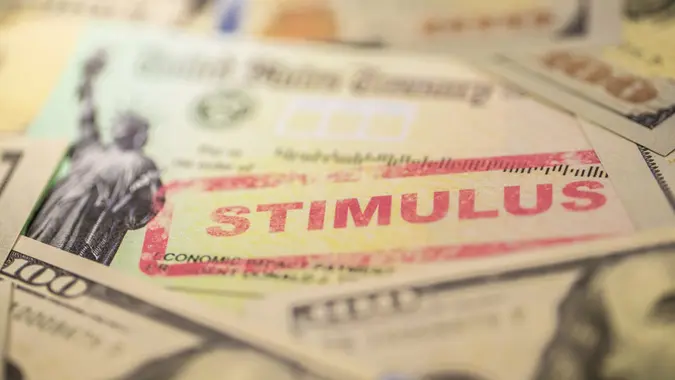 LPETTET / Getty Images/iStockphoto
During the depths of the pandemic, the United States government issued numerous stimulus payments to help Americans get through the economic slowdown. Yet, for a number of reasons, many Americans either didn't claim or weren't aware of the stimulus money to which they were entitled.
Take a Look Back: 2022 Year in Review
Find Out: What Is the Highest Income Level for Food Stamps in 2023?
In October 2022, the federal government sent out last-minute notifications for Americans to claim what they were due, but the deadline for filing was Nov. 15. However, in limited cases, there might still be time to claim stimulus payments offered by individual states.
Here's a look back at the maximum amount of stimulus money you could have received in 2022.
Maximum Stimulus Money for 2022
There is no one single figure for how much stimulus money you could have garnered in 2022, as it varied by filing status, income level, state of residence and number of qualifying dependents. Joint filers in Maine underneath the income limits, for example, could have earned $1,700 from their state, $2,800 from the federal government and $1,400 per eligible dependent, with no limits — in addition to $3,000 per eligible dependent from the expanded Child Tax Credit.
Make Your Money Work for You
Putting it all together, certain taxpayers were eligible for well into the five figures in combined state, federal and expanded Child Tax Credits in 2022.
Stimulus Payments
The third round of stimulus checks went out in March 2021, but many Americans didn't claim them until they filed their tax returns in the spring of 2022. The final extension to receive those payments expired on Nov. 14.
For those who managed to claim them, single filers could have received $1,400, while joint filers were eligible for $2,800. Those with eligible dependents could have received an additional $1,400 per dependent, with no limit.
However, income played a role in qualifying. Single filers had to have adjusted gross incomes of $75,000 or less to qualify, while joint filers had an AGI limit of $160,000.
Prior Federal Stimulus Checks
By way of comparison, the first round of direct payments, in April 2020, paid up to $1,200 to single filers earning up to $75,000 and joint filers pulling in up to $150,000. Up to three eligible dependents up to age 16 were also entitled to up to $500 each.
The second round of economic stimulus checks, approved on Dec. 27, 2020, and paid out the following January, provided $600 to qualifying beneficiaries, on top of an additional $600 for dependents under 16 years of age. For this check, the full amount was paid to individuals earning under $75,000, with a phaseout occurring up to an income level of $87,000.
Make Your Money Work for You
State Stimulus Payments
In addition to federal stimulus checks, many states offered direct payments to residents. Many of these credits and payouts were given different types of names, such as California's "Middle Class Tax Refund" or Colorado's "Cash Back" checks.
A number of states got into the game, including Pennsylvania, New Jersey, South Carolina, Rhode Island, Massachusetts, Illinois and Idaho. Maine offered perhaps the biggest payments in 2021, totaling as much as $1,700 for joint filers. 
Although most state stimulus checks are over and done with, there are still a few payments being made. California, for example, anticipates all residents having a payment by Dec. 31, 2022, while Colorado residents who filed for extensions on their taxes may still be getting checks until Jan. 31, 2023.
Idaho, New Jersey and Pennsylvania anticipate payments still being made into 2023, but quickly check whether you're a state resident — most of these states require paperwork in their hands by the end of 2022.
The Child Tax Credit
The Child Tax Credit has existed since 1997, so it wasn't technically part of the coronavirus stimulus packages. However, President Biden greatly expanded the credit on March 11, 2021, to further help support American families. Specifically, the new Child Tax Credit provides $3,000 per child 6-17 and $3,600 per child under 6.
Make Your Money Work for You
Married couples with incomes of up to $150,000 could qualify, while families with single parents earning up to $112,500 also qualified. The filing date for the expanded Child Tax Credit passed on Nov. 15, 2022.
How Did People Miss Out on Stimulus Checks?
Unfortunately, some of those most in need were the ones that missed out on the federal (and state) stimulus payments offered throughout the pandemic. Characteristics of many who didn't get their stimulus payments include those who:
Were homeless
Had no bank accounts
Had never filed tax returns
Didn't have internet access
More From GOBankingRates
Make Your Money Work for You