What Will the Housing Market Look Like Now That Biden's President?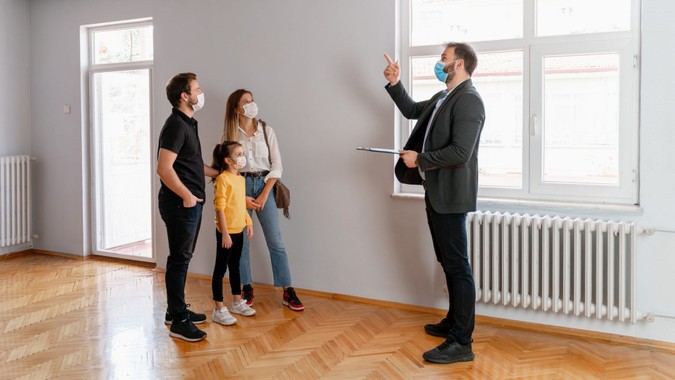 Phynart Studio / Getty Images
President Joe Biden is pushing for a $15,000 first-time homebuyer tax credit that could make buying a house more affordable to more Americans. But his presidency could change the real estate landscape in other ways as well. What will the housing market do under Biden?
See: What Homes Will Be Worth in Your State by the End of 2021
Find: How to Buy a Home in the Middle of a Pandemic
Home Inventories May Remain Low for the Foreseeable Future
The year-over-year home inventory between December 2019 and December 2020 was down 41%, with new listings 13.6% lower than last year, according to Realtor.com reports. "Looking forward, we could see new [inventory] lows in the next couple of months as buyers remain relatively active, but a surge of new COVID cases may slow the number of sellers entering the market," said Danielle Hale, chief economist at realtor.com, in a CNBC report.
Additionally, at the beginning of January, houses were selling 12 days faster than the same time last year, another indicator that the market shows little signs of slowing.
Reduced Private Mortgage Insurance and Increased FHA Lending Could Help First-Time Buyers
In addition to the proposed tax credit, Biden is looking to reduce mortgage insurance premiums on loans backed by the Federal Housing Administration. David Stevens, a former FHA commissioner under the Obama administration, told CNBC that Biden may also seek to entice more large lenders to write FHA loans. "I think you'll see a pronounced effort from both folks at the National Economic Council and the Biden team in the White House, as well as the new team at HUD, to do what they can to pressure the banks back in," he said.
Make Your Money Work for You
Sponsors of
See: 32 Insider Tips for Buying and Selling a House
Find: The 50 Best Places to Buy a Home for Under $250,000
New Construction Could Alleviate Some Housing Shortage Woes
Making home loans available to more people, while providing greater access to down payment assistance, could threaten to increase the housing shortage and drive home prices even higher. However, Biden's intentions to support home builders and encourage new development, along with his foreign trade policies, could make new construction easier and more profitable for builders.
Of course, new construction of both single-family homes and multifamily dwellings will have to be balanced with Biden's sustainability goals. Any attempt Biden makes to ease regulations on home builders should not have an adverse effect on the environment.
See: New Housing Market Shows No Signs of Cooling Off This Winter
Find: 5 Tips for Buying a Second Home

…And the Interest Rates?
Although the Federal Reserve recently stated it had no plans to raise interest rates within the short term, an economic recovery under Biden could spark a reversal of that decision. The Fed has been purchasing mortgage-backed bonds to keep interest rates low, although they started creeping up to 2.9% this week for a 30-year fixed-rate mortgage.
Make Your Money Work for You
Sponsors of
In essence, we shouldn't expect to see home prices drop substantially under the new administration, but with prolonged economic recovery, it may become easier for many Americans to buy their dream home.
More From GOBankingRates: