How Prices Changed for Bacon, Milk & More Grocery Items in 2021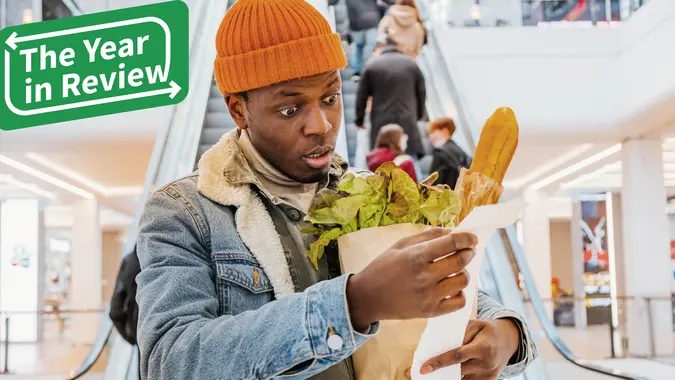 For most of us who didn't study economics, inflation is a concept you notice only when the items you usually purchase are suddenly more expensive during your grocery shopping checkout.
These price changes might seem random or arbitrary, but they're very real, and the pandemic has a lot to do with why grocery items have been changing price recently.
GOBankingRates reviewed data from the Bureau of Labor Statistics' consumer price index to see how the prices of common groceries have changed in a year. While many foods have continued to rise in price, a few have, surprisingly, gotten cheaper.
The Pandemic's Effect on the Price of Food
The pandemic has changed and reshaped our lives in so many ways it's hard to count, but the price of goods is one specific result. Between shutdowns that affected the supply chains of nearly every industry — including manufacturing, shipping, employee labor and general income — businesses have struggled in a number of ways due to our attempts to mitigate the spread of COVID-19. This trickles down to your price at the grocery store.
Common Causes of Inflation
When there isn't a pandemic, typical causes of inflation are:
Make Your Money Work for You
Climate Change
Extreme weather is becoming a new normal due to climate change; and, while we may be getting used to everything from drought to tornadoes out of season to wildfires and rising temperatures, crops are not. Crop failures as a result of climate change can reduce supply, driving up demand and price, according to Conservation.
Government Subsidies on Corn
Corn might be a tasty meal, but it's also a highly coveted biofuel in the form of ethanol. The U.S. Government offers farmers subsidies, thus removing enough corn from the food supply to affect its price when you buy it, according to The Balance. A whopping 37% of U.S. corn goes to make ethanol, which is up significantly from 6% in 2000, according to Energy.gov.
Oil Prices
Food doesn't magically get from where it's grown to where it's sold. That requires transportation, which requires gas. So the price of oil will, ultimately, affect the price of food, if it's costing more to transport it.
What Has Gotten More Expensive?
Your breakfasts are likely getting more expensive if you like bacon, eggs and orange juice. Eggs went up 29.1% from 2020, bacon by 27.8% and frozen orange juice by 14.3%.
Your barbecues will also be more expensive, as uncooked beef steak went up by 25.2%, frankfurters of all kinds of meat by 20.3%, ground chuck by 15.7% and ground beef by 14.9%. Pork chops are also up by 14%.
Make Your Money Work for You
Meats have been steadily increasing in price for a while in direct relation to the pandemic's shutdowns of 2020, according to CNBC. Shutdowns of meat processing plants meant they had to reduce the number of cattle and other livestock. They also experienced a labor shortage, and the combination set the meat industry back in ways it hasn't fully recovered from.
Other items that have gotten slightly more expensive but not as significant as these others include milk, up by 8.3%; ground roast coffee, up by 7.8%; malt beverages, up by 4%; wine by 3.3%; rice at 2.9% and bread at 2%.
Some Prices Have Rebounded
Now is the time to buy tomatoes, which have dropped in price by 1%; strawberries, which have gone down by 2.2%; cheddar cheese, down by 3.4%; and chicken, which has gone down 3.8%. But you'll see the most significant savings in your pasta pot, with spaghetti and macaroni having gone down by 13.1%.
Also, now's the time to take advantage of a significant drop in the cost of all-purpose white flour, which went down by 13.3%, just in time for holiday baking.
It's hard to say exactly why these items have come down in price — perhaps all the people who suddenly took on baking bread during the pandemic went back to work — and there is good reason to think these drops will be temporary as continuing effects of climate change on wheat production, particularly drought and extreme heat, don't bode well, according to Bloomberg.
As the U.S. (and the world) continues to adapt to the ongoing pandemic, expect food prices to continue to lean toward the high end and to fluctuate until the economy finds stability again.
Make Your Money Work for You
More From GOBankingRates
Methodology: To compare the current cost of groceries against prices a year ago, GOBankingRates sourced the median price of select goods as presented by the Bureau of Labor Statistics' Consumer Price Index for October 2021 (the most recently released data) and October 2020. GOBankingRates then calculated the differences between the selected datasets, both as percentages and currency. Finally, items were ranked by greatest percentage increase. All data was collected on and up to date as of November 29, 2021.