How Inflation Changed the American Economy in 2022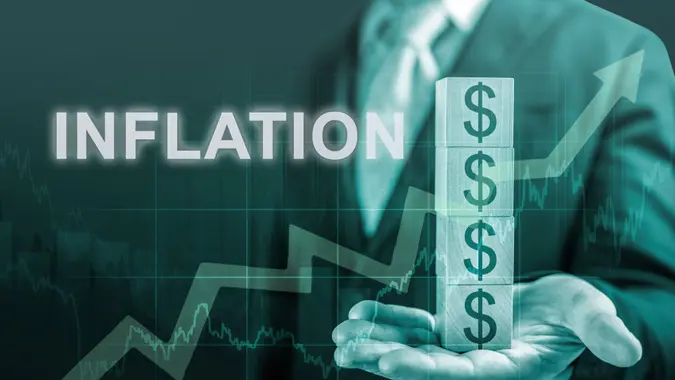 Pavel Muravev / Getty Images/iStockphoto
Analysts have blamed the inflation crisis of 2022 on everything from OPEC and Russia to wage hikes and corporate price gouging. 
Check Out: States Whose Economies Are Failing vs. States Whose Economies Are Thriving
Take a Look Back: 2022 Year in Review
But prices were already rising fast in the waning months of 2021 as a hot economy flush with cash sent demand soaring into the new year.  
"An increase in the money supply leads to more money chasing the same number of goods and services," said Oberon Copeland, owner and CEO of Veryinformed.com. "This results in higher prices as businesses pass on their higher costs to consumers." 
The U.S. economy rode a tidal wave of economic growth into 2022, and the inflation that followed touched just about every aspect of American financial life. 
This Year's Inflation Was Payment for Last Year's Growth
America dug out of the pandemic far faster than its global peers in 2021, but the tradeoff for last year's stunning economic recovery was this year's cost-of-living crisis.
Make Your Money Work for You
Take Our Poll: How Long Do You Think It Will Take You To Pay Off Your Credit Card Debt?
According to the Center for Economic and Policy Research (CEPR), the U.S. economy grew by 5.5% between the fourth quarter of 2020 and the fourth quarter of 2021, growing GDP by 2.3% over 2019 levels before the six other G7 countries had even climbed back to zero.
CEPR credits the cash infusion from the American Rescue Plan (ARP) for the impressive economic turnaround. But if that's true, the tradeoff was the highest inflation rate in 40 years. Politifact asserts that the $1.9 trillion stimulus package generated a demand-based inflation surge that was probably responsible for about half of 2022's price increases.
In short, the stimulus enabled consumers to steer the country away from a recession straight into an inflation crisis. 
Impressive Job Growth Defied Expectations — and the Fed
According to the Treasury Department, the unemployment rate remained at or near 50-year lows for nearly all of 2022 and never reached 4% after January. For months on end, the remarkably resilient job market was all that stood between America and a recession as inflation soared, a bear market set in and the economy tallied two consecutive quarters of negative GDP.
Make Your Money Work for You
But an economy that was steadily adding jobs and growing wages also dulled the Fed's ability to tame inflation with rate hikes.
"The Federal Reserve has attempted to reduce inflation by increasing interest rates five times in the last year," said Collin Plume, a 20-year financial services industry veteran and CEO of Noble Gold Investments. "The thinking is: If people have to pay more to borrow money for auto loans or mortgages, they'll spend less on everyday items. Demand goes down, prices go down. But it hasn't worked. Demand still outpaces production, and workers are demanding higher wages, so businesses keep their prices high to maintain profit margins."
Borrowing Slowed, but Consumers Kept Spending
The Fed's action to break inflation made it more expensive to borrow money. Predictably, both home sales and car sales declined when interest rates rose.
While applications for big-ticket financing cooled, traditional consumer spending never slowed down for the Fed's speed bumps.
"The Federal Reserve is attempting to battle inflation by raising interest rates, making the cost to borrow money more expensive in an effort to slow down spending and drop inflation back to its target of 2%," Williams said. "But because American consumers have barely changed their spending habits this year, the Fed's fight against inflation has become more difficult." 
Make Your Money Work for You
Hidden but Harmful Insurance Inflation Hobbled Budgets From the Shadows
The effects of inflation were most apparent on utility bills and at restaurants, grocery stores and gas stations — but it also hid inside insurance policies. While insurance inflation isn't as easy to spot as rising gas prices, it batters household buying power just the same. 
"Premiums on both homeowners insurance and auto insurance rose in 2022, with the latter increasing by nearly 5% and affecting nearly 7 million policyholders nationwide," said Luke Williams, a finance expert with ExpertInsuranceReviews.com. "Homeowners insurance premiums have risen as well, with nearly 200 requests for rate increases being filed by carriers in over 40 states." 
Policy Genius reported in July that the price of the average home policy was rising faster than inflation and a Fortune study showed that auto insurance was up by as much as 20% in some states.
Inflation Was Hardest on Those Who Could Least Afford It
According to the New York Times, low-income households in 2020-21 had to spend their pandemic stimulus payments right away on immediate needs like housing, food and car repairs — but the more affluent were able to save and invest theirs.
By the time the highest inflation rate in 40 years forced everyone to spend more for the same amount of goods and services, low-income households were right back where they had started pre-stimulus. Since their budgets already left room for little more than the basics, they had the fewest opportunities to cut back on spending.
"People often think of inflation as a problem for the wealthy since it erodes the value of their liquid assets," said Gary Zimmerman, founder and CEO of MaxMyInterest. "It's actually a much bigger problem for those living paycheck to paycheck."
The Times profiled people from three income demographics to see how they were responding to inflation. The least affluent were resorting to drastic lifestyle changes, like showering at the local YMCA to lower utility bills and cutting out even the simplest pleasures like a favorite brand of crackers. 
Those with comfortable salaries up to $100,000 made much easier compromises, like scaling back on restaurant entrees — but they kept traveling, planning weddings and living their lives mostly unencumbered. 
Those earning higher in the six figures were aware of rising prices but typically required no sacrifice in their day-to-day lives to adapt to the changes.
More From GOBankingRates
Make Your Money Work for You