How Much Does It Cost to Live in the Country's Fastest-Growing Cities?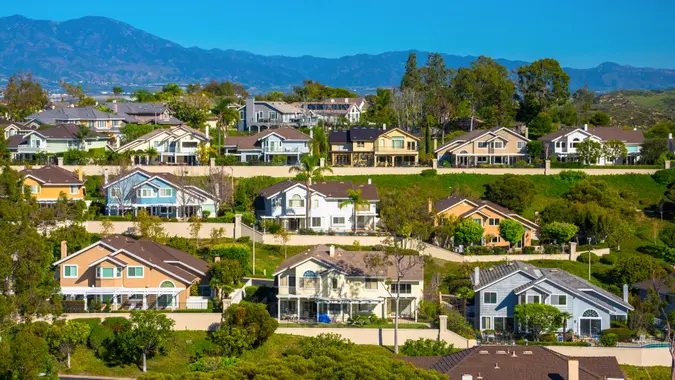 Davel5957 / Getty Images/iStockphoto
Among the least surprising trends to emerge from last week's release of United States Census Bureau data was that the fastest-growing cities over the past decade were all concentrated in the South and West.
See: Don't Overlook These Hidden Gem Cities With a High Quality of Life
Find: The Cost to Own a 3-Bedroom Home in Every State
That's been the trend for a long time, and it shows no signs of abating. The fastest-growing big city was Phoenix, which saw its population rise from 1.4 million people in 2010 to 1.6 million in 2020, for a growth rate of 11.2%, The New York Times reported.
But Phoenix didn't have the fastest growth rate among all cities. That honor went to Buckeye, Arizona, a western suburb of Phoenix that saw its population increase nearly 80% to 91,000, according to an Aug. 12 Census Bureau tweet.
All 10 of the fastest-growing cities grew by at least 44% during the decade. Four are located in Texas, two in Arizona, and one each in California, Idaho, Utah and Washington.
Make Your Money Work for You
See: Millennials Are Leading a 'Rural Revitalization' as They Leave Cities for Good
Find: 25 Cities Where the Middle Class Is Thriving
In case you want to join others in moving to one of these bustling burgs, you'll want to know how much it costs to live there. GOBankingRates took a look at the cost of living in each of the 10 fastest-growing cities to give you an idea of what to expect.
Data for the cities listed below was taken from the Best:Places.net website. The scores are based on a U.S. average of 100, meaning that if a cost-of-living category is above 100, it is more expensive than average, and if it is below 100, it is less expensive than average.
Only one of the cities came in with an overall score below 100 — not exactly surprising, considering that rapid growth often brings higher prices. The most expensive of the cities by overall score is Irvine, California. The least expensive is Conroe, Texas.
See: In Less Than a Decade, You Won't Be Able to Afford a Home in These Cities
Find: 35 Surprising Cities With Low Costs of Living
Make Your Money Work for You
The cities are listed according to their overall cost-of-living score, from least expensive to most expensive:
Conroe, Texas
Overall score: 94.9

Grocery score: 97.3

Health score: 95.6

Median home cost: $211,300
New Braunfels, Texas
Overall score: 100.3

Grocery score: 93.4

Health score: 96.1

Median home cost: $260,700
See: The Best Touristy Towns to Own Rental Property
Find: Fastest-Growing Towns in Rural America
Buckeye, Arizona
Overall score: 103.3

Grocery score: 96.8

Health score: 92.2

Median home cost: $225,200
Meridian, Idaho
Overall score: 107.4

Grocery score: 94

Health score: 91.1

Median home cost: $323,500
McKinney, Texas
Overall score: 107.9

Grocery score: 102

Health score: 96.4

Median home cost: $315,700
See: Cheap Cities You'll Love to Live In
Find: Most and Least Expensive States for Household Bills
Goodyear, Arizona
Overall score: 111.4

Grocery score: 98.3

Health score: 92.2

Median home cost: $291,400
Frisco, Texas
Overall score: 120

Grocery score: 104.4

Health score:  96.4

Median home cost: $404,500
South Jordan, Utah
Overall score: 128.7

Grocery score: 98.4

Health score: 101.1

Median home cost: $449,900
See: 10 US Cities Spending Big Money on New Housing Construction
Find: Houses in These 29 Cities Are Suddenly Major Bargains
Kent, Washington
Overall score: 130

Grocery score: 102

Health score: 85.2

Median home cost: $384,100
Irvine, California
Overall score: 187.1

Grocery score: 105.6

Health score: 95.9

Median home cost: $864,400
More From GOBankingRates
Make Your Money Work for You