How Retailers Are Attempting To Fix Supply-Chain Forecasts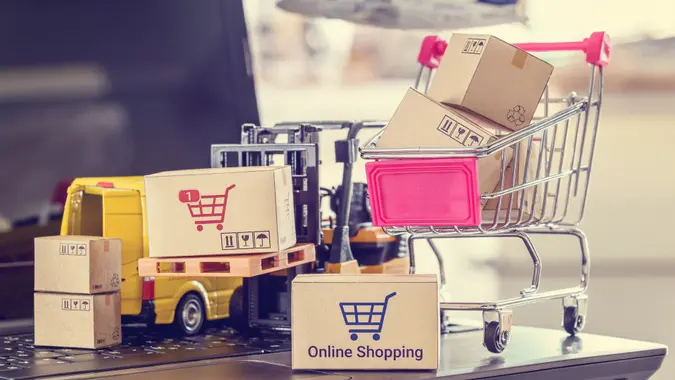 William_Potter / Getty Images/iStockphoto
Once upon a time, supply-chain forecasts were more predictable, governed by seasonal patterns and broad economic factors. However, during the pandemic, the combination of countless production and shipping breakdowns and consumer demand that turned on a dime exposed the need for supply-chain forecasting to be more adept.
Here's how supply-chain forecasting has changed and how retailers are attempting to fix supply-chain forecasts. 
How Is Supply-Chain Forecasting Different Now?
Chris Alexakis, CEO of Cabinet Select, one of the largest e-commerce furniture retailers in the United States, said that supply-chain forecasting has gone through a major transformation due to the pandemic.
"We're dealing with unprecedented levels of uncertainty and volatility," he said. "Since the old forecasting methods just can't keep up anymore, we need to be agile, nimble and ready to adapt to whatever curveballs the market throws at us."
What Have Retailers Learned About Supply-Chain Forecasting?
Alexakis said that the impact on supply-chain forecasting due to the pandemic has been a real eye-opener for retailers, including him. "We can't rely on historical data alone now," he said. "We've learned that real-time data, visibility across the supply chain and collaboration with suppliers are crucial. It's about being proactive rather than reactive. The pandemic forced us to embrace technology-driven solutions and predictive analytics to improve our forecasting accuracy."
Make Your Money Work for You
What Changes in Supply-Chain Forecasting Have Retailers Started Focusing on?
"Retailers have been hustling to address the weaknesses in our supply chain forecasting processes," said Alexakis. "We're doubling down on demand planning and inventory optimization. This is mostly through investing in advanced forecasting technologies that use AI to crunch the numbers and make sense of the chaos. Retailers need to be smarter and more flexible than ever before. A diversification of supply sources and increased safety stock levels are also new strategies that are being adopted."
Examples of How Retailers Are Attempting To Fix Their Supply-Chain Forecasts
Yaron Shapira, CEO and co-founder of 8fig, said, "Today's retailers are leveraging technology to refine their supply chain forecasts by utilizing machine learning algorithms, which can identify and interpret trends in large and complex data sets. For example, they use supervised learning methods to develop models that predict demand based on historical sales data. These models consider numerous variables, such as sales in different periods (weekly, monthly, or annually), seasonality, and external factors such as weather conditions or market trends. 
"To improve the accuracy of forecasts, they employ techniques such as time-series forecasting and multiple linear regression. Time-series forecasting considers trends and patterns in past data and extrapolates them into the future, while multiple linear regression predicts a dependent variable (such as sales) based on several independent variables (such as price, marketing expenditure, etc.)."
Vikram Murthi, vice president of industry strategy at o9 Solutions, a leading AI-powered platform for transforming planning and decision-making, said, "Retailers are turning to AI and data to support demand planning and help improve their supply-chain forecasts. Apart from traditional time-series statistical methods, newer Machine Learning (ML) techniques enable demand sensing with pattern recognition and improve the accuracy of forecasts across all channels in several ways:
Use of newer algorithms like gradient boosting, support vector machines and tournament and ensemble methods 
Leveraging internal drivers like everyday shelf price, sale price, product placement, offers and digital coupons 
Incorporating a host of external causals like weather, GDP, new housing starts, mobility indices, interest rates, inflation, debt-to-income ratios and local school and sports events"
Make Your Money Work for You
How Has the Rapid Growth of E-Commerce Complicated the Issue?
Alexakis said the rapid growth of e-commerce has been a blessing and a curse.
"On one hand, we've seen an explosion in online orders, which is fantastic for business," he said. "But on the other hand, it's introduced a whole new level of complexity. Customer preferences are shifting, and we're juggling multiple sales channels. Plus, the pressure to deliver orders quickly and efficiently has skyrocketed, so it's been hectic all [a]round but still rewarding."
How Easy or Difficult Will It Be for Retailers To Fix Their Supply-Chain Forecasts?
"Fixing supply-chain forecasts won't happen overnight," said Alexakis. However, he added that it's definitely achievable with determination and the right strategies.
"We need to invest in the right tools and technologies, foster stronger relationships with our suppliers and build stronger supply chains. It's about embracing a culture of data-driven decision-making and being open to change."
More From GOBankingRates