How Service Industry Unionization Could Impact Prices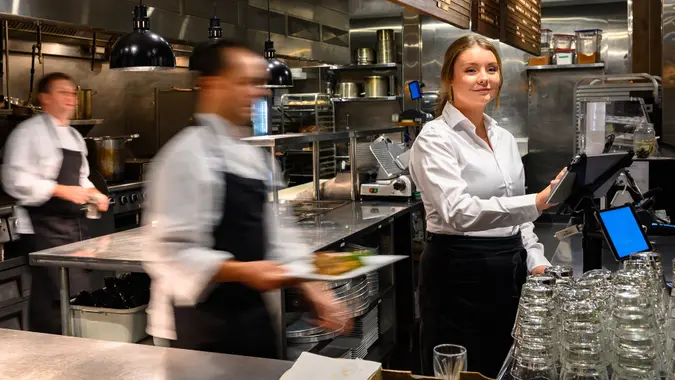 stockstudioX / iStock.com
According to the Bureau of Labor Statistics, the food service industry has one of the lowest unionization rates in America — 1.2% compared to 10.3% for the country overall. But from Starbucks to Chipotle, service workers across America have launched a movement to increase that percentage.
It's not hard to understand why.
Live Updates: November Food Stamps Benefits
Explore: GOBankingRates' Best Credit Cards for 2023
BLS reports that the median full-time union worker earned $1,169 a week in 2021. The median worker who wasn't in a union earned $975. It's not just about wages, though.
Since the turn of the 20th century, unions have fought for better conditions, decent hours, more benefits, safer work environments and job security. However, all of that costs money, which will inevitably be passed onto the customer. So what will it cost patrons if the service industry union movement achieves its goals? Let's take a look.
Make Your Money Work for You
First, Understand Which Service Workers Are Organizing
The term "service industry" might make you think of your local bartender or restaurant server, but service professionals who earn tips are not pushing to unionize on a large scale — and they're in a unique category of American labor.
They can be paid as little as $2.13 an hour as long as they earn more than $30 a month in tips, and according to The New York Times, tipped employees are especially hard to unionize. Labor organizing takes time and commitment, and turnover in restaurants and bars is especially high. Also, divisions between back-of-house and front-of-house employees complicate negotiations, and since each restaurant operates differently, there's no way to write standardized labor contracts.
Chances are good that nothing will change at your local pub or cafe.
"It's important for independent restaurateurs to note that these unionization efforts are almost entirely focused on large chains and franchises like McDonald's and Starbucks," said Mary King, a restaurant analyst for Fit Small Business and a 14-year restaurant veteran who has worked in every facet of the industry.
"Brands whose profits have soared for years, while their frontline employees' wages have changed little. A unionization push was certainly not the first time these brands learned that their staff felt devalued. Unionization takes a lot of time and energy. Frontline service workers don't have either in large supply. So you have to ask yourself how desperate unionizing baristas and cashiers must feel if they are willing to go to the length of full-scale unionization."
Make Your Money Work for You
Take Our Poll: Are You Struggling To Keep Up With Your Utility Bills?
The $22 Red Herring
So, even if unionization doesn't impact your neighborhood diner, it might affect the big corporate chain with a drive-thru. So how will prices change there? 
King cited a recent study from the University of California Riverside, which found that consumers can expect a price increase of 7% to 22% if service worker wages increase above $22 an hour. 
"Most of us wouldn't notice a 7% increase, but 20% or more could encourage consumers to make smaller purchases or dine out less frequently," she said. 
However, $22 is an outlier that doesn't represent the larger movement's objectives. That figure comes out of notoriously expensive California, where Gov. Gavin Newsom recently signed a law to protect fast-food workers.
The FAST Recovery Act created a council that will oversee wages and working conditions in that specific industry in that specific state. The council has the authority to raise the state's fast-food minimum wage to as high as $22 — but it hasn't yet and there's no national movement that aspires to the same wage industrywide.
Make Your Money Work for You
The Movement Is About More Than Money
According to Forbes, the movement that led to the FAST Recovery Act was born during the pandemic, when stories emerged about fast-food workers toiling in unsafe conditions. Some were forced to work in close quarters at the height of the COVID scare and were told to use coffee filters or dog diapers as masks.
Outlawing those kinds of practices won't make your French fries any more expensive.
"Unionization is not just about wages," said King. "It is about fair schedules, enough break time, and health benefits. It is entirely possible that unionization efforts will focus on these issues, rather than simply arguing for higher wages. Fair schedules and reasonable breaks are unlikely to have any impact on costs." 
Prices Are Rising, but Not Because Workers Are Overpaid
The service industry union movement is gaining traction nationwide, and customers are paying much more for their coffees, burritos and salads, but in times of high inflation it's not a direct cause-and-effect relationship.
"Keep in mind that in addition to potential wage increases, restaurants are dealing with rent increases, fuel surcharges, and higher prices for baseline ingredients like flour and bread," said King. "It is as likely that price increases will come from those increased costs, not merely because some restaurants may be asked to pay their staff higher wages."
Some argue that restaurants will be forced to close when higher labor costs drive them out of business, but there's little evidence of that in the cities that served as canaries in the coal mine.
"Minimum wages rose for restaurant workers in San Francisco, Seattle and Los Angeles years ago, and we did not see the surge in restaurant closures that were predicted at the time," King said.
Rising Prices Aren't Always a Side Effect of Unionization
A common misconception is that unionization leads to higher wages, which will inevitably lead to higher prices — but history shows that it's not always the case.
"It's important to note that workers in many hotels have been unionized for years, so have grocery store workers at major brands like Kroger," said King. "Macy's, Bloomingdales, and H&M employees are also unionized. Yet somehow, we don't see the price hikes in those stores like the ones restaurant brands suggest will be on the horizon if restaurant workers unionize."
She concluded, "I'm not saying prices won't need to rise somewhat to cover increased costs, but I'm not sure that increased wages will be entirely to blame if prices rise."
More From GOBankingRates
Make Your Money Work for You