Inflation 2022: How Has Savings Advice Changed With Skyrocketing Prices?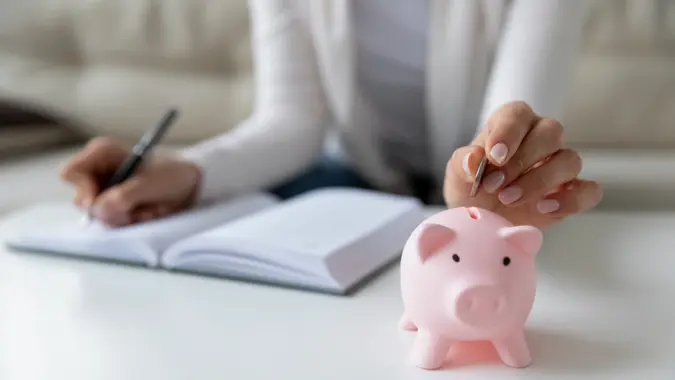 fizkes / Getty Images/iStockphoto
Saving money for the short and long term should always be a financial priority, but has inflation changed the normal rules of thumb?
See: States Whose Economies Are Failing vs. States Whose Economies Are Thriving
Student Loan Forgiveness: Mark These 4 Dates on Your Calendar Now
GOBankingRates spoke with financial advisors to find out if they are updating the savings advice they give to clients in light of skyrocketing prices.
You Probably Need More in Emergency Savings
Depending on your situation, it's advised to have three to six months' worth of living expenses saved in an emergency fund. But what was enough to cover these expenses a couple of years ago likely isn't enough now.
"As the cost of living increases, so should the emergency savings," said Devin Carroll, owner and lead advisor at Carroll Advisory Group. "I'm a big advocate of having six months of living expenses as liquid savings. As living expenses increase — and the corresponding amount required to fund six months — so should the amount of savings."
Take Our Poll: Are You Struggling To Keep Up With Your Utility Bills?
Make Your Money Work for You
Try To Maintain Your Overall Savings Rate
"As an overall savings goal, 15%-25% is an excellent guideline amount," Carroll said. "Once the emergency fund is funded, the savings should be allocated to a combination of pre-tax and post-tax savings vehicles."
Carroll recommends sticking to this percentage, even as prices rise.
"There's no question that prices are generally increasing faster than wages. This means that if you've been saving 20% of your income, you may find that inflation is making it more difficult to live on the 80% that's left," he said. "If this is the case, individuals should carefully examine their expenses and make cuts where spending is not a necessity. Over the years as a financial advisor, I've met with hundreds of people who have regretted not prioritizing their savings amount. The 20% of income to savings should not be considered optional. Automate it and don't deviate."
Move Investments Into Savings If You Anticipate a Major Life Event
Although it's generally not advised to hold a lot of money in cash, Faron Daugs, CFP, wealth advisor and CEO at Harrison Wallace Financial Group, said it's a good idea to have more liquid funds available in the current market.
"Given the recent high inflation, the downturn in the market and concerns over a looming recession, I have advised my clients who anticipate higher cash needs due to an upcoming life event — such as having a baby, moving or if they feel insecure about their job situation — to increase their cash positions so they will maintain the desired reserve while also being able to cover the potential increased costs of these life events or larger purchases," he said.
Make Your Money Work for You
"If you know you are going to have these expenses in the next year or two, it is not worth risking those dollars in the market given that short time frame, and you do not want to add to debt via credit cards or lines of credit to cover these expected and inflated expenses."
Even if you don't have a major life event, it's probably still a good idea to have more funds in savings than you typically would, Daugs said.
"Cash level recommendations have changed because of recent inflation," he said. "What a client may have had as a cash reserve one year ago most likely needs to be 8%-12% higher now because the overall household expenses have risen that amount."
More From GOBankingRates
Make Your Money Work for You
Make Your Money Work for You