Inflation Is Holding Women Back — 6 Ways To Overcome and Achieve Your Financial Goals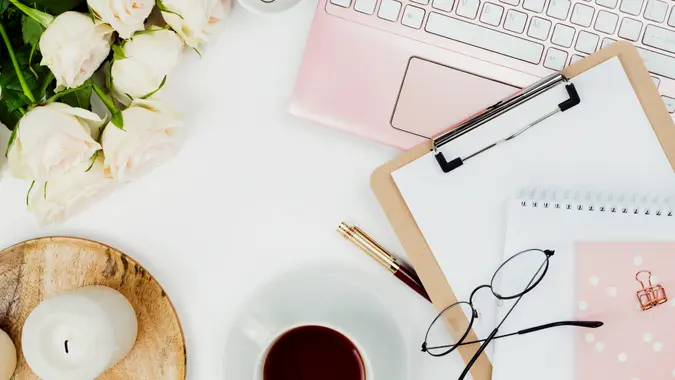 Natalia Lavrenkova / iStock.com
There's a combination of two factors holding women back from achieving their financial goals. 
The first factor is a lack of money. In GOBankingRates' 2023 Women & Money survey polling 1,016 American women, 47% of respondents said a lack of money is the biggest barrier to achieving financial goals. A lack of money also keeps 32% of women from actively investing.
The second is the current high cost of living and inflation. Not being able to afford everyday expenses is the biggest source of financial stress for 38% of respondents. Nearly 32% of respondents said the high cost of living was their biggest obstacle for paying off debts. Interestingly, a lack of sufficient income was the second greatest obstacle facing women who want to get out of debt, at 24%.
Between inflation and a lack of money, what can women do to rise above these barriers and achieve their financial goals? Here are several tips to get on the right track.
Assess Your Cash Flow
Mark Henry, founder and CEO of Alloy Wealth Management, recommends making a list of all your monthly expenses. These may include rent, bills, child care expenses, groceries, gas and minimum payments being put towards any debt or loans. 
Creating this list will allow you to better understand exactly where all of your money is going each month. From here, Henry said women can look for ways to cut back on spending or spend less on the things they need to buy. If you don't have a monthly budget, now is the time to make one.
Make Your Money Work for You
Build an Emergency Fund
Before trying to pay down any debt, Henry strongly recommends establishing an emergency fund especially for women who don't have one. (17% of women surveyed by GOBankingRates cite not having an emergency fund as one of their biggest financial regrets.)
"Without an emergency fund, you'll go even deeper into debt the next time any unforeseen expenses arise. Having an emergency fund is the first step in breaking the cycle," said Henry.
Take Our Poll: What Do You Plan To Use Your Tax Refund For?
Eliminate High-Interest Debt
Once your emergency fund is built up, Henry said women can start putting every extra dollar they have toward paying down high-interest debt. 
"Pay this debt off as much as possible and as fast as possible," said Henry. "Better yet, pay it off completely. It's better to chip away at debt $10 to $20 at a time than not at all."
Make a Meal Plan
Women worried about the everyday expenses of groceries adding up are recommended by Henry to plan out their meals for the week and buy only the essentials. This helps cut back on overall food costs and waste. 
Make Your Money Work for You
Women can check sale flyers and use grocery store apps to better plan their shopping trips and get the best possible prices for everything on their lists. If you still struggle with grocery expenses, Celeste Everett Castaneda, VP of finance at DailyPay, recommends checking out your local food bank for programs that may be available to help reduce your food costs.
Utilize 401(k) Plans and Matches Offered by Your Employer
10% of women surveyed by GOBankingRates said not investing was one of their biggest financial regrets. Nearly 17% said they wished they had started saving earlier for retirement. 
If you work for a company offering a 401(k) plan and matching program, take advantage of it. Castaneda said women can start with as little as 1% of their salary. As you continue advancing in your career, you can begin increasing contributions.
Meet With a Financial Professional
A whopping 68% of women surveyed by GOBankingRates said they did not work alongside any financial professionals.
"Women, as well as men, benefit from personalized guidance," said Anita Grossman, president and founder of Grossman Financial Planning Group. "A financial advisor can help women take a holistic view of their finances, from the accumulation period to and through the distribution phase, while considering asset protection strategies. They can help women think through 'what if?' scenarios because life can bring unexpected situations."
Make Your Money Work for You
More From GOBankingRates
Make Your Money Work for You