Inflation Report Suggests Trump and Biden Got Stimulus and Rate Hike Policies 'Roughly Right' Amid COVID — Here's Why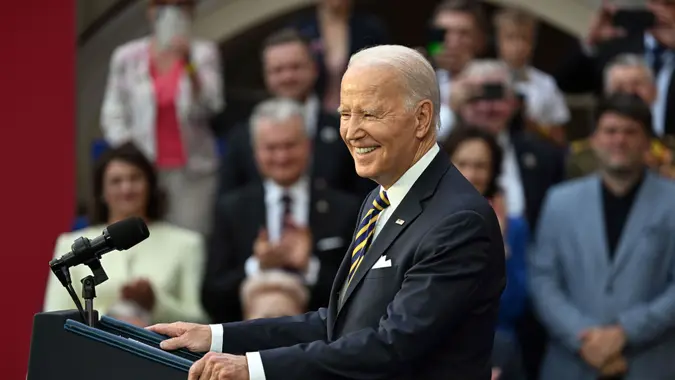 FILIP SINGER/EPA-EFE/Shutterstock / FILIP SINGER/EPA-EFE/Shutterstock
The latest consumer price index (CPI) increased 3% over the last year. That's the smallest increase since March 2021 — and it suggests that inflation may be definitively slowing. 
That inflation appears to be ebbing raises some curious questions, including: "Did the presidents who handled the pandemic make the right moves in order to get us here?" And, "What about all those interest rate hikes; are those actually working to bring down inflation? Is 'Bidenomics' paying off?" This could be the case. 
"I think policymakers got the policy response to the pandemic roughly right," Mark Zandi, chief economist with Moody's Analytics, told the Huffington Post. "It was a very costly response, close to $5 trillion in total equal to 25% of GDP, but I think necessary given how damaging the pandemic was to our economy."
In terms of stimulus checks, not only was the two administrations' COVID response an effective move for the financial safety of Americans, it was ultimately good for the economy, which could have been totally tanked by the pandemic. The country could have endured a much longer and more complicated recession. 
Additionally, interest rate hikes, touted by the Fed as an inflation-fighting tool, have stoked fiery debate, but maybe they're doing their job; inflation is certainly on a slower path now than it has been in a couple years. It's really still up for debate, but the full impact of the rate hikes should become clearer over the coming months. 
Make Your Money Work for You
More From GOBankingRates