Insurance Companies Are Dumping Florida and California — Here's What to do About It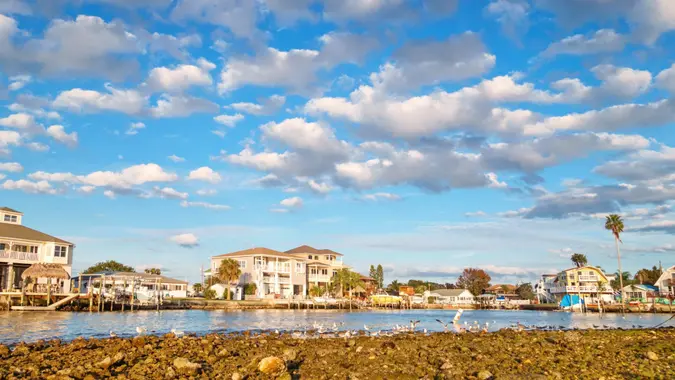 benedek / Getty Images/iStockphoto
The insurance industry in Florida and California is facing an unprecedented crisis, as major companies limit their activities in these states due to a range of challenges, leaving homeowners scrambling to find adequate coverage.
Find Out: Stimulus Checks and Rebates in Every State — Do You Have $1,200 Coming Your Way in 2023?More: How To Get Cash Back on Your Everyday Purchases
These challenges are diverse, including climate change-induced catastrophes, fraudulent claims, regulatory constraints, and rising costs. The issues being experienced in both states illustrate the complexity of insurance markets, with homeowners stuck between the need for affordable, reliable coverage and insurers grappling with a shifting risk landscape.
Insurance companies have been exiting Florida and California at an alarming rate, leaving homeowners in a lurch. This exodus is prompted by a host of challenges, including increasingly frequent and severe climate-related disasters, such as wildfires in California and hurricanes in Florida, which have resulted in a significant increase in insurance claims.
Moreover, the costs associated with repairs and construction have escalated, resulting in larger claims and insurers having to pay more for reinsurance.
Another contributing factor is the increase in fraudulent claims, especially in Florida. Here, certain aspects of state law make it relatively easier for professional fraudsters to inflate values and secure large claims through litigation.
Although recent legislative measures have tightened the rules, claims filed under the older, more lenient standards continue to create financial pressure on insurers.
Regulatory practices in California have also contributed to the current insurance predicament. The state maintains stringent controls on rate increases, making it challenging for insurers to adjust their prices in line with changing risk profiles and cost structures.
Make Your Money Work for You
This situation is further complicated by Proposition 103, which allows public interest groups to contest significant rate hikes, potentially leading to lengthy approval processes and delays.
The current situation puts homeowners in a precarious position, as they scramble to find replacement coverage in a rapidly shrinking market.
Possible solutions include turning to the excess or surplus line market, where rates are not state-regulated, or resorting to state-run insurance pools, such as California's FAIR Plan or Florida's Citizens Property Insurance Corporation. However, these are often considered last-resort options due to their potential for high costs and limitations on coverage.
To counter this crisis, there are a few potential paths that can be taken. In the short term, there is a need for regulatory flexibility, allowing insurance companies to adjust their rates to better reflect the increasing risks and costs associated with operating in these regions.
While such a move may increase the cost of policies, it can also ensure the viability of private insurance companies and help maintain a competitive insurance market.
In the long term, the focus should be on reducing the riskiness of living in these states. This includes strengthening building codes, encouraging homeowners to take proactive measures to protect their homes, and offering incentives for these efforts.
One innovative suggestion is to reconsider zoning laws to allow for increased density in less disaster-prone urban areas, reducing the need for home construction in high-risk zones.
Another longer-term strategy is changing the approach to pricing insurance in areas with high fire risk. Allowing insurance companies to charge higher premiums in such areas could potentially encourage a shift in living patterns, reducing the exposure of homes to high-risk areas.
Make Your Money Work for You
Stimulus Update: New Proposal Could Give Americans Monthly $1,200 Checks
Resolving this situation is not just a matter of economics but also one of social importance. Ensuring the availability of affordable, reliable homeowners' insurance is crucial for the financial security of families and the overall health of the housing market. As the challenges facing the insurance industry in Florida and California continue to grow, policymakers, regulators, and insurers must work together to find effective and sustainable solutions.
Editor's note: This article was produced via automated technology and then fine-tuned and verified for accuracy by a member of GOBankingRates' editorial team.
More From GOBankingRates