Recession 2023: What You Need To Know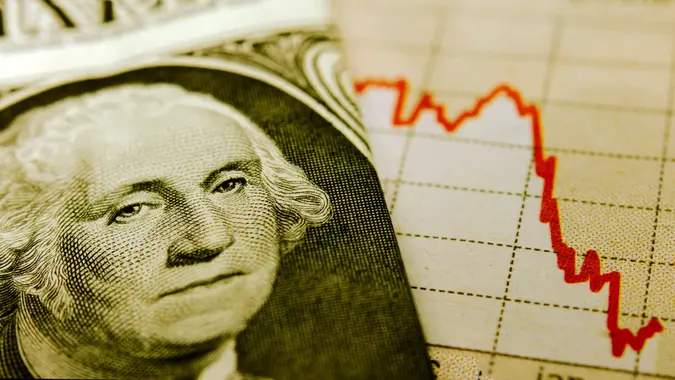 claffra / Getty Images/iStockphoto
The recession that many economists predicted for the first quarter of 2023 has yet to materialize as we enter the middle of the second quarter. But economists say it is likely still to come. Here's what you need to know if you're wondering whether a recession may begin in 2023.
See: How To Build Your Savings From Scratch
Is There a Possibility of a Recession in 2023?
A recent survey from the National Association for Business Economics found that 58% of 48 economists believe a recession will come "sometime this year," The Associated Press reported. Roughly 33% said they believe the recession will begin before the end of June 2023, while roughly 20% predict a recession will begin sometime between July and December.
So far, Americans' spending activity in the face of inflation and interest rate hikes has defied logic or historical precedent. In January 2023, retail sales rose by 3%, representing the biggest single-month increase since March 2021, the AP reported. The spending in March 2021 was a result of pandemic-related stimulus checks.
January's spending boost came on the heels of a down holiday season. The jump in January's retail sales could have been a result of inflation driving prices higher for things like new cars and restaurant dining. However, that shows that higher prices haven't deterred Americans from enjoying these luxuries.
In February, Goldman Sachs reduced its recession odds from 35% to 25%, amid a strong jobs report and solid retail sales in January, the AP reported.
Make Your Money Work for You
What Is the Economic Forecast for 2023?
High consumer spending, rising interest rates, a solid job market and inflated prices all send mixed signals about the U.S. economy. But what do economists predict lies ahead for the second half of the year?
"I think the economy has proven to be more resilient than many economists expected," said Ken Simonson, a NABE survey analyst and chief economist of the Associated General Contractors of America, as reported by USA Today.
However, the recent collapse of two U.S. banks, combined with the Federal Reserve hiking interest rates by another quarter percentage point in March and again raising rates by a quarter percentage point on May 3, could spark the recession most have been waiting for.
History Also Predicts a Recession on the Horizon
In fact, according to one research paper reported by the AP, the Fed has never successfully hiked interest rates to curb inflation without jolting the U.S. into a recession. The paper spotlighted 16 situations worldwide when central banks raised interest rates to fight inflation. In every circumstance, a recession ensued.
"There is no post-1950 precedent for a sizable … disinflation that does not entail substantial economic sacrifice or recession," wrote the economists, which included Michael Feroli, chief U.S. economist at J.P. Morgan; Peter Hooper, vice chair of research at Deutsche Bank; Frederic Mishkin, a former Federal Reserve governor; and Stephen Cecchetti, a professor at Brandeis University, as noted by the AP.
Make Your Money Work for You
However, Federal Reserve Board of Governors member Philip Jefferson said in a statement in response to the report, "History is useful, but it can only tell us so much, particularly in situations without historical precedent."
Are We in a Recession in 2023?
If you're wondering if we might already be in a recession, the answer is no. Economists use different indicators to identify a recession, and often it's difficult to define until it's reached an end.
According to The Wall Street Journal, some identify a recession as "two quarters of contraction in the gross domestic product." This happened in the first two quarters of 2022, but the final two quarters saw a rise in the GDP. Likewise, the GDP rose by an annual rate of 1.1% in the first quarter of 2023, according to an estimate by the Bureau of Economic Analysis. By these measures, we couldn't see a recession until the beginning of the fourth quarter if Q2 and Q3 of 2023 show a contraction in the GDP.
Further, Forbes Advisor recently analyzed 15 economic indicators of a recession, noting that when the majority of these factors show a decline, a recession could be looming or underway. Of those indicators, eight were rated as "bad" in April, three as "good" and four as "neutral." However, not all factors carry equal weight.
For instance, Forbes Advisor noted that if the GDP continues to grow while inflation slows, we could avoid a recession.
How Long Do Recessions Last?
Recessions in the past 50 years have lasted from two months — sparked by the shutdowns in response to the pandemic — to 18 months, following the 2008 housing market crash and financial crisis, as noted by CNBC. If a recession comes following bank failures and high inflation, experts say, it could persist for more than a few months, with a slow recovery occurring through 2024.
Make Your Money Work for You
Final Note
While there isn't much individuals can do to prevent a recession, you can brace yourself for it by working to pay down debt, bolstering your emergency savings, and taking on side gigs to develop multiple streams of income.
Our in-house research team and on-site financial experts work together to create content that's accurate, impartial, and up to date. We fact-check every single statistic, quote and fact using trusted primary resources to make sure the information we provide is correct. You can learn more about GOBankingRates' processes and standards in our editorial policy.