Joe Biden 2020: What You Need To Know About the Democratic Primaries' Leading Contender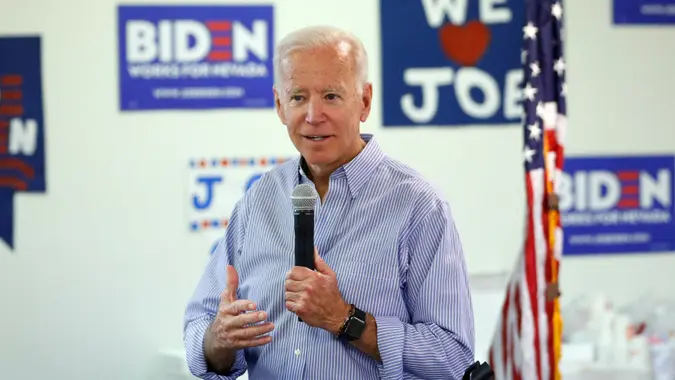 John Locher/AP / Shutterstock.com
Former Vice President Joe Biden has emerged with an early lead in the crowded field of Democrats vying for the right to challenge President Donald Trump in the 2020 presidential election. But with party rhetoric taking an increasingly progressive tone, many question whether Biden should become the party nominee. As a 76-year-old man making a third presidential run, is he the Democrats' safest best, or should the torch pass to the next generation? Voters will ultimately answer that question as the campaign progresses. But his decades in Washington offer clues that could either bolster or unwind his campaign for the top job.
This guide will provide an overview of Biden's political career and his views on hot-topic issues surrounding the 2020 presidential race.
Who Is Joe Biden?
Joseph Robinette Biden, Jr. was born in Scranton, Pennsylvania, on Nov. 20, 1942. He spent his early years in Scranton before his father's economic circumstances led to a move to Delaware. Biden graduated from Archmere Academy in 1961, earned his bachelor's degree at the University of Delaware and then attended Syracuse University's School of Law. Biden married Neilia Hunter while in law school and received his J.D. degree in 1968.
After law school, Biden went to work for a law firm but quickly moved into politics. In 1969, he ran for the New Castle County Council on a liberal platform and then served on the council from 1970 to 1972 before announcing his run for the Senate. He defeated Republican incumbent J. Caleb Boggs in an upset.
Make Your Money Work for You
That victory turned to tragedy on Dec. 18, 1972, when Biden's wife, Neilia, and 1-year-old daughter, Naomi, died in a devastating car accident that also injured the couple's young sons. Biden took the oath of office on Jan. 5, 1973, from the boys' hospital room. He would go on to serve six terms in the U.S. Senate. During his Senate career, he chaired the Judiciary Committee and the Foreign Relations Committee.
After Biden's unsuccessful presidential runs in 1988 and 2008, Barack Obama chose him as his running mate in 2008. Obama won the presidency later that year, making Biden the 47th vice president of the United States. He served in that capacity from 2009 to 2017.
Biden married his wife, Jill Jacobs, in 1977. Together they have one child, Ashley. Biden also has his son Hunter from his previous marriage and his son, Beau, who died of brain cancer in 2015 at age 46.
Where Joe Stands
Despite a half-century in politics, Biden once described himself as the "poorest man in Congress." He has built a reputation as a moderate Democrat, striking a balance between Republicans and more progressive elements of his party.
Joe Biden's Views on Taxes
Much of the Joe Biden platform revolves around the middle class. He wants to repeal the Trump tax cuts for the wealthy and bring back the 39.6% top income tax rate that the wealthiest Americans paid during the Obama years.
He also wants to expand the top marginal rate for long-term capital gains to 39.6% for those making $1 million per year or more. Biden would also like to eliminate a provision called "step-up in basis" that allows capital gains accumulated during a decedent's lifetime to pass on to heirs tax-free.
Make Your Money Work for You
Joe Biden and the Environment
Biden wants to address climate change to ensure that all Americans have access to clean air, clean water and a pollutant-free environment. The former vice president sees the Green New Deal as a "crucial framework" for meeting this challenge. Biden's plan will ensure a clean-energy economy with net-zero emissions by 2050.
He wants a "stronger, more resilient" nation where infrastructure projects are designed and built to mitigate the impact of climate change, and he'd bring the U.S. back into the Paris Agreement. At home, Biden would go after polluters in lower-income areas and communities of color — areas he feels President Trump has neglected.
Joe Biden's Healthcare Plan
Unlike many of his opponents, Joe Biden does not support a Medicare for All plan. As vice president, Biden helped Obama pass the Affordable Care Act, and he would like to build on that accomplishment. His add-on to the ACA aims to increase choice, reduce cost and make the system less complicated. This proposal, called the Biden Plan, is designed to:
Give every American access to affordable care through a Medicare-like option
Provide affordable, quality healthcare for all, with less complexity
Protect consumers against prescription drug company practices many consider to be abusive
Make healthcare a right for all
Biden claims this will cost $750 billion over ten years, and he plans to pay for it through increased income- and capital-gains taxes on the wealthy.
Make Your Money Work for You
Joe Biden's Views on Education
For education, Biden proposes a plan intended to increase support and respect for educators and invest in all children from birth. He also backs two years of tuition-free community college.
Biden would ensure competitive wages for teachers, plus mentoring, additional education and help with student loans. He would double the number of psychologists, counselors, nurses and social workers to ensure that students have access to mental healthcare. The vice president's education plan would also eliminate funding disparities across districts and provide universal prekindergarten education for 3- and 4-year-old children.
Joe Biden's Plan for Student Loan Debt
Aside from his loan repayment plan for teachers, Biden has offered few specifics on this issue. But in 2005, then-Senator Biden supported a change to the bankruptcy code, applying an "undue hardship" standard making it harder for consumers to have student loans discharged in bankruptcy.
But as vice president, Biden favored the "borrower defense to repayment" program for student loan forgiveness in cases where the student's school engaged in certain types of misconduct, and the Pay as You Earn program, which ties student loan payment amounts to income. He also supported increased oversight on for-profit colleges.
Joe Biden and Minimum Wage
Biden has criticized the current administration's lack of action on this issue. He echoes the sentiments of his Democratic peers in supporting a federal minimum wage of $15 per hour. The vice president has made restoring the middle class a theme throughout his campaign, and he sees this living-wage proposal as a beginning. President Trump has considered a similar plan but has fallen short of endorsing such a move.
Make Your Money Work for You
Joe Biden's Plan for Immigration
The former vice president has faced heat on the immigration issue. Many dubbed his former boss, Barack Obama, as the "deporter in chief," and opponents have linked Biden to these policies.
Biden calls legal immigration an "incredible source of strength for our country." While not advocating for illegal immigration, he supports what he describes as a "humane immigration policy." He defines this as one that is consistent with American values, helps the economy and secures our borders.
Biden has spoken out against the Trump administration's practice of placing people in detention centers and separating children from their parents. He also wants to address the root causes driving people to seek asylum in the U.S.
Joe Biden's Views on Income Inequality
Biden feels that both the tax code and the labor laws have worked against the middle class. The former vice president wants to start by reversing the Trump tax cuts for the wealthy. He also wants to eliminate tax loopholes for special interests and the capital-gains loophole for multimillionaires.
To address income inequality, Biden has emphasized plans for improved infrastructure, free community college and a loosening of policies that suppress wages. But Biden has avoided some of the rhetoric of candidates like Bernie Sanders, saying, "I don't think 500 billionaires are the reason why we're in trouble."
Joe Biden's Approach to Climate Change
Biden wants to restore a degree of respect on the world's stage that he feels has been lost. One aspect of that revolves around climate. Although the former vice president wants to return the U.S. to the Paris Agreement, he'd go a step further by integrating climate change into national security and foreign policy initiatives. His goal is to make other countries step up their climate goals and for the U.S. to reach net-zero emissions by 2050.
Make Your Money Work for You
Here, Biden stands in stark contrast to President Trump. The president pulled out of the Paris Agreement, and many describe him as a "climate denier."
Joe Biden and Women's Rights
The Joe Biden 2020 campaign has not discussed many specifics on this issue. He touts the 1994 Violence Against Women Act as his "proudest legislative achievement." This made domestic violence a criminal justice issue instead of merely a private matter in the home.
But he has faced allegations of inappropriately touching women. Many have also criticized his treatment of Anita Hill's testimony in the Clarence Thomas hearings in 1991. And although he supports Roe vs. Wade, his one-time support of banning federal funding for abortions could also hurt him with progressives.
Joe Biden's Plan for the National Debt
Like Donald Trump, Biden hasn't addressed the national debt in recent years, but in 2013, Vice President Biden helped push through budget cuts and a tax hike to reduce the deficit. And although Biden voted against some spending cuts as a senator, he supported cuts in military spending that accompanied a vote to remove troops from Iraq. He also voted in favor of a proposed balanced-budget amendment in 1997.
Joe Biden and Unemployment
Biden makes no apologies for his support of unions. Running in a time of low unemployment, Biden has spoken more about worker challenges and the "dignity of work" instead of the lack of it. He stresses the right for workers to form unions and collectively bargain. Biden also wants to emphasize worker training through education programs, and he stands against overbearing occupational licensing requirements and policies like noncompete agreements that suppress wages.
Make Your Money Work for You
Joe Biden's Views on Social Security
Democrats generally are in alignment with Joe Biden on issues like the need to protect and strengthen Social Security. Biden vigorously opposes privatization plans but supports resuming the Social Security tax on income over $400,000 per year.
Joe Biden on Sustainability
Biden's views on sustainability center around the Paris Agreement. But he also wants to redefine the mission of AmeriCorps to foster sustainability in a clean-energy economy. To this end, Biden will fight for sustainable infrastructure projects and sustainable fuels in the U.S., and he vows to encourage carbon footprint reduction overseas through loan requirements on International Monetary Fund projects.
Where Will Joe Biden Find Support?
Joe Biden's decades in Washington make him one of the most recognizable figures of the campaign. He has built a base that will likely include older voters, particularly among the working class. He will probably also draw independents and center-left Democrats wary of the more progressive wings of the party. Moreover, he could attract votes simply because many perceive him to be the guy most likely to defeat President Trump.
Whatever the motivation behind the support, Biden has consistently led in the polls. The Joe Biden 2020 campaign will show whether Democrats can unite around a more moderate message or need to hand the torch to someone younger and more progressive.
More on the 2020 Presidential Election
Will Healy is a freelance financial and political writer based in the Dallas area. He holds degrees in journalism and business and has covered a variety of topics, such as stocks, real estate, insurance, personal finance, politics and macroeconomics.