How Biden's First Moves as President Could Impact Your Wallet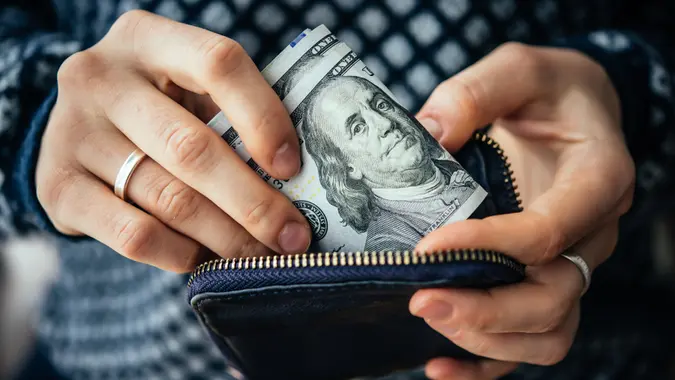 ©iStock.com
President Joe Biden plans to hit the ground running during his first 100 days in office with a series of executive orders and policy proposals that would tackle some of America's most pressing issues, including the coronavirus pandemic, the economy, immigration, climate change and equality. Biden already signed some Day One executive orders and hopes to make even more big changes by April 30 via his proposed American Rescue Plan. While these proposals are aimed to have a wide-reaching impact, some may have a direct effect on your finances depending on your current situation.
Here's a look at how a Biden presidency could affect your wallet in the days to come.
See: It's Biden's Turn to Run the Economy — and the Dow Just Rose 100 Points
Extending the Eviction Moratorium
If your wallet has been stretched thin and you are currently unable to make your rent or mortgage payment, you can breathe a little easier. As part of his Day One executive orders, Biden asked the U.S. Centers for Disease Control and Prevention to extend the existing nationwide moratorium on evictions and foreclosures until at least March 31.
Make Your Money Work for You
Extending Pause on Student Loan Payments
Also as part of his Day One executive orders, Biden asked the Department of Education to extend the existing pause on student loan payments and interest for those with federal student loans until at least Sept. 30.
More Stimulus Checks
Within his first 100 days, Biden hopes to pass his $1.9 trillion economic rescue package, which he is calling the American Rescue Plan. Included in the plan is an additional $1,400 direct payment to Americans who are eligible.
The payments will go to some Americans who were left out of earlier rounds of stimulus relief, including some children over the age of 17 and households with mixed immigration status, CNN reported.
For Your Finances: Top Stocks To Consider as Biden Takes Over
Expanding Unemployment Benefits
The American Rescue Plan would increase the federal unemployment benefit from $300 to $400. These boosted payments would be extended through September.
The plan would also extend two unemployment programs — the Pandemic Emergency Unemployment Compensation program, which provides assistance to those who have exhausted their regular state jobless payments, and the Pandemic Unemployment Assistance program, which provides benefits to the self-employed, independent contractors, gig workers and certain people affected by the pandemic. These programs would also be extended through September, CNN reported.
Make Your Money Work for You
Assistance for Renters
Biden's plan would provide $25 billion in rental assistance for low- and moderate-income households who have lost jobs during the pandemic, CNN reported. It would also set aside $5 billion to help struggling renters pay their utility bills.
Helpful: Biden to Offer $15,000 First-Time Homebuyer Tax Credit
Increased Food Stamp Benefits
Biden's plan would extend the 15% increase in food stamp benefits through September; it is currently set to expire in June.
Help for Child Care Providers
If you are a child care provider, you could receive more funding if the American Rescue Plan is passed. The plan calls for Congress to create a $25 billion emergency fund and add $15 billion to an existing grant program to help child care providers — including family child care homes — to pay for rent, utilities, payroll and increased costs associated with the pandemic, like personal protective equipment.
More on Your Money: What Does Biden's Presidency Mean for Your Retirement Plan?
Increased Tax Credits
Those that qualify for certain tax credits will get an extra boost if Biden's plan passes. The Child Tax Credit would be raised to $3,600 for children under age 6 and $3,000 for those between ages 6 and 17 for a year. The credit would also be made fully refundable.
Make Your Money Work for You
The maximum Earned Income Tax Credit would also be raised for a year, reaching close to $1,500 for childless adults. More people would be eligible for this credit under Biden's plan than in the past — it would increase the income limit for the credit to about $21,000 and expand the age range of eligibility to cover older workers.
More Affordable Health Insurance
One of Biden's campaign promises was to ensure that anyone enrolled in a healthcare plan through the Affordable Care Act does not have to pay more than 8.5% of their income for coverage. He hopes to deliver on this promise through the passage of the American Rescue Plan.
Emergency Paid Leave
If you need to take a leave of absence from work because you are sick, quarantining or taking care of a child whose school is closed, you can receive 14 weeks of paid leave. Biden's plan expands this benefit to employees of both small and large businesses (it previously only applied to those working at a business with 50 to 500 employees) and federal workers.
More Relief for Small-Business Owners
So many small-business owners have been hit hard by the pandemic, and Biden wants to offer additional assistance beyond the Paycheck Protection Program. His plan calls for a new grant program for small-business owners with $15 billion in funding behind it.
Higher Minimum Wage
If you're a minimum wage earner, you could see a bump in pay. Biden is calling on Congress to raise the minimum wage to $15 an hour. He also wants to end the tipped minimum wage and the sub-minimum wage for people with disabilities, CNN reported.
More From GOBankingRates
Last updated: Jan. 21, 2021
Make Your Money Work for You