Lawmakers Call on Fed to Stop Rate Hikes Ahead of Wednesday Meeting to Save American Jobs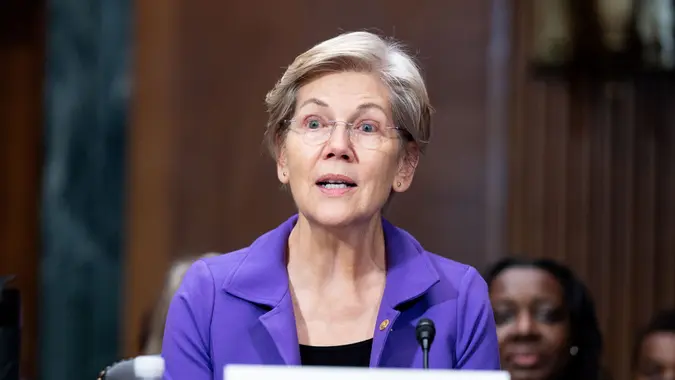 Michael Brochstein/SOPA Images/Shutterstock / Michael Brochstein/SOPA Images/Shutterstock
On the eve of the Federal Reserve's Federal Open Meeting Committee (FOMC) decision on rates — which is widely expected to be another 25 basis points increase — a group of Democratic lawmakers is urging the Fed to pause its rate hikes "and avoid engineering a recession that destroys jobs and crushes small businesses."
In a letter to Chair Jerome Powell, a group of senators and representatives, led by Sen. Elizabeth Warren (D-Mass.), wrote that they have concerns about the Fed's monetary policy strategy "and its potential to throw millions of Americans out of work."
"While the labor market has remained resilient to the Fed's aggressive interest rate hikes and inflation is down from its peak last year, recent turmoil in the banking system following the failures of Silicon Valley Bank and Signature Bank and the lagging impacts of the Fed's earlier rate hikes leave our economy even more vulnerable to an overreaction by the Fed," the lawmakers — including Sens. Sheldon Whitehouse (D-R.I.), Bernie Sanders (I-Vt.) and Reps. Pramila Jayapal (D-Wash.) and Jerrold Nadler (D-N.Y.) — wrote.
Make Your Money Work for You
At its previous, March 22 meeting, the Fed raised interest rates by a quarter point, which was the ninth rate increase since March 2022.
The senators also argued in the letter that recent economic data also suggest that additional rate hikes are unnecessary, noting that the Consumer Price Index (CPI)  has fallen for nine consecutive months to its lowest level in nearly two years.
In addition, they noted that the labor market has remained resilient, with the economy adding jobs at a solid though slowing pace and that the unemployment rate in March fell to 3.5%, with the unemployment rate for Black Americans falling to its lowest level on record.
"While we do not question the Fed's policy independence, we believe that continuing to raise interest rates would be an abandonment of the Fed's dual mandate to achieve both maximum employment and price stability and show little regard for the small businesses and working families that will get caught in the wreckage," they wrote.
Several experts agree with this premise, believing that now is time for the Fed to finally pivot.
 "The back of inflation has been broken for a while, but the data consistently demonstrate in every way.  The focus now needs to shift to preserving growth because the Fed went too far, too fast with rate hikes.  There is no need for the Fed to raise 25 bps [at its next meeting]," said Jamie Cox, managing partner for Harris Financial Group.
Make Your Money Work for You
Take Our Poll: Do You Think AI Will Replace Your Job?
Mortgage Interest Rate Forecast for 2023: When Will Rates Go Down?
Meanwhile, other economists have a slightly different take, acknowledging that the Fed is in a tough spot- while the economy is cooling, inflation is still a far cry for the Fed's 2% goal.
"The Fed is stuck between raising interest rates and likely pushing the economy into a recession on the one hand, or pausing and risking that inflation reaccelerates in a few quarters if the economy regains momentum and momentum in sticky prices stays high," said Bill Adams, chief economist for Comerica Bank. "In this dilemma, the Fed is choosing ice over fire: Tight monetary policy that will further soften the economy, more likely than not into a recession later this year."
More From GOBankingRates
Make Your Money Work for You