Massive Layoffs, Inflation and Interest Rates: What This Means for the Holiday Season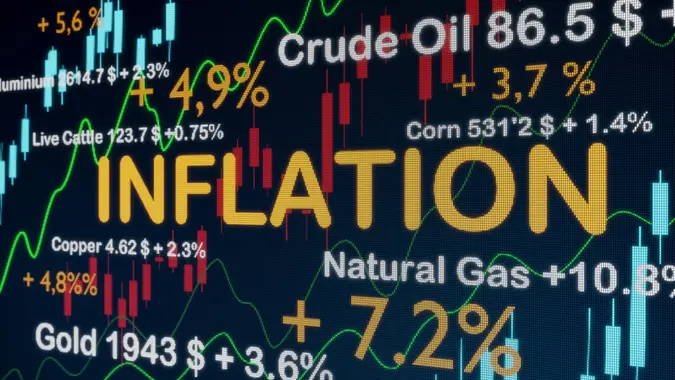 Torsten Asmus / Getty Images/iStockphoto
The bar for the 2022 holiday season was set low from the beginning. 
Conventional wisdom said that shoppers would cut back on spending because steep inflation, rising interest rates and the threat of mass layoffs had left them overleveraged, anxious and broke.
 Take a Look Back: 2022 Year in Review
Holiday Spending: Get Top Holiday Shopping and Savings Tips
Recent research from GOBankingRates shows that 47% of shoppers are sticking to strict budgets, one in three plan to spend less than last year and 11% anticipate going into debt. But are their worries overblown? Are inflation, rising interest rates and the threat of mass layoffs really enough to spoil the season?  
Here's what's happening with the three biggest threats to the winter holidays and a look at where consumer expectations intersect with the realities on the ground. 
Recent Layoffs Have Been Loud, Public and Inconsequential
A flurry of highly publicized layoffs gave the impression that the economy was finally tipping into a recession during the run-up to the holidays. In November, Meta, Amazon, Salesforce, Cisco, Twitter, Doordash, Lyft, HP and more announced significant staff reductions in rapid-fire succession. 
Make Your Money Work for You
Take Our Poll: How Has Inflation Impacted Your Holiday Shopping Plans?
Although it seemed like the bad news just kept coming, it was all coming from the same place. According to Layoffs.fyi, the tech industry laid off nearly 51,000 employees in November, up from around 12,700 in October.
But the rot never spread beyond Silicon Valley and, according to CNBC, the tech massacre was not representative of wider trends in the larger workforce. Throughout 2022 as a whole, the layoff rate has hovered around a historically low 1%, which is below pre-pandemic levels.
Most recently, the November jobs report blew past analyst expectations, showing stronger-than-expected job and wage growth and a minuscule 3.7% unemployment rate.
Inflation Has Been Moving in Right Direction
The ongoing inflation drama claimed many of the financial headlines that the tech layoffs did not. But since the rate peaked at 9.1% in June, those headlines have delivered mostly good news. Inflation has cooled each month since mid-summer and, as of October, the overall inflation rate was 7.7% — the lowest since January, when it first reached 7.5%.
Make Your Money Work for You
At the same time, gas prices have cratered from a record high above $5 to a national average around $3.40 — in much of the South, the price per gallon is back down in the twos.
According to the Washington Post, most experts expect prices to remain stubbornly high for some time; but, heading into the holidays, shoppers are reaching for their wallets confident that the worst has passed.
Shoppers Are Charging Despite Credit Card APRs Approaching 20%
Americans spend more on their credit cards during the holidays; and, thanks to the Fed's aggressive anti-inflation interest rate hikes, the average APR is now above 19% — the highest rate in 30 years. 
Even so, holiday shoppers seem undeterred. 
Transunion's third-quarter Credit Industry Insights Report showed that credit card balances rose by nearly 20% over the same quarter last year. This holiday season, the average cardholder holds a balance of $5,474, as opposed to $4,857 in the third quarter of 2021.
According to CNBC, it's not all bad news: Rising prices are only part of the reason that cardholders have more debt this fall. It's likely that, in many cases, Q3 card balances are higher in 2022 because consumers started shopping early this year to get ahead of inflation's ongoing wrath.
Make Your Money Work for You
Consumers Are Re-Writing the 2022 Holiday Narrative
Even before the November jobs report let consumers breathe a sigh of relief that their jobs were safe, shoppers seemed to sense that they could keep right on buying despite all the fire-and-brimstone predictions. Not only were they comfortable loading up their credit cards with early holiday charges, but Deloitte research from October showed that three out of four people planned to spend at least as much this year as last.
Then, Americans got a jump on Black Friday when they spent a record $5.29 billion online on Thanksgiving Day, an increase of 2.9% over 2021.
The very next day, online shoppers set yet another record when Black Friday e-commerce sales topped $9.12 billion, the highest in history. 
Two days later, optimistic shoppers kept right on buying as they closed out the trifecta with an $11.3 billion sales haul that broke all previous Cyber Monday records.
If jobs, inflation and interest rates are keeping holiday shoppers at bay, everyone seems to be in on the secret except for the shoppers themselves.
More From GOBankingRates
Make Your Money Work for You