13 Lesser-Known Financial Relief Programs You Might Be Eligible For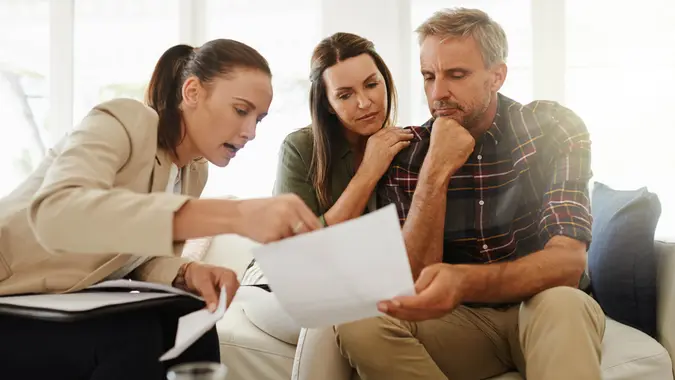 jeffbergen / Getty Images
Now that many federal programs designed to help people effected by the pandemic have run their course, it can feel like a bleak time if you're struggling financially. However, even before the CARES Act and other federal stimulus programs, the government has had a variety of financial relief programs meant to help people improve their circumstances.
See: 13 Ways To Make $100 in Just a Day
More: The Minimum Salary You Need To Be Happy in Every State
Here are 13 lesser-known financial relief programs you might be eligible for.
Small Business
Microloan Program
Not every business needs a hefty loan to get off the ground, which is the idea behind the Microloan program. New and growing small businesses, as well as some nonprofit child care centers, may be eligible for funds through this program, but the maximum is $35,000. The Small Business Administration (SBA) disperses the funds to nonprofit community-based lenders who then pass the loans on to eligible businesses.
Make Your Money Work for You
CDC Loan
On the opposite end of the microloans is the CDC/504 Program, which offers loans to growing businesses for projects over the long-term, such as equipment or real estate. This loan has a maximum of $1 million. The goal of this loan is "economic development within a community."
Take Our Poll: Are You Concerned That Social Security Benefits Will Be Reduced During Your Lifetime?
Homebuying
Good Neighbor Next Door Loan
For the people who often put themselves most on the line in their jobs — emergency medical technicians, firefighters, law enforcement officers and teachers — the Good Neighbor Next Door Loan program helps them purchase a home in a Housing and Urban Development (HUD) revitalization area. Eligible participants can receive as much as a 50% discount off the home list price in HUD's inventory. Borrowers must live in the home for three years as a sole residence.
Rural Housing Loan
While folks who live in rural areas often struggle with access to a number of things, from food to healthcare, there is a loan program designed just for them. The Rural Housing Loan program offers loans for people to buy, build or improve a permanent residence in an eligible rural area. Applicants must also have low to moderate incomes.
Parenting and Child Care
Childcare and Development Fund
This fund helps low-income families afford child care so they can work, get work-related training and/or the means to attend school. In order to be eligible, you must be a parent or primary caregiver for children under 13, or 19 if the child is incapable of self-care. Some states require you to already be employed or enrolled in a training or education program.
Make Your Money Work for You
Disaster
Individuals and Housing Program (FEMA)
The Federal Emergency Management Administration (FEMA) offers some of its registrants grants through an Individuals and Housing Program (IHP) for repairs, or replacement of a damaged primary residence. They also offer temporary housing and rental assistance. To qualify, your loss must be in a federally-declared disaster area, it must be your primary residence, and you must have either insufficient or no insurance or other assistance available to you.
Economic Injury Disaster Loans
For businesses in the private sector that suffer disaster losses, the SBA offers Economic Injury Disaster Loans. Your small businesses or private nonprofit organizations must be able to show proof of "economic injury" and be located in a disaster declared county.
Education for Students
Lifetime Learning Credit
While most young people don't think much about their taxes, students will be happy to know about the Lifetime Learning Credit. This tax credit helps with the cost of tuition and related expenses for undergraduate, graduate and professional degree courses. To get this credit, the student must have qualified education expenses at an eligible institution, take a higher education course or or other education credential. Students must also be enrolled for at least one academic period beginning in the tax year.
Make Your Money Work for You
American Opportunity Tax Credit
Another tax credit that can help pay for education expenses during a student's first four years of education after high school is the American Opportunity Tax Credit. Eligible students can receive up to $2,500 in tax credits per student. If the student owes no taxes, 40% or $1,000 could be refunded to them.
Seniors
Commodity Supplemental Food Program
Low-income folks 60 years and older can supplement their diets through the Commodity Supplemental Food Program. This program focuses on improving the health of low-income older adults, and offers nutritious USDA Foods to those who are below 130% of federal poverty income guidelines.
Tax Counseling for the Elderly
Taxes can get a lot more complex as you get older, and older adults 60+ may not be able to afford a good accountant. The Tax Counseling for the Elderly program offers free tax assistance to people 60 and up, to help with income tax return preparation.
Miscellaneous
Continuum of Care Homeless Assistance Program
Having a home is one of the most essential needs a person can have, and the foundation of many other things such as being able to get a job and provide for children's essential needs. The Continuum of Care Homeless Assistance Program helps individuals and families who are currently experiencing homelessness or at risk of losing housing find transitional and permanent housing.
Job Corps
For low-income and at-risk youth, ages 16-24, the Job Corps offers career technical training and education programs. Participants must meet Workforce Innovation and Opportunity Act (WIOA) requirements and the program is free of cost.
More From GOBankingRates
Make Your Money Work for You