The Looming Recession Is Driving Up Flight Prices — See How High They'll Go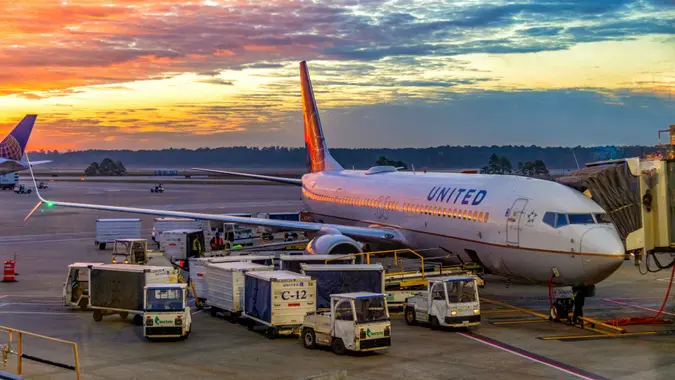 Art Wager / Getty Images
While inflation is cooling down — standing at 5% in March according to the April 12 consumer price index (CPI) report — some items such as airline fares are having a tougher time seeing a price decrease.
The index for airline fares was among the highest for March, increasing 4%, according to the Bureau of Labor Statistics (BLS), representing a whopping 17.7% increase on an annual basis.
Charlie Ripley, senior investment strategist for Allianz Investment Management, said that while inflation data was a bit softer than expected on a month-over-month basis, "working against the numbers, was the increase in airfares of 4%, which is not that surprising given all the spring travelling."
There are several factors affecting these stickier higher flight prices, including continuing pent-up travel demand.
According to Hopper's Consumer Travel Index, domestic airfare will continue to rise through May.
"Airfare is expected to peak around $350 per ticket this summer, down 11% from the peak ~$400 last year… Though prices will remain higher than pre-pandemic levels this spring and summer, some relief in fuel costs and airline capacity improvements will keep airfare below the 2022 peak," according to Hopper.
Make Your Money Work for You
And in terms of demand, Hopper noted that it is still strong following a year of "revenge travel," with 96% of Hopper users, who are predominantly Gen Z and millennial travelers, saying they plan on taking at least one trip in 2023. Of these, a full 93% said they plan to fly.
Take Our Poll: Would You Move for a Job That Paid You a $10,000 Signing Bonus?
In another sign of pent-up demand, United Airlines announced April 6 that it has expanded its international flying by 25% versus last year "to meet the sharp increase in demand for travel outside of the U.S.," according to a press release.
However, there might be some relief for travelers soon. Reuters reported that with increasing recessionary fears, the "elasticity of consumer demand" might change, potentially helping push prices down. So far, the airline industry has been relying on pent-up demand to alleviate higher costs.
More From GOBankingRates
Make Your Money Work for You
Make Your Money Work for You