Financial Expert Michelle Singletary: Make These 2 Money Moves To Be Prepared for an Economic Downturn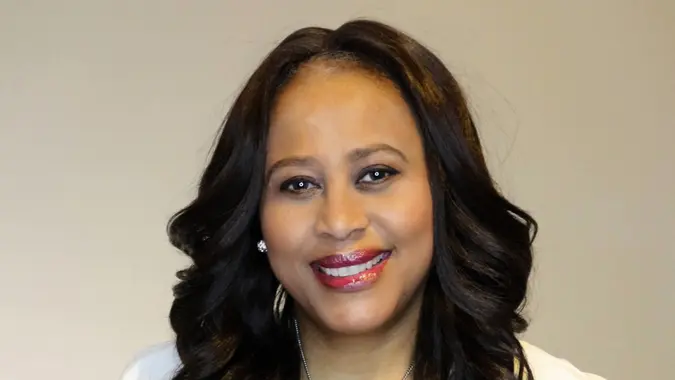 ©Michelle Singletary
Michelle Singletary writes the nationally syndicated news column "The Color of Money", featured in The Washington Post. She is an award-winning journalist and an expert in personal finance, with "The Color of Money" appearing in dozens of newspapers nationwide.
Recognized by GOBankingRates as a Top Money Expert, here Singletary provides advice on fighting the impact of inflation, budgeting and preparing for a potential recession.
Want to vote for Michelle as your favorite money expert? Click here and go to her expert page.
What's your best tip for fighting the impacts of inflation?
With any looming financial crisis, you have to go back to your numbers. And I mean the real figures, not the ones you hold in your heading thinking, "I don't really eat out that much." Or "I only buy what's necessary with my credit card." Pull your bank account statements for the last six months to a year. Comb through it to find every single area where you can cut. Do this because some things you can't control, such as the cost of housing, unless you move or how much your eggs, milk, and bread cost — even if you shop as wisely as possible. Question every single expenditure by first being crystal clear on the money coming out of your household. 
Make Your Money Work for You
I'm a Financial Planning Expert: Here Are 5 Things You Should Never Spend Money on If You Want To Be Rich
What's the biggest mistake people make when it comes to money, and what should they do instead?
Budget is not a bad word. Your budget is not your enemy, yet that is the biggest mistake people make. They fear the figures, and that, in turn, keeps them uninformed about their true financial situation. The other mistake is using debt to elevate their lifestyle. Many Americans are living the American Dream using other people's money. Debt destroys your cash flow, especially in hard economic times. 
How can people be prepared financially for a potential recession?
Your best defense when a recession is coming is to cut costs and build up your cash reserves. Both strategies will serve you well if you have a drop in your income. I understand the advice seems simple, but so many consumers are not doing well managing the money they have.
More From GOBankingRates
Make Your Money Work for You
Jaime Catmull contributed to the reporting for this article.
Make Your Money Work for You