Minimum Wage in New York 2022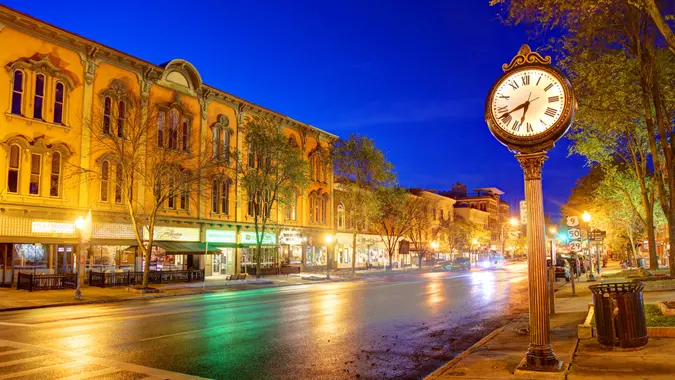 DenisTangneyJr / Getty Images/iStockphoto
If you're living in New York State — and working and paying taxes — you may be wondering what the minimum wage is. The 2022 minimum wage in New York State for non-tipped full-time or part-time employees is at least $13.20. This is true throughout the state, except for New York City and its metropolitan area. Residents of New York City, Long Island and Westchester are entitled to a minimum wage of at least $15 per hour in 2022. New York is on track to institute a $15 minimum wage statewide through annual incremental increases. 
What Is the Minimum Wage in New York State for 2023?
On Jan. 1, 2023, the minimum wage in New York State will rise from $13.20 to $14.20. This is part of an overall plan in the state to eventually settle at a $15 state minimum wage for all businesses throughout the state, regardless of size. Unlike some other states, New York is not implementing the new minimum wage based on the total number of employees each business has on its payroll. 
Make Your Money Work for You
Will New York Have a $15 Minimum Wage?
The Minimum Wage Act is a New York law put into place to raise the minimum wage throughout the state, eventually reaching $15 per hour. There is no set year when the state minimum wage will be $15 statewide. Each year, the legislature will vote on a minimum wage increase to be implemented throughout the state. If the current trend continues, New York will have a state minimum wage of $15 in 2024 or sooner.
What State Has the Highest Minimum Wage?
The state with the highest minimum wage in the U.S. is Washington State. Employees in Washington are entitled to wages of at least $14.49 per hour, regardless of the sector that they work in or their age. Washington will continue its trend of being the state with the highest minimum wage in 2023, when it will raise its minimum wage again from $14.49 to $15.74. This will also make Washington one of the first states in the U.S. to have a minimum wage above $15, the required minimum hourly wage for federal contractors. 
The next state with the highest minimum wage is California. The Golden State is set to increase its minimum wage from $15 to $15.50 on Jan. 1, 2023, for employers that have at least 26 employees on the payroll. Smaller employers will be exempt from paying this increased rate.
While not a state, minimum wage workers earn the most money in Washington D.C. The minimum wage in Washington D.C. is set to increase to $16.10 in 2023, which will make it the first major territory in the country to have a minimum wage higher than $16 per hour. Washington D.C. voters also recently passed a groundbreaking law requiring tipped workers to earn at least $16.10 in wages from their employer, regardless of the amount of money that they earn in gratuities.
Make Your Money Work for You
What State Has the Lowest Minimum Wage?
The states with the lowest minimum wage are technically those that do not have a minimum wage set in place. South Carolina, Tennessee, Alabama, Mississippi and Louisiana do not have state laws in place that set a specific minimum wage. However, employees in these states are still protected under the federal Fair Labor Standards Act. 
The Fair Labor Standards Act is a nationwide law that requires almost every employer to pay all of their employees at least $7.25 per hour, regardless of what the state minimum wage is — or if there isn't one at all. In most lines of employment, this means that the least amount of money that you can earn per hour anywhere in the United States is $7.25 per hour.
Final Thoughts
If you're employed in New York in 2022, you're entitled to earn at least $13.20 per hour from your employer, with few exceptions. If you live in New York City and your employer is not paying you at least this amount or if you think your wages are being illegally withheld in some other way, you should make a complaint with the Labor Monitoring Unit of the city's Housing Prevention and Development Department. The complaint hotline is available in multiple languages, and complaints are kept strictly anonymous.
Make Your Money Work for You
If you live outside of the city, you can contact the New York State Department of Labor by phone to file a complaint.
FAQ
When did New York raise the minimum wage to $15?

New York set the $15 minimum wage into motion on Dec. 31, 2016, when the first wave of reforms from the Minimum Wage Act went into effect. The first people to receive the benefits of a $15 minimum wage were New York City employees. Since this time, employees in Westchester and Long Island have also seen the $15 minimum wage go into effect.

What state has no income tax?

There are currently nine states that do not impose a state income tax on their residents: Alaska, Florida, Nevada, New Hampshire, South Dakota, Tennessee, Texas, Washington and Wyoming. Keep in mind that while New Hampshire does not impose a state tax on individuals' earned income, it does levy a state tax on income earned through investments -- like dividends from stocks.
Information is accurate as of Dec. 20, 2022. 
Our in-house research team and on-site financial experts work together to create content that's accurate, impartial, and up to date. We fact-check every single statistic, quote and fact using trusted primary resources to make sure the information we provide is correct. You can learn more about GOBankingRates' processes and standards in our editorial policy.
Make Your Money Work for You