Moderna Chairman Refuses To Share Vaccine Formula — Will Pfizer's Popularity Hurt Its Stock Value?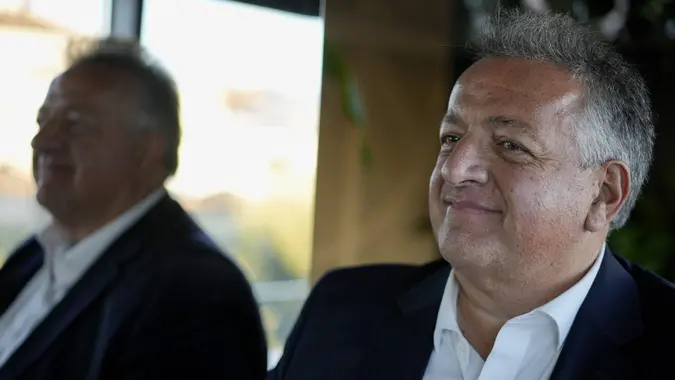 Andrew Medichini / AP / Shutterstock.com
Moderna recently ruffled feathers by announcing it has no plans to share the recipe for its COVID-19 vaccine, as they believe that scaling up the company's own production is the best way to increase global supply.
Find Out: Merck Requests Emergency Use Authorization for First Oral COVID Antiviral Pill – Did it Boost Their Stock?Learn More: WHO Touts New Malaria Vaccine as 'Historic' — Is It Worth an Investment?

The company's chairman stated in an interview with the Associated Press that the company would not enforce patent infringement on anyone else making a coronavirus vaccine during the pandemic, but that Moderna would not share their specific vaccine makeup.
The United Nations health agency and World Health Organization have repeatedly pressured Moderna to share its vaccine recipe. Moderna chairman Noubar Afeyan responded by saying that any appeals by organizations to reveal the formula operate under the assumption "that we couldn't get enough capacity, but in fact we know we can."
Related: As Anxiety at the Grocery Store Mounts, Over Half of US Shoppers Demand Supply Chain Transparency

"Within the next six to nine months, the most reliable way to make high-quality vaccines and in an efficient way is going to be if we make them," Afeyan added, reported CNBC, suggesting that sharing the formula with the world won't necessarily account for quality control and efficiency. Afeyan also stated in the same interview that Moderna plans to scale the 1 billion doses they produced in 2021 to 3 billion in 2022.
The news comes on the heels of Pfizer announcing it has shipped more than 1.6 billion doses so far to more than 130 countries, making it the most popular vaccine in the world.
Make Your Money Work for You
See: 8 Best Cryptocurrencies To Invest In for 2021Learn: Nearly 40% of America's Wealthiest Billionaires Give Relatively Nothing to Charity
Pfizer has received similar calls to share its vaccine makeup, with the Biden administration stepping in and offering Pfizer and Moderna to license their vaccines in private deals in order to still profit from the sale of the information, but also share the vital vaccine formulas. As of yet, neither company has answered the call to license their vaccine information.
Last updated: October 12, 2021