Money Makes the World Go 'Round: An International Comparison of Economic Health
Convention tells us that the United States still reigns supreme as the largest economy on Planet Earth, totaling $15 trillion in 2011. That still makes it (almost) number one on the books, but there's hardly anybody who hasn't felt the strain of the weakened U.S. economy, struggling to recover from fallout of the late-2000s housing crisis and an unemployment rate that hovers over 8% nationwide.
How does the U.S. really measure up to the rest of the world?
When it comes to its true place on the globe, America does fare better than some of its western European counterparts, especially Greece, surviving through the worst fiscal meltdown in its history. The U.S. was once a beacon of financial freedom, but no longer; economic statistics show that countries like Norway are thriving like never before, and Brazilians rank highest in terms of financial literacy.
GDP: World Economy Ranking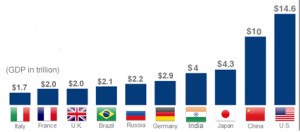 A country's economic health is often measured in terms of Gross Domestic Product (GDP), the market value based on its production of goods and services. In economics, GDP, when measured by an entire population of people, can determine whether a country's overall standing and standards of living are good or bad.
Make Your Money Work for You
Sponsors of
Based on the graph at right, when ranking economy by country, the U.S. has the highest GDP, followed by major goods exporters China and Japan at $10 trillion and $4.3 trillion, respectively.
However, data analyst Trading Economics, in citing the World Bank, says that China is actually poised to become the world's largest economy by 2050; in 2011, it experienced an 8.1% GDP growth, surpassing the U.S.'s own increase of 2.1%. Japan, on the other hand, witnessed a decline of 0.6% (their debt-to-GDP ratio, according to Benzinga, is at a terrible 225.8%).
The U.S. Economy and Europe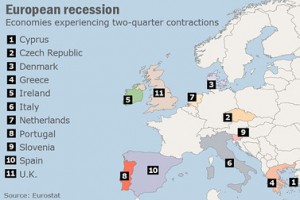 Believe it or not, though the Central Intelligence Agency lists the United States' total GDP value at $15.04 trillion, to be precise, Europe (and all the countries in the "Eurozone") is worth slightly more, at $15.4 trillion, in 2011 dollars. It sounds like a lot of money, but in reality, reflects a series of countries that have seen better days financially.
According to Global Finance, despite the surpluses, countries that experienced the highest deficits in the world from 2009-2011 were the United Kingdom, the U.S., Ireland and Greece — the latter two experiencing the worst economic downturns on the planet. America, contrary to popular belief, isn't the first country to experience widespread debt.
Make Your Money Work for You
Sponsors of
The Eurozone at a Glance
According to Eurostat, unemployment in the 17 countries composing the Eurozone rose to new highs — 10.9% in March, up from 10.8% the month prior.
The New York Times reported last month that Great Britain entered its first double-dip recession since the 1970s; the country's first quarter of 2012 saw a 0.2% drop in economic output, the paper said.
Like the United States, a series of negotiations, bailouts and in the case of European countries, austerity packages and decline in value of the euro, have failed to solve the financial crisis, the Times also said.
Overall, the Eurozone took one step forward, three steps back; its total economy shrank 0.3% in the final quarter of 2011, after expanding 0.1%earlier in the year, said the Wall Street Journal.
Ireland
Similar to the U.S.'s financial crisis, Ireland's "official" recessionary period lasted four years, from 2008-2012, consequences of generous credit lending and an overzealous housing bubble that eventually burst. And like the U.S. Great Depression of the 1930s, Ireland went beyond a recession and entered its own depression three years ago; by April of this year, Ireland's Central Statistics Office reported that the country wrestled with an unemployment rate of 14.3%.
Make Your Money Work for You
Sponsors of
Ireland, however, appears to be digging out of its financial doldrums, for the time being. Irish publication The Independent predicts that the economy will grow an entire%age point in 2012. It's a long, slow climb for a country whose worst days were in 2010, with more than a 36% drop in its GDP value.
Greece
Greece, like the U.S., got into some major debt. A case of government overspending, Greece's debt ratios far surpassed European averages; by 2010, the Greek debt percentage was 165%, versus 87% for the rest of the Eurozone. Last summer, that number has dropped slightly to 152%, compared with a debt-to-GDP ratio of 99.5% in the U.S.
The Washington Post reported on May 2 that Greek national deficits rose to $6.2 million in the first quarter of 2012, compared to $3.7 billion in 2011. The debt-ridden country is trying to dig out of its dire situation, and received a private bond swap on April 25, wiping $132 billion off Greece's national debt. The country, stated the Post, has relied on billions of euros in international rescue loans for the past two years. Greece's best piece of news came from Standard & Poor, which lifted the country out of default status last month.
Make Your Money Work for You
Sponsors of
What are some of the economic differences between the U.S. and Europe? Our attempted escape routes, according to the Weekly Standard. Policymakers in America, the paper said, balk at countries like Greece who believe the policy of austerity (cutting back on government-subsidized programs, etc.) will restore fiscal growth. Europe frowns upon the U.S.'s habits of continual borrowing and spending.
Norway: Country With Best Economy
Norway isn't a large country — only 5 million people to its name — but it has one of the best, most booming econ0mic landscapes in the world. With the second highest GDP per capita in the world (and a $265.9 purchasing power parity), according to the Organization for Economic Cooperation and Development, Norway's best year of recent was 2008 — when other recessions were starting, Norwegian surplus money grew by over 19%.
Brazil: Leaders in Financial Literacy
It's true: Brazil ranks higher for financial literacy than any other country in the world. As part of Financial Literacy Month in April, credit card issuer VISA released an international financial literacy barometer, a survey of 25,000 people across 28 countries. Scores, based upon a scale of 1-100, revealed a series of countries with the best money skills:
Make Your Money Work for You
Sponsors of
Brazil: 50.4%
Mexico: 47.8%
Australia: 46.3%
United States: 44.6%
The survey found that Mexico and Brazil parents spoke most often to their children about money; Brazilian mothers and fathers, in particular, believe that reenforcing financial literacy should begin at age 9.
According to the survey, Brazil was the top country whose participants budgeted best; the U.S. came in sixth.
The U.S.: Jobs or Deficit?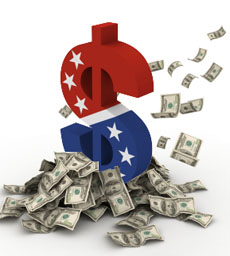 In an interview with Reuters, economist Paul Krugman said this week that U.S. policymakers should be concentrating less on fixing the country's budget deficit, and focus more on solving unemployment.
Bloomberg reports that the number of open positions nationwide increased by 172,000 to 3.74 million — the highest since July 2008. According to the story, the number of people hired decreased to 4.36 million in March, down from 4.44 million in February. Still, the hiring rate held steady at 3.3%.
Is there a renewed optimism that the poor economy could be ending? Not if you're part of the 99%. Members of the Occupy Wall Street movement have stood firm in opposing corporate greed and a poor economy; the last series of protests around the country was on May Day, May 1.
Billionaire Wilbur Ross told Bloomberg this week that the U.S. economy may even slip back into a recession next year because lawmakers in Washington can't agree on tax policies and mandatory spending cuts. With an entire country hoping that 2012 will be the year the economy finally recovers, people should brace themselves for Ross' prediction to come true. However, when compared to the Eurozone and positive financial literacy numbers, the U.S. may see some financial relief sooner than it thinks.