The National COVID Vaccine Roll-Out Is a Multi-Billion Dollar 'Trainwreck'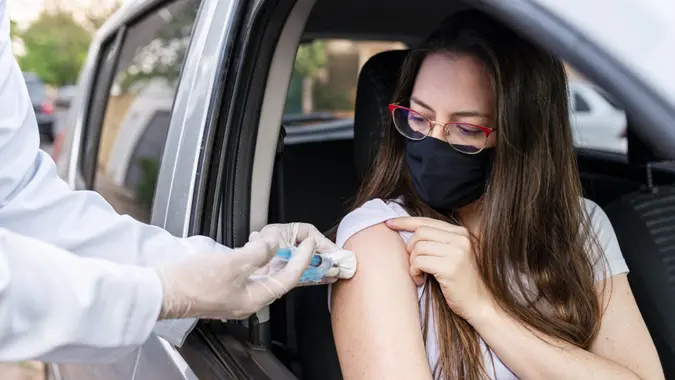 Studio CJ / Getty Images
The slow rollout of the COVID-19 vaccine, the lack of a clear national distribution strategy as well as the lack of necessary funds to execute that strategy have left states scrambling for solutions. As of Monday, only 4.5 million shots have been administered since the vaccine has been available in the US, instead of the 20 million shots initially projected before the end of last year, according to the US Centers for Disease Control and Prevention.
See: Slow Vaccine Roll-Out Leaves Door Open to Scammers
Find: When Can You Get the COVID-19 Vaccine — and How Much Will It Cost?
Each state has been required to file a COVID-19 vaccination plan with the U.S. Centers for Disease Control and Prevention, detailing the storage and handling of the vaccine, the phased approaches, and the communication, among other things — leading some involved with the everyday realities of the roll-out to call it a "trainwreck."
I saw that. I'm in the pharmacy biz, and we're desperately trying to get the vaccine into our pharmacies, and there's just no information coming in. Couple that with the fact we are vaccinating at a snail's pace, and it's like watching a trainwreck.

— lukifer (@hail_lukifer)

December 30, 2020
Make Your Money Work for You
While the federal government will oversee a centralized system to order, distribute, and track COVID-19 vaccines, the handling and distribution is left to the states. For example, South Dakota leads the country with more than 48% of its doses given, followed by West Virginia, at 38%. On the other hand, Kansas has given out less than 11% of its doses, and Georgia, less than 14%, according to the New York Times. In Florida, while more than 1.1 million vaccines have been distributed, only 264,000 have been given, according to CDC data.
Florida governor Ron DeSantis announced yesterday a policy under which the state would allocate more doses to hospitals that dispense them most quickly. And New York governor Cuomo announced that hospitals must administer vaccines within a week of receiving them or receive a fine.
Nationally, 70% of the vaccines remain unused and are going idle, according to CDC data.
See: How Much Will COVID-19 Vaccines Cost Taxpayers?
Find: Could Your Boss Make You Get the COVID-19 Vaccine to Keep Your Job?
Make Your Money Work for You
The government has already sunk more than $9 billion into nine different companies developing the vaccines and an additional $2.5 billion on equipment for administration, like storage vials. But the $900 billion COVID-19 relief package, passed last week, includes $8 billion for vaccine distribution, which will hopefully help the states and accelerate the execution of their plan. (Or may end up being more money ill-spent.)
More From GOBankingRates:
Make Your Money Work for You