New California Law May Save Low-Income Families as Much as $300 a Year — But There's a Catch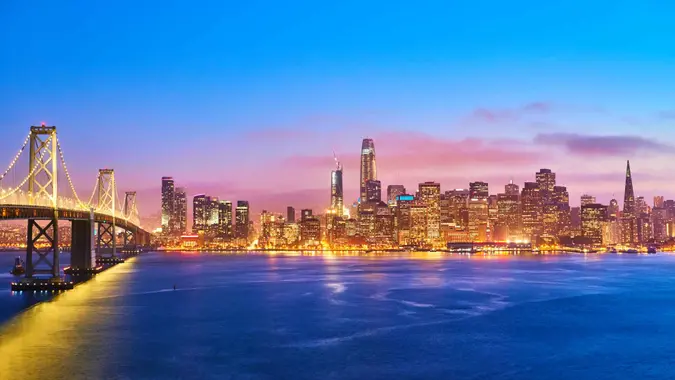 zorazhuang / Getty Images
In an effort to cool rising electricity rates and modernize its power system, a controversial proposal submitted from joint investor-owned utilities to the California Public Utilities Commission will use a sliding scale for utility bills based on household income.
Depending on the eventual proposal the state decides upon, the essence of the new law is for higher-income residents to accept more financial responsibility to bring California's power system up to date.
Originally proposed jointly by researchers at the University of California at Berkeley and the nonprofit organization Next 10, the planned legislature would divide utility costs into usage, based on electricity rates, and fixed charges, which will now be based on customer income.
Meredith Fowlie, a professor of economics at UC Berkeley who helped create the initial proposal, indicated a forward-looking billing system will help lower- and middle-income residents that spend a disproportionate amount on electricity compared to their income.
"A flat fixed charge is still pretty regressive," said Fowlie, per The Washington Post. "If you can mimic an income tax, it's less regressive."
According to The Washington Post, Californian households making more than $180,000 a year could end up paying an average of $500 more on their yearly electricity bills, while lower-income residents would save about $300 per year, depending on the final utility proposal approved.
Make Your Money Work for You
Some California Residents Opposed
However, the various proposals based on fixed charges that have been received by the state utilities commission have been met with a deluge of complaints from California residents concerned about the impact the fixed charge sliding scale will have on their electricity bills, regardless of their income.
The catch? Those that conserve energy or have switched over to alternative energy sources like wind and solar will still need to pay a fixed charge, which could mean their bills actually increase regardless of their income and good intentions. Likewise, there is a possibility that higher-income residents could simply disconnect from the grid, forgoing electricity and placing the cost burden back on their lower-earning neighbors.
Speaking to The Washington Post, retired data manager Ronald Dawson said, "This proposal actually discourages conservation. Those that live without air conditioning and conserve electricity or who use solar energy… will still be required to pay the monthly fees. It's a bait-and-switch."
In the meantime, prices continue to rise. Despite a gradually cooling U.S. inflation rate, residential and commercial electricity prices are expected to increase in 2023 throughout the U.S. as lower wholesale power costs take their time to trickle down to customers and businesses.
Matthew Freedman, staff attorney for nonprofit consumer advocacy organization The Utility Reform Network, said, "In the last decade, electricity prices in California have skyrocketed." He added that rates at Pacific Gas & Electric and at San Diego Gas & Electric, two of the state's three largest investor-owned utilities, have increased 84% and 137%, respectively, over the past 10 years.
Make Your Money Work for You
This is partially due to rising rates. However, all utilities are upgrading their infrastructure to provide for a population increasingly challenged by hotter weather, more wildfires and "aging, failing power lines," per WaPo.
California already has high electricity rates. It's average price of around 20 cents per kilowatt-hour (kWh) is well above that of the national average, per The Washington Post. Rates depend upon where you live and which company is supplying your energy.
Although contingent upon the weather, the average residential retail electricity price this summer will be 16 cents per kWh, which is a 2% increase from last summer, per the U.S. Energy Information Administration (EIA).
The state Assembly bill No. 205, passed last year, requires the California Public Utilities Commission to figure out and implement the fixed-use charge by July 2024.
More From GOBankingRates