New Rules: White House was COVID Deep Cleaned for Biden Arrival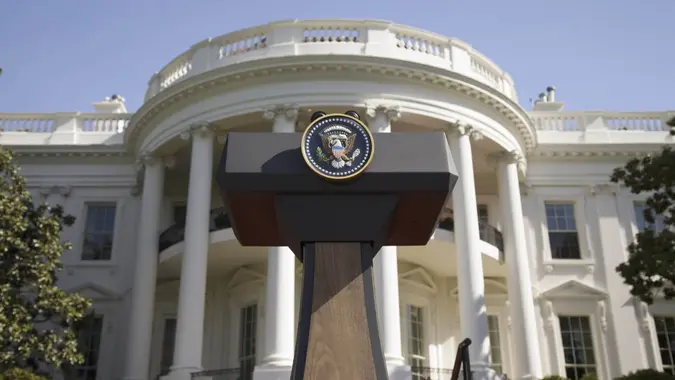 ©Shutterstock.com
While cleaning and preparing the White House is part of a myriad of details surrounding the arrival of a new president, this time around, the 55,000-square-foot mansion also had to be deep cleaned because of COVID-19.
See: What Does a Pandemic Inauguration Cost for D.C.?
Find: What Does It Cost to Live in the White House?
The White House has seen multiple COVID outbreaks under Trump's presidency, most notably during the ceremony for the swearing in of Amy Coney Barrett in October. Dr. Anthony Fauci went on to call the ceremony a "superspreader event" after the former president and former first lady, former New Jersey Gov. Chris Christie, former top Trump aide Kellyanne Conway, Republican Sens.Thom Tillis of North Carolina and Mike Lee of Utah, University of Notre Dame President John Jenkins and a White House journalist became infected with the virus, according to NBC News.
For the arrival of President Biden and the first lady, more than $200,000 was spent for increased White House janitorial and housekeeping work, including $127,249 for inaugural cleaning and $44,038 for inaugural carpet cleaning, according to an ABC News report citing government contracts. An additional $29,523 was spent cleaning curtains for the inauguration. The cleaning contracts went to Didlake, a Virginia-based company providing employment to people with disabilities.
Make Your Money Work for You
See: What It Costs Taxpayers for the President to Go on Vacation
Find: Here's How Much It Costs for the Secret Service to Protect Trump's Family
In addition, there was a $115,000 contract to install new carpeting in offices in the West Wing, East Wing and the Eisenhower Executive Office Building, according to ABC News.
A U.S. General Service Administration spokesperson told ABC News that "GSA will thoroughly clean and disinfect the building spaces between the administrations and ensure that everything is up to standard. Cleaning will include, but is not limited to, all furniture, flooring, window treatments, handrails, doorknobs, light switches, countertops, elevator buttons, restroom fixtures and dispensers, door handles and push plates, and lighting fixtures."
More From GOBankingRates:
Make Your Money Work for You