These Cities Are the Next Silicon Valley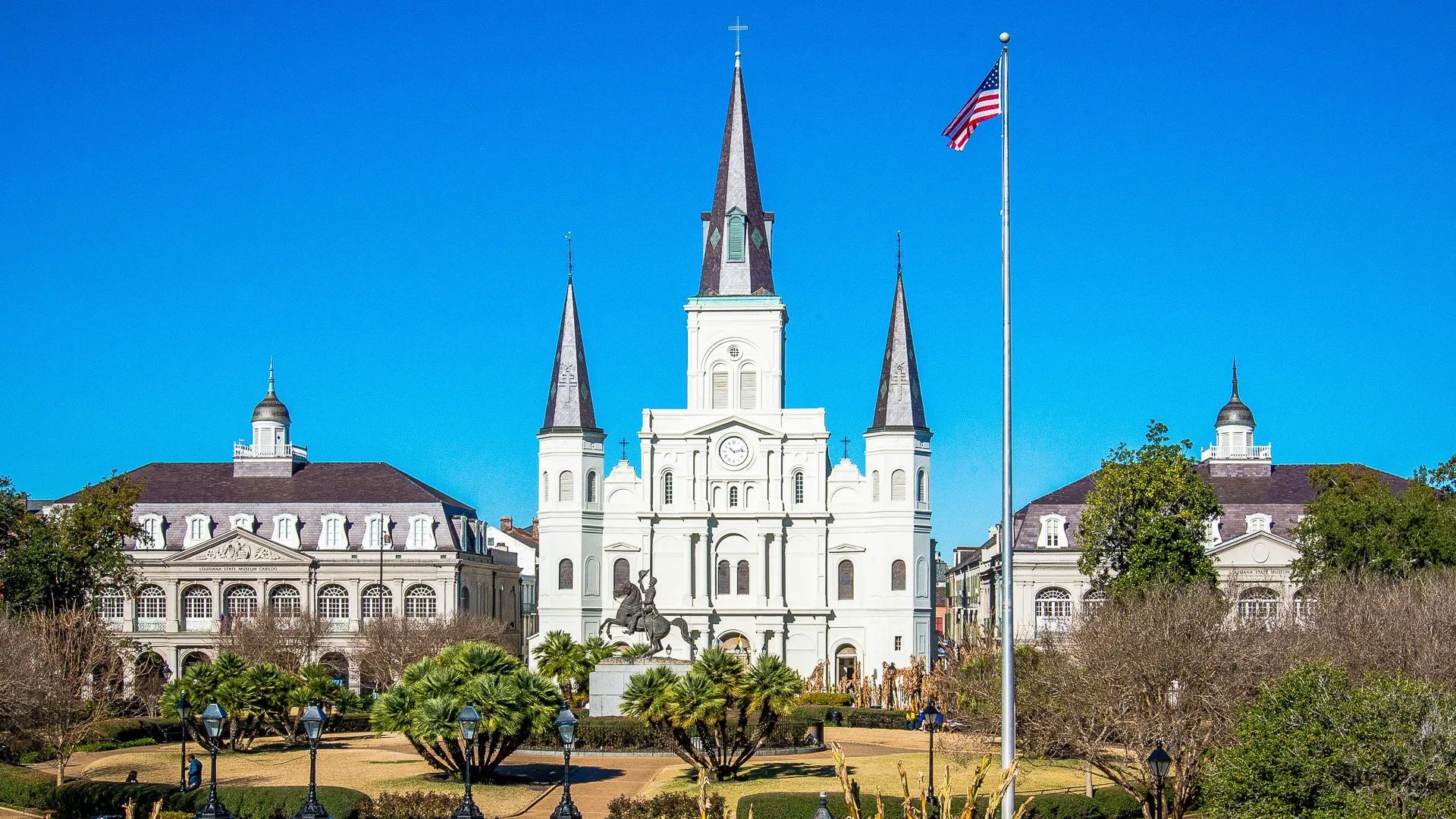 According to a 2016 article in Fortune, 173 Silicon Valley unicorn companies — startups valued at $1 billion or more — had a combined value of $585 billion, thanks to investors frothing at the mouth for the next Uber or Airbnb. The problem is, that scale of investment just isn't sustainable. As Fortune pointed out, most of these unicorns weren't even close to profitable.
With the Silicon Valley startup bubble poised for a potential pop, feast your eyes and aspirations on these 26 U.S. cities, the scrappy upstarts that might just be the next Silicon Valley. Note that population figures are based on 2016 U.S. Census Bureau data and reflect only municipal populations, not entire metro areas.
Click through to see the 10 startups to watch in 2018, and cities where the next Silicon Valley might be.
Albany, N.Y.
Population: 308,846
One stat from CNBC puts Albany's burgeoning tech biz into perspective: The city's number of tech jobs grew 161 percent between 2016 and 2017. The startups to watch in Albany are typically in the health and education sectors, as the area is home to Union College, Rensselaer Polytechnic University and numerous Statue University of New York branches. Albany also benefits from New York's $1.4 trillion GDP and generous tax incentives for new businesses.
Check out 12 cities with the most job openings.
Atlanta
Population: 472,522
Not only is Atlanta on the list of potential cities for Amazon's second headquarters, but Forbes last year called Atlanta one of the top five "U.S. cities poised to become tomorrow's tech meccas," citing ample job opportunities for software programmers, software developers and computer support personnel.
In 2017, CBRE ranked Atlanta the fifth best city for tech jobs, partly because of its comparatively low cost of living. Whereas San Francisco scores a 334.4 for housing on the Council for Community and Economic Research's Cost of Living Index, Atlanta's housing is rated a much more affordable 84.9.
Make Your Money Work for You
Birmingham, Ala.
Population: 212,157
Alabama doesn't have a Silicon Valley, but it doesn't need it — the tech sector in Birmingham is already abuzz in the Jones and Shades valleys.
In Jones, the Innovation Depot houses Atlas RFID, Platypi, Kinetic, Shipt — which raised $65.2 million in funding before being acquired by Target — and other tech firms, while Daxko and TekLinks are headquartered in Shades. In 2017, InBIA named Birmingham the No. 1 city of choice for millennial founders. Given the millennials' interest in social responsibility, chances are those founders will treat their employees well, too.
Boston
Population: 673,184
In a 2016 study from the U.S. Chamber of Commerce entitled "Innovation that Matters," Boston took the top spot out of 25 cities poised to "emerge as leaders in the digital economy." Second place was Silicon Valley itself — the San Francisco Bay Area. As the study said, "While the San Francisco Bay Area is the clear leader in total startup activity, its lack of a cohesive community and declining quality of life for residents helped move Boston to the top spot."
A report from CBRE notes that the total pool to tech talent in Boston is estimated at 115,560 workers, and the average tech talent wage clocks in at a healthy $104,000 per year.
Want to Work in Tech? Apple Is Hiring — But How Much Does It Pay?
Charlotte, N.C.
Population: 842,051
According to the Charlotte Chamber of Commerce, the tech sector in the Queen City grew by 28 percent in the five years leading up to 2016. More than 92,000 people in the Charlotte metro area work in technology and analytics alone, with many employed by tech giants such as Microsoft, HP, AvidXchange and Cisco. Meanwhile, CBRE reports that total tech talent employment expanded 77.1 percent in Charlotte between 2011 and 2016, with the computer support and database systems sector ballooning an eye-popping 103.1 percent.
Chicago
Population: 2,704,958
Ranked No. 15 on CBRE's 2017 Tech Talent report, the Windy City is home to more than 143,000 tech employees. All those techies will be stoked to hear that it costs founders 42 percent less to operate a startup company in Chicago than it does in Silicon Valley, according to Inc.
A report titled the "Hyde Park Angels 2017 Midwest Startup and Venture Capital Market Anaysis" pegs the Great Lakes economy as the largest in the U.S., with a $2.8 trillion GDP across six Midwestern states. Chicago itself leads the Midwest venture capital ecosystem, attracting $1.34 billion across 171 deals in 2016 alone.
Make Your Money Work for You
Cincinnati
Population: 298,800
ZipRecruiter called Cincinnati one of the best new cities for tech jobs in 2017, citing year-over-year tech job growth of 96 percent. Meanwhile, the Cincinnati Business Courier reported that the city's tech market is one of the fastest growing and most affordable in the country as of 2017.
On the note of "most affordable:" according to C2ER's Cost of Living Index, housing is Cincinnati is rated at a very affordable 74.1. As The New York Times reported in 2017, "a top-flight software engineer who is paid $100,000 a year in the Midwest might well command $200,000 or more in the Bay Area," making this market particularly attractive to employers.
Cleveland
Population: 385,809
Speaking to Forbes in 2017, Cleveland Health-Tech Corridor Director Jeff Epstein outlined a long list of advantages Cleveland has over other markets: "Cleveland is a prime location for innovative health-tech and high-tech companies. The heart of Cleveland is a leading biomedical, health-care and technology region. It offers easy access to clinicians, researchers and state-of-the-art lab infrastructure inside world-class institutions. The cost of living is 30 percent to 60 percent lower than that of Boston, Silicon Valley, and NYC."
And how exactly does that cost of living look on paper? The Cost of Living Index for housing is just 87.9 in Cleveland, according to C2ER figures.
Columbus, Ohio
Population: 860,090
In 2016, the federal Transportation Department awarded Columbus a $50 million "smart city" grant to tackle tech problems ranging from self-driving cars to safer childbirths. That same year, 80-person startup CrossChx reached $35 million in venture capital funding, which would be the equivalent of about $70 million in Silicon Valley. Surely, these stories contribute to the city's third-place ranking on the Kauffman Foundation's list of growth entrepreneurship in 40 U.S. metropolitan areas.
Larger companies have taken notice. In 2017, Columbus-based startup CoverMyMeds was scooped up by McKesson for $1.1 billion.
Dallas
Population: 1.3 million
More than 161,000 tech talents live in the Dallas area, according to CBRE, and they earn an average wage of $93,300 per year — not bad when the average apartment rent is less than $1,100 per month. That could be why Dallas ranks No. 10 on the 2017 Tech Talent report.
It gets better. At least 60 percent of Dallas-Fort Worth's $512 billion economy is in the innovation-intensive sectors of information, education and healthcare, finance, manufacturing and professional and business services, according to D Magazine. The same source reports that 100 firms have moved to the area from other states since 2010.
Make Your Money Work for You
Denver
Population: 693,060
The Denver area's status as a rising star in the tech world was underlined last year when Google announced plans to invest $150 million in a development in nearby Boulder. Meanwhile, events like Denver Startup Week attract a highly educated workforce. Fox Business said 44 percent of millennial workers in Denver have bachelor's degrees versus the 33 percent national average.
Denver's own Vertafore employees 1,300, while Guild Education recently closed a $21 million funding round. Another top name in the local tech community is SendGrid, a cloud-based email transaction and marketing service. At this point, the Mile High State is known for startups just as much as it is for skiing. Meanwhile, technology giants with operations in neighboring communities include Twitter, IBM, Oracle and Lockheed Martin.
Detroit
Population: 672,795
In late 2017, Ford Motor gave Detroit a big shot of tech industry street cred when it announced its choice of downtown Detroit to host its new base for self-driving and electric car development. Ford isn't alone in seeing the Motor City's potential. The New York Times reported that although 30 percent of Detroit's office space was empty 10 years ago, only 7 percent is vacant today.
Detroit's employment in both the computer information systems and technology engineering fields grew by 55 percent or more between 2011 and 2016, according to CBRE. Plus, the Cost Of Living Index for housing is an affordable 86.6 in Detroit, according to C2ER data.
Huntsville, Ala.
Population: 193,079
Huntsville, also known as "Rocket City," traces its technology history back to the Space Race, when the city was responsible for developing the rockets that finally put humans on the moon. CBS News' MoneyWatch ranked Huntsville No. 1 among America's fastest-growing tech cities in 2016, noting its one-year tech job growth of 309 percent, and median tech salary at $96,400 for those with more than five years' experience. On the C2ER's Cost of Living Index for housing, Huntsville is rated at a very manageable 72.4.
Huntsville also topped ZipRecruiter's list of best new cities for tech jobs report, listing software engineer and IT specialist among the top jobs in the area.
Make Your Money Work for You
Kansas City, Mo.
Population: 481,420
Kansas City's "Silicon Prairie" is a haven for network engineers and web developers, with those jobs rising 157 percent year-over-year in 2016, according to ZipRecruiter. Mid-career median pay for tech jobs in Kansas City is $89,500 per year, which is pretty sweet considering median rent in the city is only $895.
The inaugural home of Google Fiber, Kansas City placed 22nd out of 25 cities in a 2017 ranking of entrepreneurship growth from the Ewing Marion Kauffman Foundation. The same report found that more than one-fifth of Kansas City's employable residents were well-educated "knowledge" workers, and tech workers made up about 5 percent of the city's workforce.
Nashville, Tenn.
Population: 660,388
CBRE estimates that tech employment in Nashville grew at a healthy 43.5 percent between 2011 and 2016. Project managers, net developers, support techs and project engineers would do well to have a look at Music City, where the number of tech jobs more than doubled year-over-year in 2016 and mid-career median pay was $90,200, per ZipRecruiter.
Dell has already set up operations in Nashville and Google Fiber is set to arrive soon. The city also enjoys a buzzing venture capital community and a city government that actively promotes technical training in schools. The Nashville Business Incubation Center welcomes startups with open arms, too.
New Orleans
Population: 391,495
The Silicon Bayou is home to Venture for America startups like Advanced Polymer Monitoring Technologies, Camelback Ventures, TenboAir and Servato. Many are likely lured by Louisiana's generous tax incentive programs for tech startups, including a 35 percent tax credit on salaries for tech hires and a 25 percent credit for other labor costs.
Another boon to the area is the New Orleans Startup fund, which has invested $2 million in 36 companies that have gone on to raise $55 million more in follow-on funding. One-third of those companies are female-owned and half are owned by minorities — well above the national average in both cases.
Philadelphia
Population: 1.6 million
Tmunity Therapeutics. Advanced Cellular Therapeutics. The Parker Institute for Cancer Immunotherapy. Spark Therapeutics. That's just the shortlist of Philly-based gene therapy research outfits, prompting Spark CEO Jeffrey Marrazzo to tell Philadelphia Magazine, "I can make the argument that Philadelphia has the greatest concentration of foundational research in gene and cell therapy in the world" in 2017. That kind of concentration has led some to dub the area "Cellacon Valley."
A report from hiring platform Dice noted that Philadelphia had the highest year-over-year growth for tech salaries in 2017, beating out Silicon Valley itself.
Make Your Money Work for You
Phoenix
Population: 1.6 million
Tech companies like General Dynamics, Datashield and MST Solutions have surely contributed to the Phoenix area's astounding 188 percent one-year increase in tech-sector jobs from 2016 to 2017. That CNBC figure isn't the only attractive thing about the Arizona capital. Its median home price of around $225,000, according to Zillow, is a whole lot cheaper than what you'll find in the Silicon Valley.
What's more, Arizona ranked 10th on Business Insider's 2017 list of the best states to start a small business.
Pittsburgh
Population: 303,625
With an affordable C2ER Cost of Living Index of 90.9 for housing and its own Google campus — not to mention easy access to arms of Uber, AutoDesk and UPMC Enterprises — Pittsburgh is pretty attractive to those seeking a Silicon Valley alternative. According to CBRE's annual Tech-30 Report, the city's technology talent pool expanded by 31.4 percent from 2015 to 2016, placing it third overall behind San Francisco and Charlotte.
Carnegie Mellon University's School of Computer Science is a big draw here, and local startups include Duolingo and startup accelerator AlphaLab. Stick around and you might even catch Uber testing its self-driving cars out on the city's streets.
Portland, Ore.
Population: 639,863
Some call it the "Silicon Forest." Bloomberg calls it "the software industry's cabin in the woods." Whatever you call it, Portland is a major focal point for the great Pacific Northwest tech migration, which was solidified when Google opened offices in the city in 2015. Other high-profile tech firms with offices in Portland include Hewlett Packard, eBay, Salesforce, Airbnb and New Relic. Home-grown upstarts include Tripwire, Digital Trends and Cloudability.
CBRE estimates that between 2011 and 2016, Portland experienced 40.4 percent growth in total tech talent employment, including a staggering 92.4 percent growth in the software development and programming sector.
Providence, R.I.
Population: 179,219
ZipRecruiter named Providence one of the nation's 20 hottest cities for tech jobs in 2017, noting that the Rhode Island capital's top tech jobs include project manager, software engineer, senior net developer, business information analyst and quality engineer.
Clearly, variety is the spice of tech in Providence, and that message becomes even clearer when you look at some of the city's most-funded technology startups. Restaurant-management app Upserve has raised $40.5 million, advanced-materials company NanoSteel has netted $58.2 million and mobile-payment platform Splitwise has raised $6.4 million as of February 2018.
Make Your Money Work for You
Salt Lake City
Population: 193,744
With Business Insider reporting that Salt Lake City ranked second among U.S. cities in terms of tech-deal growth between 2012 and 2016, it's little wonder the U.S. Chamber of Commerce ranked Utah No. 1 in innovation and entrepreneurship and No. 2 in high-tech performance in 2017. Oh, and don't forget a No. 3 ranking in overall economic performance.
eBay and MarketStar are just a couple of the companies with operations near Salt Lake City, but if you need a cherry on top, Entrepreneur reports that the Salt Lake City area, including tech dens like Ogden and Provo, is home to startups valued at $12 billion as of mid-2017.
San Antonio
Population: 1.5 million
Venture for America startups in San Antonio include Assembla, Codeup, Filestack, Geekdom and Xenon Ventures. In 2017, the city ranked third on Thumbtack's sixth annual Small Business Friendless survey. Some of the small and not-so-small businesses in the San Antonio Tech District include Google Fiber, Grok Interactive, SeatSmart, CodeUp and Geekdom.
Just don't call it Silicon Valley, Texas. San Antonio is more like Cyber Security City, USA, thanks to a talent pool largely derived from the 24th and 25th Air Force and Lackland Air Force Base. CompTIA's Cyberstates 2017 analysis said the Texas technology industry added 11,000 new jobs in 2016, putting it second among all 50 states in terms of technology industry employment.
Seattle
Population: 704,352
You can't mention technology in Seattle without mentioning Microsoft, but the computing titan isn't the end of the story in this hip Pacific Northwest region. In fact, Seattle's going to space.
Among space-oriented startups based in the Seattle and Redmond areas are Spaceflight Industries, Planetary Resources and Blue Origin. They're all part of a space startup industry that has raised $13.3 billion in investments since 2000, including $2.7 billion in 2015 alone. According to The Seattle Times, Seattle was the most popular place in America for San Francisco and San Jose transplants in 2015.
St. Louis
Population: 311,404
St. Louis is home to the Ameren Accelerator program, a partnership between the University of Missouri System, UMSL Accelerate and Capital Innovators that invests $100,000 a year in five to seven tech companies. This burgeoning Midwestern Silicon Valley has even attracted a Square office in its Cortex technology district, which the city plans to expand to the tune of $2.1 billion.
Alongside companies like Arch Grants and The Lawrence Group, St. Louis' downtown T-REX technology incubator is currently nursing more than 100 active startups. No wonder St. Louis enjoyed 342.7 percent tech-deal growth between 2012 and 2016.
Make Your Money Work for You
Tampa, Fla.
Population: 377,165
When Bill Gates is planning to invest billions of dollars to make Tampa a tech incubator, it's time to start paying attention. Along with his partner Jeff Vinik, Gates plans to make Tampa into what Forbes calls "a model city of the future." That shot in the arm has helped attract 200 new residents to the area every day, according to CNBC.
The research mecca of the University of South Florida is another feather in Tampa's tech cap. The rent doesn't hurt, either; Tampa's C2ER-rated Cost of Living Index for housing is a cool 77.7.

BEFORE YOU GO
See Today's Best
Banking Offers