Odds of Recession Increase 10% After Bank Failures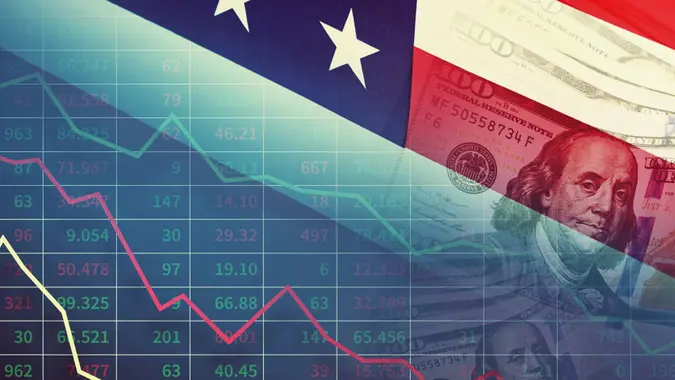 Lazy_Bear / Getty Images/iStockphoto
Turmoil in the banking sector following the collapse of Silicon Valley Bank and Signature Bank is stoking recession fears. Now, several economists and analysts are now re-assessing their views about the odds of one unfolding sooner than anticipated. Liquidity issues at Credit Suisse and First Republic Bank's reported potential sale are adding fuel to the fire.
On March 15, Goldman Sachs raised its estimates on the odds of a U.S. recession to 35% over the next 12 months, "reflecting increased near-term uncertainty around the economic effects of small bank stress," analysts said in a client note.
The sentiment is echoed by several experts, including Jeffrey Roach, chief economist for LPL Financial. Commenting on the February retail sales report, Roach noted that the rising risk of recession is now being exacerbated by the increased likelihood that banks will limit their lending, he stated in a note. "The trajectory of consumer spending weakened in February and now with volatile short-term borrowing costs, the economy may soon tip into recession," he suggested.
Sylvia Jablonski, CEO and CIO of Defiance ETFs, indicated that the perception of a fractured banking system and its potential impact on the economy is spooking investors. Said investors may believe a recession is on the horizon.
Jablonksi explained that if small and mid-sized banks become too strained to participate in lending to Silicon Valley and Main Street, two major parts of the economy are then at risk of not being able to grow, generate revenues or contribute to GDP.
Make Your Money Work for You
"There is a second psychological aspect of the SVB, Silvergate, and Credit Suisse banking scare — investors become risk averse and flee to safety or to the sidelines," she said. "The U.S. and the EU need to re-instill confidence to the market and investors that our banking sector is indeed stable, and that we are going to get past these one-offs. If that does not happen, I do think you increase recession risk," she said, adding that if the Fed pivots or "puts" at its next meeting March 22, that potentially spells relief.
Further spooking markets on March 16, First Republic Bank, which was downgraded by both S&P Global Ratings and Fitch Ratings on March 15, is exploring strategic options — including a sale, according to Bloomberg.
"We believe the risk of deposit outflows is elevated at First Republic — despite actions by federal regulators," S&P analysts wrote in their analysis. "We think First Republic's business position is weaker following the events of the past week. We believe the bank's business position will suffer after the volatile swings in its stock price and heightened media attention surrounding deposit volatility. We think its business stability has weakened as market perceptions of its creditworthiness have declined."
On March 15, Goldman Sachs analysts lowered their 2023 GDP forecast, citing a pullback in lending from small- and medium-sized banks, according to a client note.
Make Your Money Work for You
More From GOBankingRates