See the Cost of Impeaching Trump as Robert Mueller Testifies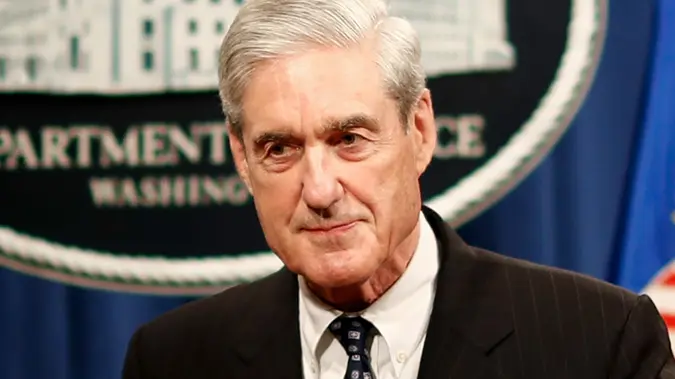 Shutterstock / Shutterstock
Robert Mueller will testify before Congress on July 24 in regard to Russian meddling in the 2016 election.
Impeachment work on President Bill Clinton's case in 1998 cost $1.2 million.
With inflation, the cost of presidential impeachment today could be close to $2 million or more.
Former special counsel Robert Mueller will testify in front of the House Judiciary and Intelligence Committees on July 24, which has rekindled speculation about possible impeachment proceedings looming over President Donald Trump. During the testimony, lawmakers will press for a clearer account of the 22-month probe into Russian meddling in the 2016 election — with the hope of demystifying the Mueller report's findings.
Highly conflicted Robert Mueller should not be given another bite at the apple. In the end it will be bad for him and the phony Democrats in Congress who have done nothing but waste time on this ridiculous Witch Hunt. Result of the Mueller Report, NO COLLUSION, NO OBSTRUCTION!…

— Donald J. Trump (@realDonaldTrump)

July 22, 2019
But Mueller's testimony won't be the first one of its kind — it won't even be the first of 2019. Earlier this year on Feb. 27, Michael Cohen, former personal attorney to President Donald Trump, publicly testified before the House Oversight and Reform Committee. His testimony covered some of the most controversial and complex allegations linked to the president, including Trump's business deals and hush-money payments.
Attitudes toward the hearing in the lead-up split sharply along party lines. Virginia Democrat and chairman of the Oversight subcommittee Gerald Connolly was adamant about Cohen having a story to tell. Meanwhile, Republican Jim Jordan, a representative of Ohio and the Oversight subcommittee's main Republican on the panel, didn't believe anything would be gained from the testimony. According to Jordan, Democrats were using Cohen's testimony to further their political aims, namely the impeachment of Trump.
Make Your Money Work for You
Some anti-Trump Democrats in the House, such as Rep. Al Green, D-Texas, believe the Mueller report to be solid enough proof that the president is unfit to serve. Those wishing to see the president impeached shouldn't hold their breath, however. Even if the Democrat-controlled House voted to impeach the president, such a measure would face near-certain demise once it reached the Republican-controlled Senate. It's a difficult feat to impeach a president, and testimonies from Mueller and Cohen are unlikely to help achieve this goal. Another factor to consider about impeachment is its cost. Here's a look at how much it would potentially cost the U.S. to impeach the president.
Related: Mueller's Report Is Released to the Public. How Much Did It Really Cost Taxpayers?
The Cost of a Presidential Impeachment
A Trump impeachment would come at some cost. In 1999, The New York Times reported that five months of impeachment work on former President Bill Clinton's case cost $1.2 million, according to records from the House Judiciary Committee. Adjusted for the cost of inflation, $1.2 million in 1999 would be equal to about $1.8 million in 2018 dollars, according to the Bureau of Labor Statistic's consumer price index inflation calculator.
Here's a breakdown of some of the individual legal costs connected to the Clinton case detailed by the Times:
Payments to Chief Republican Investigator David Schippers: as much as $20,000 per month
Payments to Democratic counsel Abbe Lowell: as much as $18,000 per month
Make Your Money Work for You
In 2018 dollars, those costs would be:
Chief investigator's monthly salary: $30,179.05
Head counsel to represent the president: $27,161.15
Theoretically, in the exact same circumstances today — that is, five months of congressional proceedings — it would cost around $100,000 more to pay the lead investigator and counsel in a presidential impeachment case than it did in 1999, when Clinton's impeachment trial concluded. Add to that an inflated cost of paying for the work of entire legal teams on both sides, and you have a considerable increase over 1999's $1.2 million in impeachment costs.
Keep reading to learn about the real cost of Trump's border wall for your wallet.
More on Trump and the Economy
Andrew DePietro and Erika Giovanetti contributed to the reporting for this article.