Pushback Over Biden's $1.9 Trillion Proposal Could Delay Stimulus Funds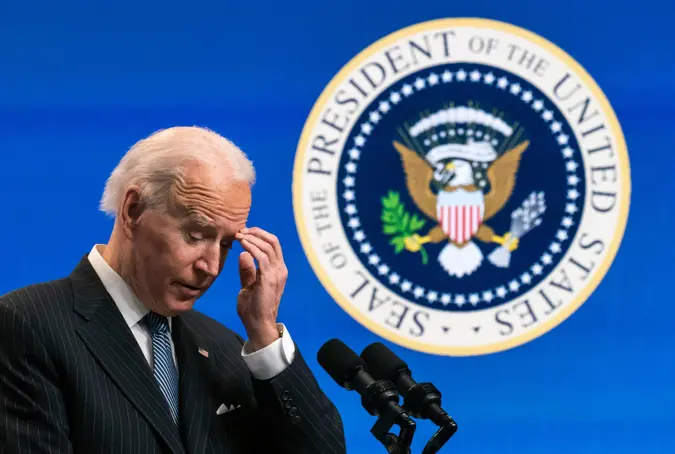 Shutterstock / Shutterstock
After hopeful words from President Joe Biden and Speaker of the House Nancy Pelosi (D-Calif.) regarding a rush for Washington to quickly put additional coronavirus stimulus funds into the hands of Americans, Biden's $1.9 trillion stimulus package is receiving pushback from Senate Republicans. Biden told reporters that agreement on the bill could take "a couple of weeks."
See: Third Stimulus Check Likely Coming Under Biden – How Much Could You Get?
Find: What Does Joe Biden's Presidency Mean for Your Bank Account?
The option remains to use budget reconciliation to pass portions of the relief plan — most likely including money to facilitate faster COVID-19 vaccine distribution and for stimulus checks. The provision to increase the minimum wage would be excluded from the bill, along with other elements not directly related to the allocation of funds.
If Congress uses the budget reconciliation process, the bill can pass with just a simple majority vote instead of the three-fifths majority needed for legislation of this size and stature. Even then, since the Senate is split 50-50 and Democrats only hold a 221 to 211 majority in the House, the bill would need almost full support from the party.
Make Your Money Work for You
See: $1,400 Stimulus Checks and $15 Minimum Wage — Digging into Biden's Stimulus Proposal
Find: Biden's Free College Proposal Could Add $160 Billion to Economy
Leaders in both the House and the Senate, including House Budget Committee Chair John Yarmuth (D-Ky.), Senate Majority Leader Chuck Schumer (D-N.Y.) and Senate Budget Committee Chair Bernie Sanders (I-Vt.) have voiced their willingness to use the budget reconciliation process to get money into the hands of Americans who need it most, especially in light of the latest jobless claims report. The Jan. 21 report showed 900,000 new unemployment claims for the second week of January.
"We haven't made a decision yet to use reconciliation but… we are prepared to move very quickly if it looks like we can't do it any other way," Yarmuth told reporters in an NBC News report.
More From GOBankingRates:
Make Your Money Work for You