Recession Could Ultimately Affect Wealthy More — What a 'Richcession' Entails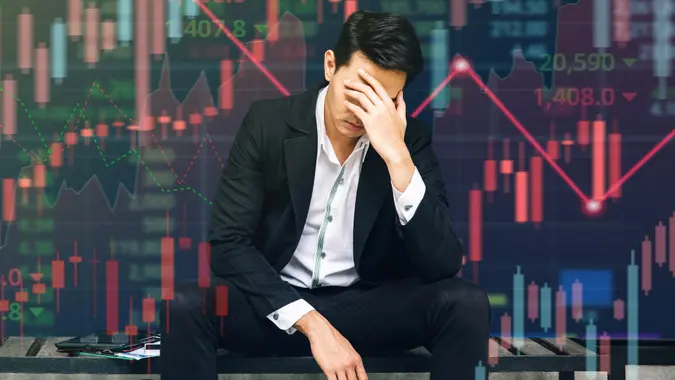 pcess609 / iStock.com
With a bumpy 2022 in the books and a recession-plagued 2023 most likely on the horizon, the majority of Americans are bracing for the impact that an economic decline will have on their personal finances, careers and mental health.
Explore: Ultrarich Plan To Conserve Wealth in 2023 — What's the Strategy?
Find: 5 Reasons Your Friends Are Richer Than You
Normally, in times of a prolonged downward trending economy, those with means come out smelling like roses when things eventually turn around. However, this time around, experts are predicting a rough ride for everyone — the poor, the middle class and the rich.
Certainly, ultra-high net worth individuals will be able to withstand any challenge a recession may bring, but for the wealthy-but-not-mega-rich, a downturn may be a more turbulent time than they expect.
As the Wall Street Journal termed it, a "richcession" may be in store for those not normally accustomed to the difficult financial and professional burdens that come with unexpectedly earning less and spending more. There are several factors that characterize this budding "richcession."
Make Your Money Work for You
First, the net worth gap has closed, although not to the point where the average person would recognize it. Poorer individuals have benefitted from the pandemic assistance and a troublesome job market has improved wages and the power to command better pay. The wages and net worth of households near the bottom by income have risen over the past three years.
Second and conversely, revenue for high earners has increased at slower rates. According to Federal Reserve data, household net worth for the top fifth by income was "22% higher in the third quarter than before the pandemic, and was down 7.1% from the end of 2021 — a consequence of the falling stock market," per the WSJ.
Additionally, despite having the skills to find new jobs without much difficulty, the rash of pre-holiday layoffs impacted higher-earning, white-collar tech workers more than employees in other industries.
Higher earners who found themselves suddenly unemployed may have to settle for less pay at new jobs, but the impact to the overall job market might not be significant in the event of a recession because there has been, and continues to be, a huge need for workers in lower-paying positions.
See: 4 Economic Areas Could Be Curbed To Stop Recession
Learn: Is It Good To Own Real Estate in a Recession?
Make Your Money Work for You
With inflation rates cooling slightly and unemployment rates near record lows, a recession hasn't been declared yet. But most experts think it is inevitable. An economic crash will bring lower household income and higher rates of unemployment, but in the form of a "richcession," it could hit a broader range of income earners and actually benefit poorer workers, who may find themselves with surprisingly greater job security and improved finances.
More From GOBankingRates
Make Your Money Work for You