Rising & Falling Gas Prices: Here Are the Latest Trends in These West Coast States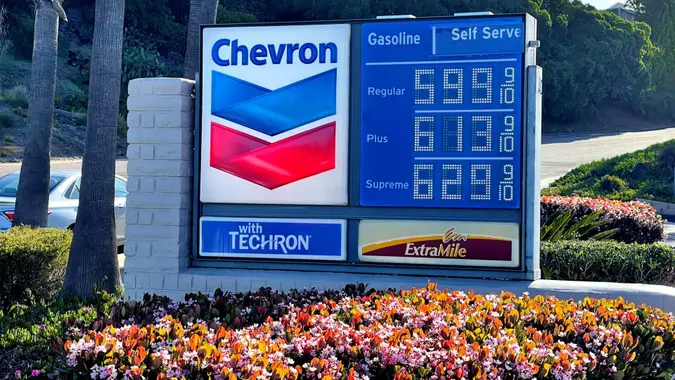 skodonnell / Getty Images
The average price per gallon of gas in America briefly dipped below $2 in April and May of 2020 when the world's highways were ghost roads. Then, as demand increased, prices rose — and rose and continued a steady rise in price.
See Our List: 100 Most Influential Money Experts
Read More: This Credit Score Mistake Could Be Costing Millions of Americans
One year later in May 2021, the average American was paying more than $3 per gallon — then 2022 happened. By March 2022, prices topped $4 — and then $4.50 by May. Finally, in June, the average price peaked just above $5 for the first time in history before dropping consistently throughout the summer toward the current average of around $3.80.
During the entire fuel-inflation period that defined the first half of 2022, prices rose fastest and highest in the Western states. Here's a look at how drivers in the West are faring now that prices have cooled with the weather in most of the rest of the country.
Already High Prices Are Rising in the Non-Contiguous States
Despite its status as a major oil state, gas in Alaska has been more expensive than the national average all year — but the gap has steadily widened. Prices peaked at $5.61 on June 19.
Make Your Money Work for You
One month ago at the start of September, it had fallen to $4.79 — still a full dollar above the national average, but moving in the right direction.
But that trend quickly changed.
Since the start of October, Alaska's average price per gallon is now back up to $5.34.
In Hawaii, prices were hovering around $4.08 this time last year, but fuel inflation made it one of the most expensive states to buy gas in America, peaking at $5.62 on July 9. There hasn't been much relief since. While much of the rest of the country fell back down into the threes, gas prices in Hawaii were about $5.30 at the start of September and are now still stuck at $5.22.
Sweet Relief in the Desert and Rocky Mountain States
The contiguous non-coastal Western states enjoyed the lowest prices in the region all year, although most were well above the national average throughout the ordeal. Today, prices are still higher than the national average in all but two of those states, New Mexico and Colorado, where the price per gallon is $3.63 and $3.69, respectively. All of the rest are higher than average, but still under $5.
Here's a look:
Arizona: Prices are rising again in Arizona, where gas now costs $4.49, up from $4.10 one week ago, $3.97 one month ago, and $3.22 one year ago. It peaked at $5.39 on June 17.
Idaho: Gas prices in Idaho have been frustratingly stagnant since falling from a high of $5.25 on July 1. The price dropped only from $4.53 one month ago to $4.42 today.
Utah: At a current price of $4.16 per gallon, Utah is well off its July 1 peak of $5.26 — and it's moving quickly in the right direction. One month ago, it was still all the way up at $4.40.
Montana: Montanans are enjoying sub-$4 gas — $3.95, to be exact — as they have since one month ago when the price was $4.02 per gallon. Gas never hit $5 there, peaking at $4.98 on June 19.
Wyoming: The price per gallon in Wyoming has dropped to $3.83, only a hair above the national average. It has barely budged from one month ago when the average was $3.89. It peaked at $4.90 on July 1.
Make Your Money Work for You
Take Our Poll: Do You Have an Emergency Fund Established?
Drivers Are Paying More Each Week in the Three Remaining $5 States
The theme of 2022 has been that the closer you get to the Pacific Ocean, the more you pay for gas — and nothing has changed.
In Washington, the average price peaked at $5.56 on June 15. It followed the national trend downward, but not for long. One month ago, the price was still a manageable $4.69. Today, it's back up to a bruising $5.30.
Directly to the south in Oregon, the average price per gallon is $5.43, down from its peak of $5.55 on June 15. Like Washington, it's part of an unenviable trend. One month ago, the price was down to a comparably low $4.72.
Nevada is experiencing the exact same trend as Washington and Oregon. The average price per gallon had fallen from its $5.68 peak on June 16 to $4.85 one month ago. Today, it's all the way back up to $5.48.
Then, of Course, There's California
California has been the epicenter of the fuel-inflation crisis for the entire year and remains so today. On June 14, the day that the national average topped $5 per gallon, the average price in California peaked at $6.44. In some counties, the average was above $7 per gallon.
Make Your Money Work for You
Although it was miles away from the $4.41 that drivers enjoyed one year ago, Californians welcomed the news that the price per gallon had dropped to $5.24 one month ago. But the good times didn't last. The price climbed to $5.80 last week before soaring to its current $6.38.
Just a hair behind its all-time high, California is the only state in America where the average cost per gallon is above $6.
More From GOBankingRates
Make Your Money Work for You