Renting Robot Workers Can Cost Roughly Half as Much as Hiring Humans — What Does This Mean for US Workforce?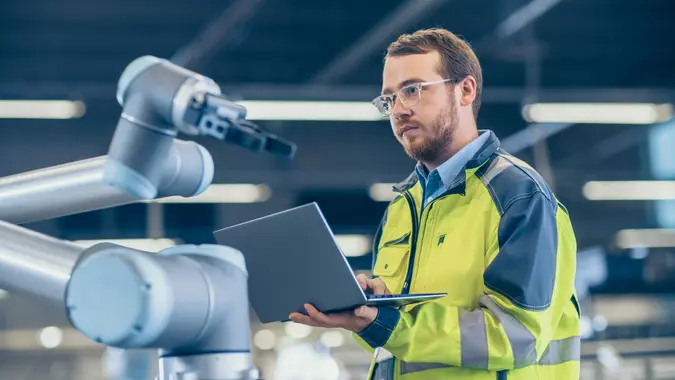 gorodenkoff / Getty Images/iStockphoto
Robot workers appear to be taking part in their own version of the gig economy, with some being rented out to short-handed companies for nearly half the cost of a human worker — which does not bode well for people who want to compete for jobs.
See: 9 Jobs Most (and Least) Likely To Be Taken Over by Robots
Find: Replenishing the Restaurant Revitalization Fund Could Save 1.6 Million US Jobs
One such robot was leased by Polar Manufacturing in Chicago to lift pieces of metal onto a press. It costs the equivalent of $8 an hour vs. $15 an hour for a human worker, according to a recent article on Wired.
Polar rented the robot from Formic, a provider of leased automated systems, because it needed to meet rising demand amid a shortage of workers. Because the robot was able to take care of a repetitive assembly line job, human workers could be deployed elsewhere to increase production.
"Smaller companies sometimes suffer because they can't spend the capital to invest in new technology," Jose Figueroa​, Polar's production line manager, told Wired. "We're just struggling to get by with the minimum wage increase."
Make Your Money Work for You
Related: General Motors Throws $154 Million Investment Into Electric Vehicles, Creates 230 New Jobs
Since Polar leased the robot worker, it didn't have to pay $100,000 to buy it. The company also saved money by not having to get the robot programmed. It's working so well that Figueroa wants to see 25 robots on the line within five years. But that doesn't mean any of Polar's 70 employees will be let go, Wired noted. However, it might mean the company won't be hiring any additional employees.
That could be a trend as more companies — especially small businesses — turn to robots and other automated systems to handle the workload. It's an especially attractive option in the current labor market, where a record number of people have been leaving jobs as part of the Great Resignation.
An October report from the International Federation of Robotics projected that global robot installations were expected to grow by 13% to 435,000 units in 2021, breaking the previous record achieved in 2018. Installations in North America were expected to increase 17% to nearly 43,000 units.
Make Your Money Work for You
That might be good news for robot manufacturers and sellers, but not so good news for human workers. In fact, many different sectors of the economy are gravitating toward robot help.
Explore: US Minimum Wage the Year You Were Born
Discover: 10 Signs You Need a New Job ASAP
A growing number of restaurants are using robots to do everything from work the drive-thru to process credit cards, the Seattle Times reported this month. And as GOBankingRates previously reported, even trucking firms are experimenting with driverless, robot-controlled big rigs.
More From GOBankingRates
Make Your Money Work for You