Sacramento vs. the Bay Area: Where Should You Live?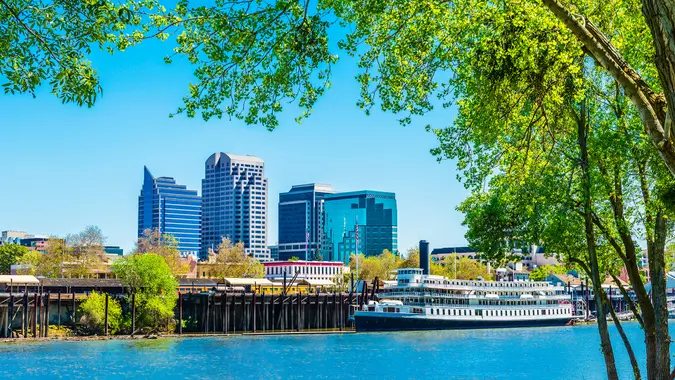 dszc / Getty Images
The San Francisco Bay Area is in the headlines a lot these days, with Silicon Valley flying high as a hotbed for tech startups. However, the seat of California's state government is about 75 miles away in Sacramento — and the Northern California city has plenty of its own local flavor to offer.
So how does Sacramento stack up when compared to the Bay Area's major cities? From the cost of living to population figures, what stories can be found about the numbers on Sacramento, San Francisco, San Jose and Oakland?
Here's a close look at how Sacramento compares to the Bay Area.
The Bay Area Is Much Bigger …
When it comes to size alone, Sacramento is trailing well behind the Bay Area. Sacramento's estimated 2018 population of about a half million is a little bit higher than the 424,275 people living in Oakland. It's less than half of San Jose's 1 million-plus residents and still behind the 888,653 people estimated to be living in San Francisco as of this year.
These figures represent a pretty similar rate of growth from the 2010 census, though. San Francisco leads the pack, growing at a projected rate faster than 10 percent over the last eight years while the other three cities all fall between 8.5 and 9 percent, with Sacramento's 8.75 percent just ahead of Oakland's 8.59 percent but just behind San Jose's 8.97 percent.
Incomes in the respective cities also show a lot of big differences, with the success of the tech industry in the Bay Area driving up incomes.
Sacramento's median household income is just $52,071 with a poverty rate of 21.4 percent for the city. Oakland's median household income is just under $58,000 annually, and both San Jose and San Francisco are above $87,000 per annum.
Make Your Money Work for You
Oakland's poverty rate, though, is closer to Sacramento at 20 percent. However, San Francisco and San Jose — at 12.5 percent and 10.9 percent, respectively — both have much smaller portions of their populations struggling to make ends meet.
… But It Will Cost You a Fortune to Live There
Sacramento might be smaller and less wealthy than its neighbors to the southwest, but the cost of living is still much lower than the Bay Area — despite being on the rise as of late.
The state capital is also pricier than the rest of the country by a little over 20 percent, but it pales in comparison to the Bay Area's extremely expensive cities. Overall, the cost of living is 79 percent higher in Oakland, 122 percent higher in San Jose and 173 percent higher in San Francisco.
It's clear that housing is a major pain point. Sacramento's housing costs are about 49 percent above the U.S. average, but it gets much worse further down I-80. San Francisco's housing costs are more than six times that of the rest of the country, and San Jose is four and a half times the nation as a whole. Oakland is well below its neighbors — but still more than triple the rest of America.
Translating that into raw numbers, it's clear that renters and owners alike are feeling the squeeze in and around the Silicon Valley. The median home values in San Francisco and San Jose both exceed $1 million. And while Oakland is much cheaper at $755,600, it's still more than double the $323,700 level in Sacramento.
Make Your Money Work for You
The median rent, meanwhile, is a stunning $4,285 in San Francisco, $3,442 in San Jose and $2,969 in Oakland. In each case, that's more than $1,000 a month more than Sacramento's more-reasonable $1,640.
Bay Area Offers Luxury, But Sacramento Is More Affordable
Obviously, each of these cities has a lot to offer. If you're want to live luxuriously in some of the priciest cities in the country, look no further than San Francisco, San Jose or even Oakland.
However, Sacramento's proximity to farms has its local foodie scene making a name for itself, and the suburb of Lincoln is one of the best in the country for retirees.
So if you want to spend your golden years in the Golden State, Sacramento's affordability might help it edge out the Bay Area in the end.
Click through to see the secret wealth behind these big cities.