27 States With a Game Plan To Reopen the US Economy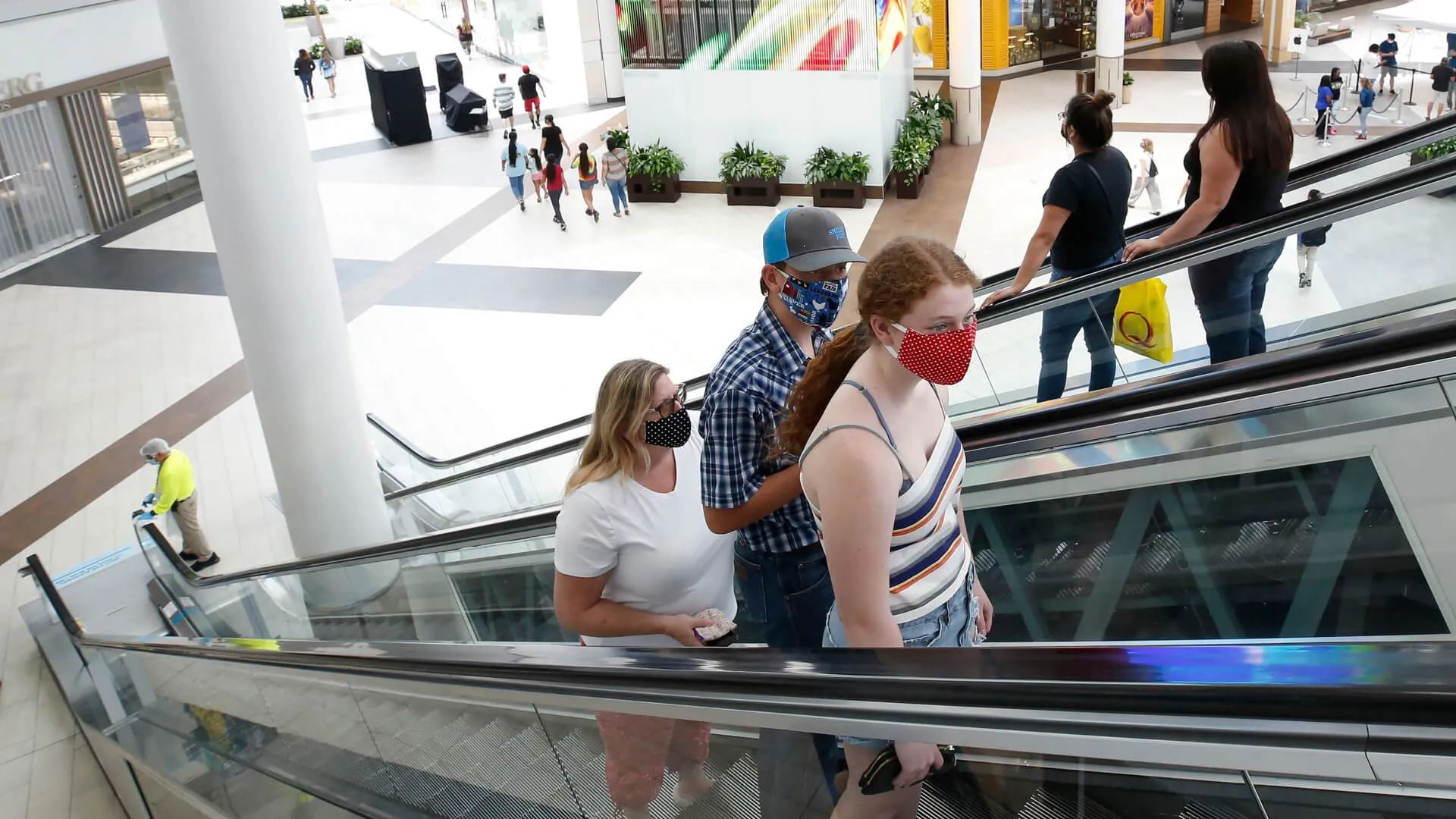 Six months after pandemic-related shutdowns began across the United States, states now are in various phases of reopening their economies. Some still are instituting restrictions on which businesses can open their doors, and others are allowing all businesses to operate as usual. Many states fall in between, with most businesses allowed to operate — but with limits on capacity and social distancing and personal hygiene protocols in place.
State leaders are having to make difficult decisions regarding how to enable businesses to thrive while keeping lives safe. More than 6.6 million people in the United States have contracted the coronavirus, and almost 200,000 have died. Most states are exhibiting escalating community spread or the potential for community spread, according to Sept. 16 data reported by NPR. Meanwhile, the temporary business closures implemented to curb the spread of the coronavirus have led to millions of people losing their jobs, along with the permanent closure of numerous small businesses that could not survive without revenue for weeks — or months — during the shutdown.
With lives, and livelihoods, on the line, some states have developed robust plans for safely reopening their economies, which can have a ripple effect on the U.S. economy as a whole. Here's how 27 states and Washington, D.C., are planning to reignite their economies and job markets.
Last updated: Sept. 22, 2020
Alaska
Status: Reopened
Started reopening: April 24
On April 24, Alaska started phase one of its "Reopen Alaska Responsibly" plan. As of Sept. 11, the state was in phase three of four. Alaskan officials attribute their success to responding quickly to the coronavirus to keep the state's cases low and healthcare systems functional. The plan includes basic pandemic tenets such as staying 6 feet away from nonfamily members, washing hands, wiping down surfaces frequently and wearing a face mask in public. It also outlines several restrictions, including a 14-day quarantine for international and interstate travel and limited access to senior centers, prisons and other institutions.
The plan ends on an inspiring note, stating, "It's because of you, Alaska, that our statewide numbers remain low. We will keep our numbers low because of your actions."
Make Your Money Work for You
District of Columbia
Status: Reopening
Started reopening: May 29
The District of Columbia is in stage two out of three reopening stages outlined in its "ReOpen DC" plan, and stage four will occur when there is a vaccine and "new normal." All three stages require residents to take several precautionary measures, including physical distancing of at least 6 feet when not at home, the use of masks in public spaces, and regular cleaning and strict sanitation in the workplace.
Georgia
Status: Reopened
Started reopening: April 24
"Reviving a Healthy Georgia" is a rolling reopening plan, so there aren't distinct phases. Under Gov. Brian Kemp's orders, residents have been instructed to "continue to stay home as much as possible and take every precaution to limit social interaction." When outside the home, residents must follow the social distancing, sanitation and public health safety measures outlined by the Centers for Disease Control and Prevention.
Kansas
Status: Reopened
Started reopening: May 4
As of Sept. 11, Kansas was in the final phase of its "Ad Astra: A Plan to Reopen Kansas" reopening guidelines. In this phase, mass gatherings of more than 45 people are not recommended, but "all education, activities, venues and establishments may operate." Nonessential travel also is permitted.
To keep the state on track, residents are reminded to adhere to personal hygiene guidelines and remain home if they feel sick.
Kentucky
Status: Reopened
Started reopening: May 11
Kentucky is in phase three of its "Healthy at Work" plan. In this phase, businesses are required to comply with a number of precautionary measures, including enforcing social distancing of 6 feet or more, mandating universal face coverings, providing hand sanitizer, keeping up with proper sanitation, and conducting daily temperature and health checks.
Make Your Money Work for You
Maine
Status: Reopening
Started reopening: May 1
Maine has yet to fully reopen; the state is in stage three of four of its "Restarting Maine" plan. In stage three, gatherings of more than 50 people are prohibited, and people entering Maine from outside the state are required to quarantine for 14 days in many cases. Employees in legal and professional fields are allowed to return to work in offices as needed.
Maryland
Status: Reopened
Started reopening: May 15
On Sept. 1, Gov. Larry Hogan announced that based on the state's improving health metrics, Maryland could begin to move into stage three of the "Maryland Strong: Roadmap to Recovery" plan. In this stage, movie theaters and live entertainment venues can reopen, and retail shops and religious services can increase their capacity from 50% to 75%.
Minnesota
Status: Reopened
Started reopening: May 18
In all phases of the "Stay Safe Minnesota" plan, facial coverings are required, residents must stay 6 feet away from others, and those who can telework are required to continue doing so.
The state moved into phase three of four of its reopening plan on June 10.
Missouri
Status: Reopened
Started reopening: May 4
Gov. Michael L. Parson announced on June 11 that Missouri would move into its final reopening phase on June 16, with no statewide public health order in place and all businesses allowed to fully open under the "Show Me Strong Recovery Plan."
"Thanks to you, we have […] more than met our four pillars to reopen," he wrote on his website. "Pillar 1 was testing – we went from testing only a handful of people each day to an average of approximately TEN THOUSAND tests per day over the past 2 weeks. Since April 20, weekly testing has increased more than 220 percent. Pillar 2 was PPE – we continue to receive and distribute PPE across the state, and we received national recognition on the Google PPE marketplace. […] Pillar 3 was hospital capacity – our hospitals were NOT overwhelmed, and we converted a hotel into a hospital in just 11 days thanks to the Missouri National Guard and the Army Corps of Engineers. Pillar 4 was data – we went from having no Missouri specific data to an entire dashboard of data from across the state."
Make Your Money Work for You
Montana
Status: Reopened
Started reopening: April 26
Montana entered phase two of its three-phase "Reopening the Big Sky" plan on June 1. In this phase, vulnerable individuals are advised to continue to stay at home. All businesses are allowed to open but must adhere to physical distancing guidelines, and teleworking is encouraged whenever possible.
Nebraska
Status: Reopened
Started reopening: May 4
All Nebraska counties are in phase four of reopening through Oct. 31, although Lancaster County, of which Lincoln is the county seat, intends to keep some phase three restrictions in place. In phase four, bars, child care facilities, churches, gyms, salons and sports and wedding venues no longer are subject to any statewide health measures.
New Hampshire
Status: Reopened
Started reopening: May 11
New Hampshire instituted a rolling reopening through its "Stay at Home 2.0" plan. The plan includes universal guidelines that apply to all businesses and organizations, as well as industry-specific guidelines issued by the state of New Hampshire.
As of June 29, adult day services, amusement parks, community arts and music education programs, movie theaters and performing arts venues were allowed to reopen with flexible guidelines in place.
New Jersey
Status: Reopened
Started reopening: May 2
New Jersey is in stage two of the three stages outlined in its "The Road Back" reopening plan. In this stage, moderate-risk activities can resume with some safeguarding measures in place.
In this stage, outdoor dining is permitted, some personal care businesses have reopened, and libraries and museums have reopened with capacity limitations and sanitation protocols in place.
New Mexico
Status: Reopening
Started reopening: May 16
In late June, Gov. Michelle Lujan Grisham put New Mexico's reopening plans on hold after a spike in the coronavirus transmission rate and as neighboring states reported record numbers of cases, the Santa Fe New Mexican reported. Instead of transitioning to phase two of the "All Together New Mexico" plan, the state instituted a rolling reopening. Residents still are urged to stay home, especially if they are sick or in a high-risk group, and are encouraged to maintain a 6-foot physical distance from others if they do go out.
Make Your Money Work for You
New York
Status: Reopening
Started reopening: May 15
New York is in the final phase of its four-phase "New York Forward" reopening plan. In phase four, all schools are allowed to reopen, as well as low-risk indoor and outdoor arts and entertainment venues, malls, gyms and fitness centers. Media production may resume, and professional sports competitions also are permitted, but with no fans in attendance.
North Carolina
Status: Reopening
Started reopening: May 8
As of Sept. 4, North Carolina was in phase 2.5 of the three phases outlined in its "Safer at Home" reopening plan. In this phase, bowling alleys, skating rinks, museums, aquariums, gyms, fitness centers and playgrounds are allowed to reopen. Residents are required, with some exceptions, to wear face coverings while in public when physical distancing of 6 feet isn't possible.
North Dakota
Status: Reopened
Started reopening: May 1
Counties in the state are permitted to reopen according to their risk category classification. The "North Dakota Smart Restart" plan outlines five levels of risk: red, orange, yellow, green and blue. Each level of guidance following red becomes progressively less restrictive and more economically engaged.
Ohio
Status: Reopening
Started reopening: May 1
Under the "Responsible RestartOhio" plan, the state has a rolling reopening. All opened businesses must follow five protocols: Require face coverings for employees and recommend them for clients/customers at all times; conduct daily health assessments in the workplace; maintain good hygiene through hand washing, sanitizing and social distancing; clean and sanitize workplaces throughout the workday and at the close of business or between shifts; limit capacity to meet social distancing guidelines; and use appointment-setting when possible to limit congestion.
Make Your Money Work for You
Oklahoma
Status: Reopened
Started reopening: April 24
Oklahoma is in phase three of its "Open Up and Recover Safely" plan. In this final phase, citizens are still being asked to minimize time spent in crowded environments and continue following CDC guidelines regarding social distancing. Residents who are over 65 or part of a vulnerable population should continue following safer-at-home policies.
Pennsylvania
Status: Reopened
Started reopening: May 8
All counties in the state are in the final, "green" phase of the "Plan for Pennsylvania." In this phase, most businesses have been permitted to reopen with some restrictions in place "to allow the economy to strategically reopen while continuing to prioritize public health." Restrictions include capacity limits and the mandated wearing of face masks.
South Carolina
Status: Reopened
Started reopening: April 20
The "accelerateSC" plan outlines a rolling reopening for South Carolina: "The economic revitalization plan consists of five components of analysis and effort: Response, Protection, Governance, Resource, and Information," the plan states. "These components will employ maximum communication, collaboration and cooperation among themselves and those assisting to effectively identify issues, solutions, and assets necessary for a phased revitalization path for South Carolina's economy, guided by healthcare and medical data."
Tennessee
Status: Reopening
Started reopening: April 27
Tennessee has taken a rolling approach to safely reopen the state's economy.
"Social distancing works, and as we open up our economy it will be more important than ever that we keep social distancing as lives and livelihoods depend on it," Gov. Bill Lee stated in an April 20 news release.
Make Your Money Work for You
Utah
Status: Reopened
Started reopening: May 1
All counties are in the low or minimal restriction level, the lowest of the four levels outlined by the "Utah Leads Together" plan. At this level, all businesses are allowed to operate. The use of face coverings in business and social settings is encouraged when physical distancing is not possible.
Vermont
Status: Reopened
Started reopening: May 18
According to Vermont's "Work Smart and Stay Safe" plan, the state will take a rolling approach to reopening its economy.
"The success of this phased restart will depend in large part on the ability of employers and employees to adhere to the public health, safety, and social distancing measures essential to limiting the spread of illness," Lindsay Kurrle, secretary of the Agency of Commerce and Community Development, stated in a memo to Vermont businesses and employers.
Virginia
Status: Reopened
Started reopening: May 15
Virginia entered the third and final phase of its "Safer at Home/Forward Virginia" plan on July 1. In this phase, residents are advised to continue teleworking when possible, wash hands frequently, avoid face touching and wear face masks.
West Virginia
Status: Reopened
Started reopening: April 30
The "West Virginia Strong – The Comeback" plan outlines a rolling reopening for the state's economy. Businesses included in each phase of the reopening plan are not required to resume operations on any specific date, but they have the option to reopen if the business owner so chooses.
Wisconsin
Status: Reopened
Started reopening: May 13
Gov. Tony Evers unveiled a phased reopening plan for the state, but the Wisconsin Supreme Court rejected his plan to keep nonessential businesses closed and extend the state's stay-at-home order through May 26, The New York Times reported. With the plan rejected, all businesses were allowed to reopen on May 13.
Make Your Money Work for You
Wyoming
Status: Reopening
Started reopening: May 1
Wyoming has taken a rolling approach to the reopening of its economy. The latest public health order, due to remain in effect through Sept. 30, allows outdoor gatherings of no more than 50% of venue capacity with a maximum of 1,000 people, as long as social distancing and sanitization measures are followed. Restaurants, bars, gyms, performance spaces and personal care services are allowed to operate with some public health restrictions in place. Schools are open, but students must wear face coverings in situations where 6 feet of separation cannot be maintained.
More From GOBankingRates
Methodology: To find states that have executed economic reopening plans, GOBankingRates analyzed the 27 U.S. states that have either completely reopened or are in the process of reopening their economies and have not paused or reversed course, plus Washington, D.C. For each state, GOBankingRates determined the title of the reopening plan adopted, the date the state began to reopen, the state's current status in its reopening plan, and key details as to the state's current guidelines for businesses and residents. GOBankingRates began by referencing The New York Times' coverage of state reopenings and sourced all information from governor, state and local news websites. All information was gathered on and was up to date as of Sept. 11, 2020.

BEFORE YOU GO
See Today's Best
Banking Offers