12 States Offering Inflation Relief Funds: Is Yours One of Them?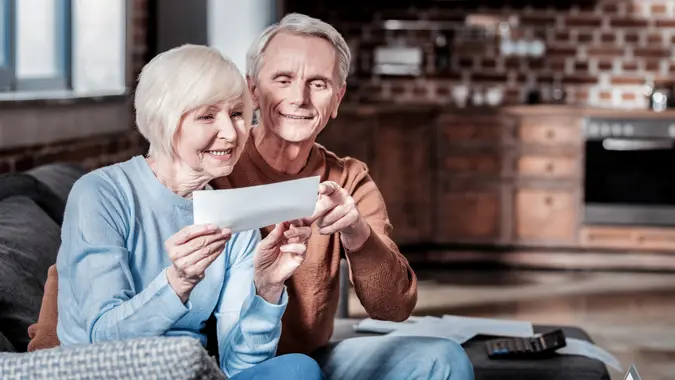 Zinkevych / Getty Images/iStockphoto
Do you live in a state offering its residents inflation relief? In alphabetical order, here are the states providing residents with inflation relief assistance and the types of state stimulus efforts residents may be eligible to receive.
Explore: Your Biggest Money Etiquette Questions Answered
See Our List: 100 Most Influential Money Experts
California
Millions of Californians could be eligible for middle class tax refunds. According to the State of California Franchise Tax Board, this refund is a one-time payment for California residents and is expected to be issued between October 2022 and January 2023. 
Those eligible must have filed their 2020 tax returns by Oct. 15, 2021, and meet the California adjusted gross income (CA AGI) limits. They must also have been California residents for six months or more of the 2020 tax year, be California residents on the date the payments are issued and not be eligible to be claimed as a dependent in the 2020 tax year.
Make Your Money Work for You
Find out what you may qualify to receive using the interactive tool on the California Franchise Tax Board's website.
Take Our Poll: Do You Tip For Service?
Colorado
While this is not tied to inflation, Coloradans are eligible for a tax rebate.
The Colorado Cash Back law, provided by the Colorado Department of Revenue, allows residents to receive tax rebates of $750 for individual filers and $1,500 for joint filers. Checks will be sent to Coloradans this summer instead of in spring 2023. Residents who have filed their state income tax returns will receive their checks by Sept. 30, according to the Colorado Department of Revenue.
Who's eligible for Colorado Cash Back? You must be at least 18 on or before Dec. 31, 2021, a Colorado resident for the entire 2021 tax year and file a state income tax return for 2021 or apply for a property tax/rent/heat credit (PTC) rebate.
Delaware
A relief rebate is on its way for Delaware residents. The 2022 Delaware Relief Rebate Program will issue a one-time direct payment of $300 per adult resident. This relief, according to the State of Delaware, will offer support to Delawareans facing high grocery store and gas pump prices.
Make Your Money Work for You
Eligible Delawareans must have filed their 2020 Delaware resident personal income taxes by the due date. Payments also will be made to adult residents who filed their 2021 tax returns in a timely manner throughout the summer.
Florida
In July 2022, GOBankingRates reported that Florida Gov. Ron DeSantis announced his administration will be sending one-time $450 stimulus checks to Florida's foster and adoptive families. More than 59,000 families are expected to benefit from the stimulus relief checks, which will soften the blow of inflation costs.
Georgia
Georgians will soon receive one-time relief payments to assist with soaring cost-of-living expenses. According to the Georgia Department of Revenue, Georgia residents who filed as single will receive $250 while residents who filed as head of household will receive $375. Those filing jointly and as married couples will receive $500. 
Most payments were to be issued by early August to those who filed taxes by the 2022 tax deadline.
Make Your Money Work for You
Hawaii
While this is not tied to inflation, Hawaiians are eligible for tax refunds.
The Act 115 Refund, passed by 2022 Hawaii State Legislature, provides a refund for resident taxpayers who file their 2021 individual tax returns on or before Dec. 31, 2022. Depending on the taxpayer's federal adjusted gross income and filing status, the refund amount is $100 or $300 per exemption (person). 
Refunds were anticipated to begin processing in late August. Please check in with the Hawaii Department of Taxation for more details.
Idaho
While this is not tied to inflation, Idahoans are eligible for tax refunds. 
A measure has been approved for a one-time tax rebate of either $75 or 12% of your 2020 Idaho state taxes for full-year Idaho residents in 2020 and 2021. Learn more about when you will receive your rebate through the Idaho State Tax Commission. 
Illinois
Starting July 1, 2022, a program called the Illinois Family Relief Plan is in effect for Illinois residents. 
Tax relief will be provided on essentials including groceries, gas, home and back-to-school supplies through several tax holidays in 2022 and 2023. This includes the state's 1% sales tax on groceries suspended July 1 through June 30, 2023; a delay in motor fuel tax from July 1 to January 2023; and reduction in qualifying back-to-school supplies and clothing from 6.25% to 1.25% from Aug. 5 to Aug. 14.
Learn more about additional rebates and the expansion of the state's earned income tax credit by reading the Illinois Family Relief Plan press release.
Maine
Maine residents received significant one-time rebates. Single Maine resident income tax filers received $850 while families and couples received $1,700 in June 2022. 
If you are a Maine resident and did not receive a payment, you have until Oct. 31 to file your 2021 Maine individual income tax return to get it. Learn more about your refund status on Maine.gov.
New Mexico
Multiple rebates and economic relief payments will be available to New Mexico residents and families seeking household relief in 2022.
Some of these measures include a refundable income tax rebate, with rebates sent automatically to qualifying taxpayers who have filed 2021 personal income tax returns and relief payments for New Mexicans who do not file tax returns of $1,000 for married couples or single individuals with one or more dependents, plus $500 for single individuals without dependents.
Learn more by visiting the Taxation and Revenue New Mexico's website.
South Carolina
Eligible South Carolina residents may soon receive an income tax rebate worth up to $800. More details about this new bill, including the delivery of the checks and resident eligibility, may be found through the South Carolina Department of Revenue.
Virginia
There is a one-time tax rebate coming for Virginia residents in fall 2022. More information about this rebate amount, eligibility and how Virginians will receive the payment may be found through the Virginia Tax website.
More From GOBankingRates
Make Your Money Work for You