Stimulus Checks: Mark These Dates on Your Calendar Now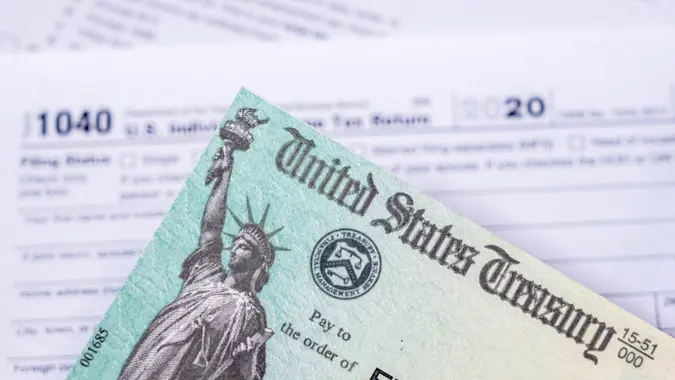 BackyardProduction / Getty Images/iStockphoto
Americans across the board are feeling the adverse side effects of inflation, with many of them slumping deeper into debt as a result. To help see taxpayers through these tough times, some states are still providing stimulus relief in 2023. 
Some states have outstanding stimulus payments while others are still accepting qualifying tax returns and applications
Here's which other states are offering stimulus due this year (and in what form), and what relevant dates qualifying residents should mark on their calendars. 
Alaska: March 31
Qualifying Alaska residents have until March 31 to file an online or in-person application for the Permanent Fund Dividend program. The program determines which applicants receive a portion of investment earnings of mineral royalties. It's also good to know that any applications marked as "eligible-not paid" by April 12 are planned to be distributed on April 20.
South Carolina: March 31
Qualifying residents who owe state income tax for the 2021 tax year can expect to receive a check of up to $800 in March if they filed their 2021 tax return after Oct. 17, 2022 and before Feb. 15 of this year.
Make Your Money Work for You
Massachusetts: Sept. 15th
The 62F Taxpayer Refund program of Massachusetts allows qualifying tax payers to get back a little over 14% of their state income tax for tax year 2021. If you file your 2021 tax return before Sept. 15 and you qualify for the program, you can expect to receive your refund about a month after filing.
New Jersey: May 31
For residents of New Jersey who've been there since Oct. 1, 2019 and filed an ANCHOR property tax relief application before Feb. 28, there's good news. If you've qualified then you can expect your payment sometime in spring, but no later than the end of May. Qualifying residents will be compensatied based off income and and if they're an owner or renter of their property. Homeowners with household income of $150,000 or less in 2019 will recieve $1,500 and those who made between $150,001 and $250,000 that year will get $1,000. Renters with a household income under $150,000 in 2019 will get $450. Additionally, elegible residents can get $500 for every holder of an Individual Taxpayer Identification Number (ITIN) listed on their tax return.
New Mexico: May 31
If you're a New Mexico resident and are not claimed as a dependant on someone else's 2021 tax return, there are two rebates you could take part in. The first offers single or married residents who filed separately $500, while joint filers, surviving spouses and heads of households can expect $1,000. The second is slightly more intricate. Married couples who filed jointly, heads of housefolds and surviving spouses who made under $150,000 in 2021 qualify to recieve $500. On the other hand, single filers or married couples filing seperately who made under $75,000 that year are eligible to get $250.
Make Your Money Work for You
Residents must file their state tax returns before May 31 to qualify for either rebate.
Maine: June 30
If you're a resident of Maine and filed a personal income tax return by Oct. 31, 2022 and you meet the income requirements, then you may qualify for a Winter Energy Relief Payment. If your income was under $100,000 or $150,000 as head of the household, you'd receive $450 if you qualify. Eligible married couples filing jointly who made under $200,000 can expect a payment of $900. If you qualify and don't receive a payment before June 30, then contact the State Tax Assessor. They'll have until Sept. 30 to send the due relief payments.
More From GOBankingRates
Nicole Spector contributed to the reporting of this article.