10 Surprises Congress Snuck Into The Stimulus Package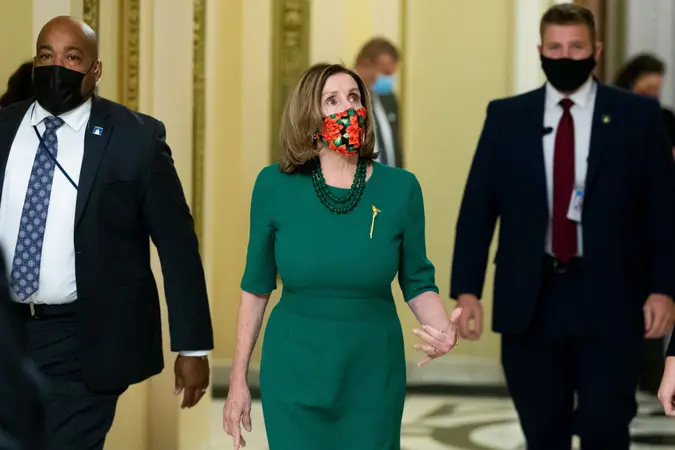 MICHAEL REYNOLDS/EPA-EFE/Shutterstock / MICHAEL REYNOLDS/EPA-EFE/Shutterstock
A "Christmas tree bill," in legislative circles, is one that includes a lot of little items tangentially related to the point of the law. The $900 billion stimulus package, passed just three days before most Christian denominations celebrate Christmas, definitely fits the theme of the season: The document was over 5,000 pages long and there was apparently trouble uploading the large file, causing a printer delay.
See: The Stimulus Check Secret You Need to Know Before You File Your 2020 TaxesExplore: What a $600 Stimulus Check Can Actually Buy You in America
An actual page from the stimulus bill.

This and thousands of pages full of legislation that have absolutely nothing to do with the stimulus are why they don't want Congress reading the bill before voting.

pic.twitter.com/QE9Ivxwyo4

— Joshua Eakle (@JoshEakle)

December 22, 2020
The stimulus bill includes – but is absolutely not limited to – the following items:
Families will be able to carry over unused funds in child-care and health care Flexible Spending Accounts into 2021.
An increase in the deductibility of business meals from 50% to 100%. Even though there aren't that many power breakfasts or three-martini lunches in these days of social distancing, President Trump thought it was important to include, according to the Washington Post.
Funding for two new Smithsonian museums, the Women's History Museum and the Museum of the American Latino. More things to do in Washington when we're allowed to travel again!
Creation of a new U.S. consulate in Tibet, guaranteed to cause problems with the Chinese government.
$2 billion set aside for the Space Force.
$500,000,000 for "Israeli Cooperative Programs."
Elimination of surprise medical bills, in which patients at an in-network hospital or clinic receive treatment by an out-of-network practitioner, resulting in shockingly high bills. Now, patients will pay the in-network rate for all services and the insurance company and provider negotiate the reimbursement.
The repeal of rarely-enforced criminal laws prohibiting the transport of water hyacinths, alligator grass, or water chestnut plants across state lines; putting bogus theft-prevention decals on cars; or misusing the emblems of Smokey Bear, Woody Owl, or the 4-H Club.
A section about the reincarnation and succession of the Dalai Lama.
The prohibition of e-cigarette shipments through the U.S. Postal Service.
Make Your Money Work for You
See: Will You Get Your Stimulus Check in Time for Christmas?Explore: Biden, Vaccines and Interest Rates: What's Next for Your Money in 2021?
stimulus $600/american

israel $500 million

weapons $6 billion

candles $3,600

space force $2 billion

someone who is good at the economy please help me budget this. our country is dying https://t.co/ODSm9xVJR5— kim possible facts (@kimpossiblefact) December 21, 2020
There may be more items lurking behind the back of the tree. But for now, families with money in Flexible Spending Accounts and people with stickers on their cars warning of non-existent alarm systems can breathe a sigh of relief.
More From GOBankingRates: