Suze Orman Says Interest Rate Escalation Is Affecting Saving Ability: Do Experts Agree?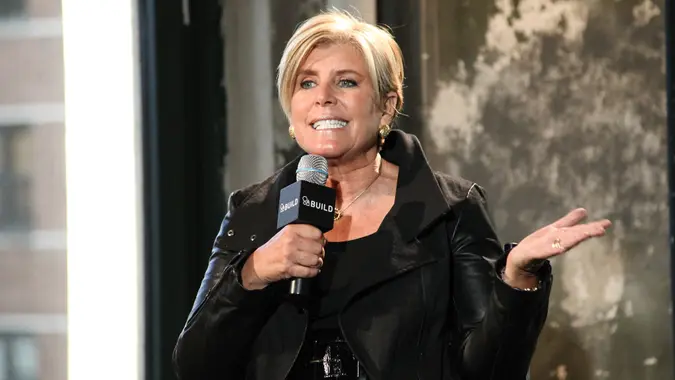 Mediapunch/Shutterstock / Shutterstock.com
Renowned personal finance expert Suze Orman believes the primary reason many Americans are living paycheck to paycheck is because of soaring interest rates. In an interview with Moneywise, she said though inflation is still an issue — one she believes is becoming less profound — it's less of a problem for Americans' saving ability than escalating interest rates.
"What's coming at [people] right now that's really affecting their saving ability is interest rate escalation," Orman said.
Is Orman right? First, let's first hear from an expert who mostly agrees with Orman.
"I believe that interest rate escalation has impacted people's savings ability in two ways," said Matt Calme, CFP at HCM Wealth Advisors. "There either has been no effect on the ability to save or it has drastically impacted an individual's ability to save."
How can this be?
"There are two types of savers in the world," Calme said. "The first saver sets their savings amounts to be automatically deducted from their paychecks so as not to incorporate those funds into their monthly lifestyle. What they do not see, they don't miss. More importantly, these savers are also the ones to cut back on discretionary items in their budget such as dining out, attending expensive events and purchasing unnecessary items while there are periods of high inflation and prices for things are expensive. After the periods of high inflation subside, they return to the things they were cutting back on."
The second saver, in Calme's opinion, is the one who is most impacted by interest rate escalation.
Make Your Money Work for You
"These are the savers who are looser about their savings strategy and often only save money when they have left over funds after accounting for their lifestyle expenses," Calme said. "These are the savers who are most at risk during these periods as they […] can put themselves in financial distress via high interest loans and credit cards if they are not careful."
Now let's hear from the finance expert who disagrees with Orman's view.
"I respectfully disagree with Suze Orman's statement that interest rates, rather than inflation, are preventing people from being able to save," said Alissa Krasner Maizes, founder of Amplify My Wealth. "Even [the highest] earners notice inflation's impact on necessities such as food, ultimately impacting their ability to save more money. Concerning Suze's assertions, for example, while the same home may cost more because of rising interest rates… [it doesn't prevent] people from saving money. Rather that may result in someone not buying a home, spending less on it or delaying [a home purchase]."
Maizes asserted that when you save and invest, rising interest rates allow you to yield higher returns on high-yield savings accounts and fixed-income investment vehicles, providing you a renewed opportunity to earn over 4% on your short-term FDIC-insured savings and revisiting a more diversified and potentially less risky investment portfolio.
"While interest rates continue to rise and impact purchasing power, those who need to incur credit card debt to feed their families or already have credit card debt pay even more for food," Maizes said. "The interest rate is an 'additional percentage' on top of the increasing costs due to inflation and continues to compound.
Make Your Money Work for You
"Decreasing inflation or lowering interest rates alone will not adequately help reverse the increased food expenses, reduce credit card debt or sufficiently address Suze's concern with purchasing power being hampered by rising interest rates and ultimately impacting your ability to save," Maizes said.
More From GOBankingRates