The Cost of COVID-19 for the US in 2021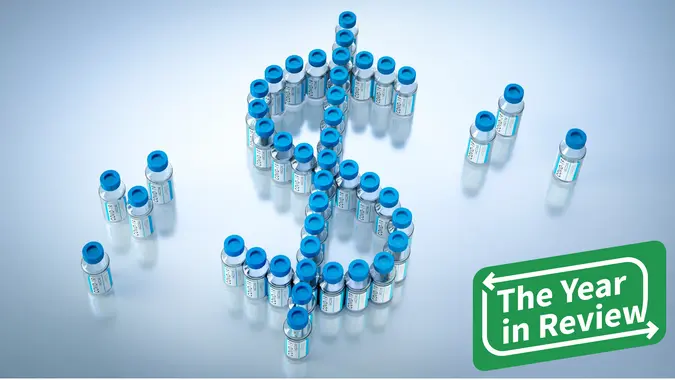 The year 2020 will forever be known as the year of COVID-19. But in many ways — including the big ones of death and money — America took a bigger hit in 2021. The price tag for the vaccines themselves — not to mention the controversial mandates and testing alternatives that came with them — was enormous, but the financial impact didn't end there. The federal government, for example, committed $1.9 trillion to pandemic stimulus and recovery through the American Rescue Plan Act — and that's not even included in the tally.
If you're looking for a nice round number to sum up the virus' cost for the entire year, you're going to be disappointed. So many different analysts and organizations use so many different standards to gauge the pandemic's cost that there isn't a consensus dollar amount.
Here's what we do know.
Related: Coronavirus Has Made These Brands More Valuable Than Ever
Read More: These 15 Billionaires Got Richer During The Pandemic
More Died in 2021 Than in 2020 — and It Cost Trillions
In November 2020, two Harvard economists predicted that the pandemic would cost America $16 trillion if it ended by the fall of 2021, which it of course did not — but much of what they predicted did come true.
Make Your Money Work for You
Their calculations were partly based on the economic loss associated with premature death from COVID-19. The duo calculated the cost of a single premature death to be $7 million — conservative compared to the industry standard of $10 million.
More than 800,000 people have died of COVID-19 in the U.S. since the start of the pandemic. According to the Wall Street Journal, 385,343 of those deaths came last year, which means that more Americans have died from the virus in 2021 than in 2020.
Keeping with the Harvard calculations, that represents a cost of nearly $2.7 trillion from deaths alone in 2021, the pandemic's deadliest year so far.
Vaccines Are Less Expensive Than Death, But They're Hardly Cheap
The most surprising COVID news of the year might be that 2021 eclipsed 2020 in deaths, but the biggest news by far involved the vaccines that were designed to prevent that from happening.
According to the CDC, more than 480 million doses have been administered. More than 202 million people, 61% of the U.S. population, are fully vaccinated — but just because you didn't pay for your shot doesn't mean it was free.
Make Your Money Work for You
Pharmaceutical Technology reported that Pfizer was set to make $33.5 billion in COVID vaccine revenue. The drugmaker charges $24 per dose in the U.S., up from $19.50 in previous deals. Moderna charges $15 in the U.S. and more than twice that in other markets.
According to the Congressional Research Service, the federal government in 2021 spent:
$6.05 billion for HHS to research, develop, manufacture, produce and buy vaccines
$500 million for the FDA to perform functions like performance review, inspection and oversight
$10 billion for Defense Production Act directives regarding vaccines and related medical supplies.
More: Can You Ask Your Co-Worker If They Are Vaccinated?
Booster Shots Added to the Tab
About 56 million people have received booster shots since the follow-up doses were approved, according to the CDC. More than 786,000 people are now getting boosters every day.
According to the Centers for Medicare and Medicaid Services, the Medicare payment rate is $40 per booster shot. That's $2.24 billion spent on boosters alone so far in 2021.
Then There's the Cost of the Unvaccinated
Virtually all COVID patients who require hospitalization — 98.6% — have not been vaccinated, according to Peterson-KFF. The average hospitalization costs $20,000, and the summer painted a clear picture of the cumulative costs that the unvaccinated have on society. There were 32,000 preventable COVID-related adult hospitalizations in June, 68,000 in July, and 187,000 in August.
Make Your Money Work for You
The aggregate cost of preventable COVID hospitalizations for the summer was $5.7 billion, or an average of $1.9 billion per month.
The Mandate Math Gets Murky
One of the most controversial policies of 2021 was the Biden administration's mandate that businesses with more than 100 employees require their workers to be vaccinated or tested weekly. Businesses aren't required to give the option of testing, according to CNN, and if they do, they're not obligated to pay for those tests and can require employees to pick up the $100-per-week tab instead.
The tricky part is that despite the mandate being federal, state law decides who pays in the end. No matter who gets stuck with the bill, it's a hefty chunk of change. OSHA has stated that it expects employers will pay $3 billion in their efforts to comply with mandate rules.
Learn: How To Protect Your Retirement Savings During the Coronavirus Pandemic
Health Spending Rebounded in 2021 and Then Some
According to Barron's, the high out-of-pocket deductibles that have long defined health insurance in America exist to make people think twice about pursuing medical care that they might not really need. Medical spending cratered in 2022 as people avoided doctors in all but the most serious cases. At one point, insurers were paying out 32% less in medical claims than they had been when they set their premiums the year before.
In 2021, health care spending rebounded almost all the way to pre-pandemic levels, meaning that insurers got to keep about one-third less of the money that they collected through premium payments. To make up for it, many insurers stopped waiving the cost of COVID-related care this year the way they did during the peak of the crisis in 2020, meaning that people — not insurance companies — are now picking of most of the cost of COVID care.
More From GOBankingRates
Make Your Money Work for You