In Case of a Recession, Here Are the States Where You Might Fare Better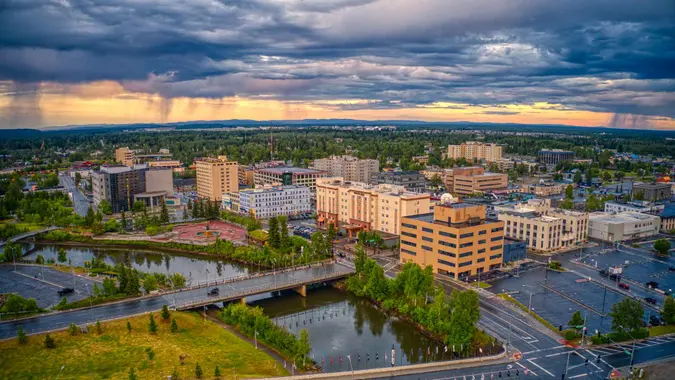 Jacob Boomsma / Getty Images/iStockphoto
Talks of a looming recession have been ongoing over the last few months. A decreasing but still sticky inflation — standing at 3% in June — is pushing the Federal Reserve to indicate more hikes will be needed. Further, continuing issues in the regional banking sector are also making consumers jittery.
Against that backdrop — the very real potential of a recession materializing — some states are set to fare better in such an eventuality. And if that happens, the Midwest is where you want to be.
NationalBusinessCapital.com's inaugural report, "Best States to Recover From a Recession in 2023," found that the Upper Midwest (including North Dakota, Minnesota, Wisconsin and South Dakota) is the region most ready to withstand a recession.
"Despite all the population migration and heated rhetoric between big states we've seen over the past year, it's primarily the unassuming states in the Midwest that are the most economically sound when it comes to surviving a recession," said Joe Camberato, CEO of NationalBusinessCapital.com.
Camberato explained that both red and blue states have policies that can help weather a recession. However, ideology proves less crucial than sound economic strategies which leverage the state's natural and demographic advantages.
"While this report is not about predicting the next recession, we do have a very different labor situation than we did in 2008. Household budgets are stressed, but unemployment is pretty low in almost every state," he added.
Make Your Money Work for You
To rate the states, the report used a set of metrics: State reserve balances,  state GDP per capita, debt-to-income ratio, unemployment insurance coverage, unemployment rate, housing affordability, effective tax rates and "Great Recession" GDP change.
Here are the top 10 states to fare better in a recession, per the report:
North Dakota
The report noted the state's strong energy-based economy (3rd in GDP per capita), low unemployment rate (4th) and ample reserves (6th).
Alaska
"Nearly half of all Alaskan households can afford the median home (1st), and the state has the lowest effective tax burden in the country (1st)," the report indicated.
Nebraska
The state has an unemployment rate of under 2% (1st), low household debt-to-income ratio (2nd) and government reserves to spare (5th).
Wyoming
The state is first in government reserves.
Minnesota
Minnesota is in second place for unemployment insurance (UI) benefits.
Wisconsin
"Wisconsin features excellent government reserves (4th) and a manageable household debt-to-income ratio (8th), as well as low unemployment (9th)," according to the report.
Massachusetts
The state has a generous unemployment insurance system, as it's the 3rd in UI coverage.
South Dakota
"South Dakota boasts a lower unemployment rate (1st), lower household debt burdens (10th), and lower effective tax burdens (4th)," the report noted.
Indiana
The state has a manageable household debt (4th) and a relatively low effective tax burden (13th).
Make Your Money Work for You
West Virginia
West Virginia has some of the lowest housing costs in the country.
On the other hand, states at the bottom of the pack in case of a recession include: Arizona, Mississippi, North Carolina, Hawaii, Tennessee, Louisiana, South Carolina, Nevada, Washington, Kentucky and Virginia.
More From GOBankingRates