7 Key Takeaways from Treasury Secretary Nominee Janet Yellen's Senate Testimony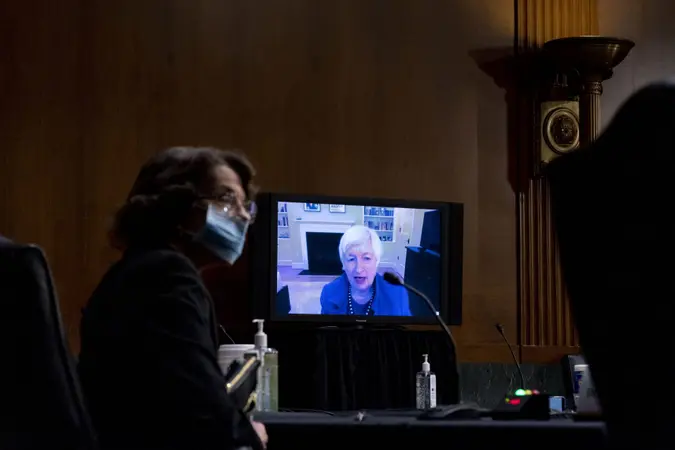 Andrew Harnik/AP/Shutterstock / Andrew Harnik/AP/Shutterstock
Janet Yellen, President-Elect Joe Biden's nominee for Treasury secretary, testified at her Senate confirmation hearing this morning. Here are the key takeaways.
See: Will the Biden Presidency Hurt the Stock Market?
Find: What a Biden Presidency Means for Your Wallet
In her opening remarks to the Senate Finance Committee, Yellen said that she will push for a robust fiscal stimulus program to get the pandemic-stricken economy back on track. Yellen is an economist and served as chair of the Federal Reserve from 2014 to 2018.
"Without further action, we risk a longer, more painful recession now — and long-term scarring of the economy later," Yellen said in testimony prepared for her confirmation hearing Tuesday before the Senate Finance Committee.
In her opening remarks, Yellen said that the pandemic has caused widespread devastation. "Whole industries have paused their work. Eighteen million unemployment insurance claims are being paid every week. Food bank shelves are going empty. The damage has been sweeping, and as the president-elect said last Thursday, our response must be, too. Over the next few months, we are going to need more aid to distribute the vaccine; to reopen schools; to help states keep firefighters and teachers on the job. We'll need more funding to make sure unemployment insurance checks still go out; and to help families who are at risk of going hungry or losing the roof over their heads."
Make Your Money Work for You
See: Biden Presidency Could Bring $1.9 Trillion Stimulus Plan, Increased Minimum Wage and More Cash for Americans
Find: 59% of Americans Say They Will Use Their Stimulus Money for This Necessity
During her testimony, in regards to China, Yellen said: "China is our most important strategic competitor, we need to work with our allies and strengthen our own economy so we can compete. We need to take on China's abuse, illegal practices, its undercutting U.S. economies. They've been stealing intellectual property, engaging in practices including low labor and environmental standards."
On climate change, Yellen said that it represents one of the "most critical issues facing our country and the world and poses an existential threat." She said that it will be the focus of the entire Biden administration.
"Biden is committed to a wide range of policies to address it, and in the process, creating good jobs for American workers. It's important to make things in America. Electric vehicles both address climate change and create good jobs. Biden will restore full incentives for electric vehicles."
Make Your Money Work for You
See: Pandemic Job Losses Hitting Gen Z the Hardest
Find: This Is Where Your Tax Dollars Actually Go
Yellen was also asked about the plan to affirm the U.S.' commitment to a market-determined exchange rate. She said that she believes in a strong U.S. economy that delivers good jobs with rising wages.
"I believe in market-determined exchange rates. The value of the dollar should be determined by the markets. The U.S. does not seek a weaker currency to gain a competitive advantage, and we should oppose attempts by other countries to do so to gain commercial advantages. I will oppose attempts by countries to artificially manipulate currency values to gain advantages in trade."
In terms of Biden's proposed changes to the 2017 tax cuts, she said that this will happen as part of a larger package that would include significant spending, "but not now, while the pandemic is depressing the economy." She added that while Biden will repeal some of the elements of the Tax Cuts and Jobs Act passed by Donald Trump in 2017, he doesn't support a complete reversal.
See: How Joe Biden's Tax Plan Could Affect You
Find: What Experts Say 2021 Will Look Like for Your Wallet
Make Your Money Work for You
Yellen also said in her prepared remarks that neither the president-elect nor she proposes this relief package without an appreciation for the country's debt burden. "But right now, with interest rates at historic lows, the smartest thing we can do is act big. In the long run, I believe the benefits will far outweigh the costs, especially if we care about helping people who have been struggling for a very long time. People worry about a K-shaped recovery, but well before COVID-19 infected a single American, we were living in a K-shaped economy, one where wealth built on wealth while working families fell further and further behind. This is especially true for people of color."
More From GOBankingRates:
Make Your Money Work for You