What Trump's New South Korea Deal Means for You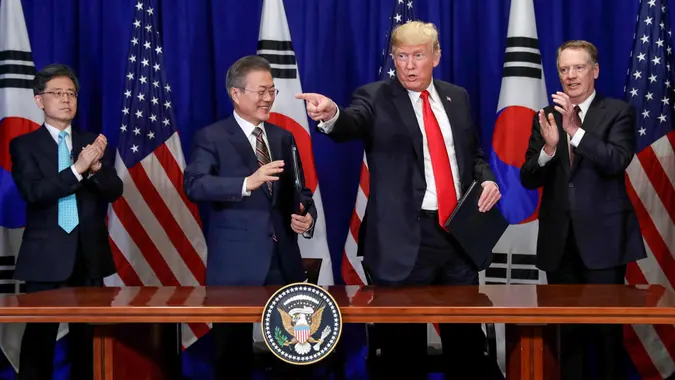 Evan Vucci/AP/REX / Shutterstock.com
On Monday, following months of negotiations, President Donald Trump and South Korea's President Moon Jae-in met to announce what Trump termed as a "historic milestone in trade."
Trump has been upset with the Obama administration-era trade deal with South Korea as the U.S. imports many more Korean goods than it exports to the foreign country, which resulted in a $27.7 billion trade deficit for the U.S. in 2016. Now, America's president sounds optimistic about the new deal, which came from a renegotiation of certain terms of the 2012 United States-Korea Free Trade Agreement: "The new U.S.-Korea agreement includes significant improvements to reduce our trade deficit and to expand opportunities to export American products to South Korea."
Click to read more about how Trump's trade war will make your holidays more expensive.
But what does that mean for you? Find out about the impact of the new deal that Trump hopes will offset the U.S. trade deficit.
Impact on the US Auto Industry
One area of negotiations focused on the U.S. auto industry, and three areas were impacted. Here's what you need to know:
South Korean Pickup Trucks
Before: The 25 percent tariff on South Korean pickup trucks — which was slated to end in 2021 — has been helping to keep South Korean automakers from entering the U.S. pickup truck market and cutting into profits for the likes of General Motors, Chrysler and Ford.Now: The tariff is extended 20 years, until 2041.
Make Your Money Work for You
Emissions and Labeling Standards
Before: American car companies had to meet Korean emissions and labeling standards on their exports.Now: Now, American car companies will only need to meet U.S. emissions and labeling standards.
Number of U.S. Exports
Before: U.S. auto companies were restricted to exporting no more than 25,000 vehicles per year to South Korea that met U.S. safety standards but fell short of Korean safety standards.Now: The number has doubled to 50,000.
What impacts on the auto industry mean for you: Although the last two areas won't really affect the American consumer, the first one could. Because U.S. pickup manufacturers won't likely have to contend with competition from South Korean pickup manufacturers in the near future due to steep tariffs, U.S. pickup prices will probably stay higher longer, according to Forbes.
Related: 7 Companies That Have Reinvested in America Following Trump's Election
Impact on the US Steel Industry
Another area of the original deal that was altered relates to South Korea's steel exports to the U.S. In March, the Trump administration succeeded in pushing through significant tariffs of 25 percent on imported steel — costs which would normally apply to South Korea.
Before: The foreign country's steel exports to the U.S. were allowed at a rate that was 30 percent higher than it will be now.
Now: Under the terms of the new agreement, South Korea's steel exports to the U.S. will be 30 percent lower. In return, the U.S. won't impose the 25 percent steel tariff on the country.
Make Your Money Work for You
What impacts on the steel industry mean for you: Even though tariffs won't apply, because South Korea's steel exports are limited to a lower percentage, the prices of the materials will likely increase, which could, theoretically, be passed along to American consumers in some way. The U.S. imports about 25 percent of its pipe and tube steel products from South Korea, according to the International Trade Administration's September 2018 Steel Imports Report.
Check Out: These 12 States Are Getting Hit Hardest by Trump's Tariffs
Other US Industries Impacted
Other areas of the deal that were affected include better access to Korean markets for pharmaceuticals and agricultural products, the latter of which should be a win for farmers. According to Trump, "I think our farmers are going to be extremely happy. It was very limited as to what they could do and what they could send. And now it's an open market, and they're going to be sending a lot more farm products. That makes me feel very good. I love our farmers."
Overall, Trump's new South Korea deal has little direct effect on the American consumer, focusing more on varying advantages for the U.S. steel industry, automakers and pharmaceutical companies, as well as American farmers.
Click through to read more about how tariffs have already hit hard for companies like Tesla.
More on the Economy