Will Unemployment Benefits Be Cut in Your State? What You Need To Know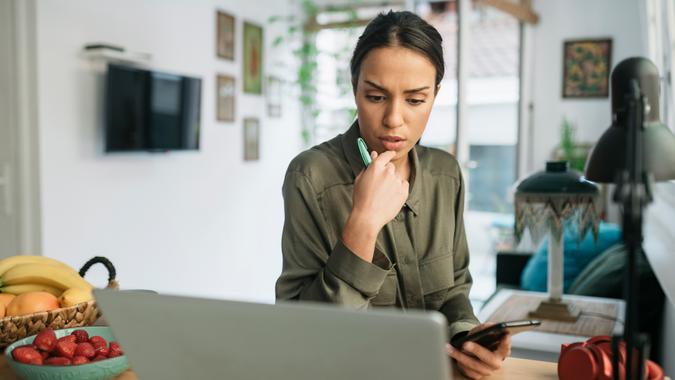 Brothers91 / Getty Images
Before 2011, every state in the country offered as many as 26 weeks of unemployment insurance, according to a 2022 Congressional Research Service report, but the Great Recession changed everything. In order to keep their coffers full without raising taxes on employers, cash-strapped states began making unemployment harder to get, according to CNBC, by reducing both the amount and duration of benefits paid.
See: Stimulus Updates To Know for Spring 2022
SNAP Schedule 2022: May Payments
The pandemic reinforced already existing political lines around unemployment benefits, with about half of the states — nearly all of them Republican-led — opting out of expanded federal unemployment policies well before the deadline in 2021. 
Today, little has changed. In 2022, your ability to collect unemployment benefits still has a lot to do with where you live and who's in charge there. Here's a look at the states that are reducing payments, reducing the number of weeks you can receive those payments, or otherwise changing their benefits.  
Iowa: Unemployed Have Shorter Reprieve and Fewer Options
On May 2, a local NBC affiliate reported that Republican lawmakers in Iowa voted to reduce the number of weeks that jobless Iowans can receive unemployment benefits from 26 weeks to 16. Also, the legislation will force those receiving benefits to settle for lower-paying jobs quickly instead of being allowed to take the time to pursue work that pays at least as well as their previous positions.
Make Your Money Work for You
Opponents say the legislation will harm both workers and businesses, as those who are forced to accept jobs they don't want will increase turnover by quickly leaving their new employers in pursuit of something better.
POLL: Have Gas Prices Affected Your Driving Habits?
Kentucky: Cutting Benefits Based on Unemployment Rate
In February, Republican lawmakers in Kentucky voted to slash the number of weeks that their jobless constituents can receive benefits, from 26 weeks to 24. But that number would drop even further — by more than half to just 12 weeks — when the state's unemployment rate is lower than 4.5%, as it is now.
It's important to note that several GOP lawmakers who represent rural areas — where jobs are scarce and poverty is rampant — bucked their party and voted against the legislation, according to a local news station. The governor vetoed the bill, but in March, state lawmakers overrode his veto.
West Virginia: Might Follow Kentucky's Lead
Next door to Kentucky is West Virginia, where lawmakers are pursuing a nearly identical plan to cut jobless benefits, but the legislation there is even more severe. If the law passes, West Virginia would have the weakest unemployment protections in the country. It would reduce the time that jobless West Virginians can receive benefits from 26 weeks to 20 weeks no matter the state's jobless rate.
Make Your Money Work for You
Like Kentucky, however, the legislation ties the number of weeks to West Virginia's unemployment rate. When the unemployment rate drops below a certain threshold, the law would reduce the maximum number of weeks to just 12, the same as Kentucky. The bill passed the Senate and remains in the House, where its future is unclear.
Rhode Island: Those Who Were Overpaid May Receive a Bill
Rhode Island is in the process of revamping the system it has in place to manage and correct unemployment overpayment. Like many states, Rhode Island rushed to put new federal benefits programs into place to distribute benefits as quickly as possible during the pandemic, according to a local NBC affiliate. In all that haste, many Rhode Islanders received more money than they should have due to administrative errors.
Just as the federal government is still working to determine how much the states should be required to pay back for overpayments they received, Rhode Island is currently working to determine who should be on the hook to return any overpayments that they might have gotten from the state. 
Connecticut: Neither Cutting Nor Prioritizing Unemployment
In early May, the Democrat-controlled government in Connecticut passed what might be the biggest tax cut in the state's history. It cuts or freezes taxes that hit regular people, including the gas tax, car tax and income tax. The cuts are part of a package that prioritizes social services and makes big investments in mental health, child care and union salaries. 
Make Your Money Work for You
While the legislation allocates an unprecedented $3.5 billion to the state's enormous pension debt, it oddly pays only a tiny fraction of Connecticut's massive unemployment trust, which the state's businesses will be required to start paying off this fall. The state borrowed $800 million from the federal government to keep unemployment payments flowing during the pandemic, and despite the fact that it still owes $495 million of that bill, the legislation pays off only $40 million.
The Mirror reports that the local business community thinks the $40 million is "far too little and would weaken business confidence and the economy in general."
More From GOBankingRates